How do Jio Fiber's plans and services compare with competitors?
How do Jio Fiber's plans and services compare with competitors?
Sep 08, 2019, 02:03 pm
3 min read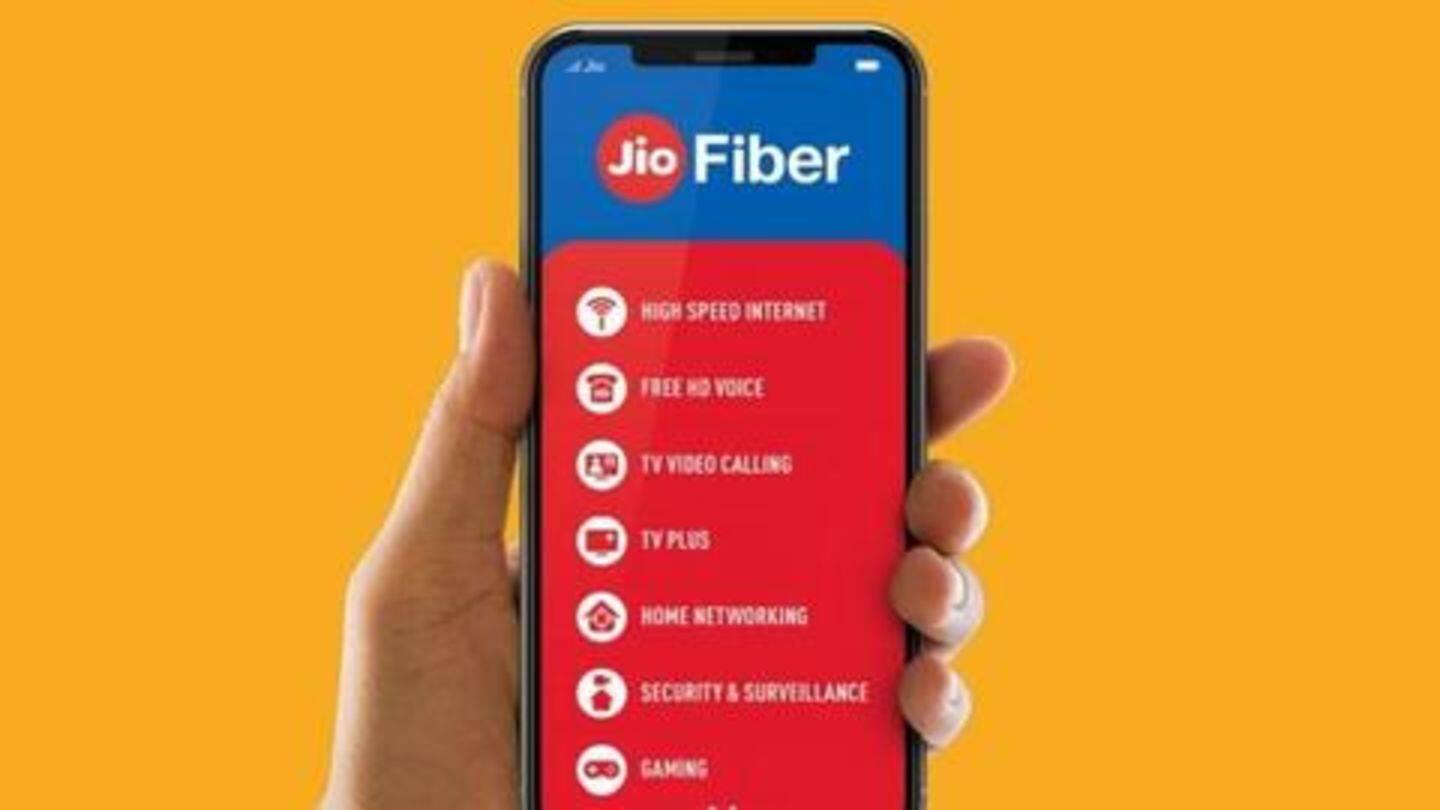 Reliance Jio has launched its much-awaited fixed-line broadband service, Jio Fiber, in India. The FTTH service offers upto 1Gbps speed, upto 5,000GB of data, and a host of freebies including TVs. As a new offering, Jio's service will take on established players like Airtel V-Fiber, BSNL Bharat Fiber, and ACT broadband to grab the lion's share. Here's a detailed comparison.
What do you get with Jio Fiber?
Jio Fiber's base plan starts at Rs. 699/month and offers 100Mbps of speed. Meanwhile, the top-end plan, with 1Gbps speed and 5,000GB data, costs Rs. 8,499. Depending on the plans, you also get free voice calls, video calling, gaming, and services like Jio First-Day-First-Show and Jio VR. Customers opting for annual plans will also get an HD TV and 4K set-top box for free.
What are the plans available on Airtel?
Airtel's V-Fiber is the biggest competitor of Jio Fiber. The FTTH service offers download speeds of upto 300Mbps and upto 600GB of high-speed data, depending on monthly plans which can range from Rs. 799 to Rs. 1,999. The telco also offers a 100Mbps unlimited plan but it is available in select regions only. Additionally, subscribers also get complimentary access to Amazon Prime and Netflix.
Is BSNL's Bharat Fiber any good for you?
Meanwhile, state-run BSNL, a familiar name in the broadband space, offers Bharat Fiber service. The plans of the service range from Rs. 777/month to Rs. 16,999/month. The entry-level plan offers upto 50Mbps speed and 500GB of data while the top-tier plan promises upto 100Mbps broadband speed and 170GB of data per day. All plans also offer unlimited free calling on any network in India
ACT Fibernet: Broadband speed, internet data, and plans
ACT Fibernet is also one of the fastest-growing fiber-focused broadband providers in India. Depending on the region, the plans start at Rs. 685 for the entry-level ACT Swift which offers 100GB data and 15Mbps of speed. The company also offers Rs. 5,999 ACT GIGA plan which comes with 1Gbps speed and 2,500GB of data - similar to Jio's Platinum pack.
What does You Broadband have to offer?
Separately, Vodafone-backed You Broadband also offers several high-speed internet plans. However, the plans vary from city to city. In Mumbai, the entry-level monthly plan costs Rs. 1,239 and it provides 350GB data and 100Mbps speed. Similarly, the mid-tier Rs. 1,357 monthly plan offers 400GB data at 150Mbps speed while the top-end Rs. 1,597 pack comes with 500GB data cap and upto 200Mbps speed.