Delhi-Gurugram Metro: 6,000 passengers suffered without AC for two hours
Delhi-Gurugram Metro: 6,000 passengers suffered without AC for two hours
May 22, 2019, 04:11 pm
2 min read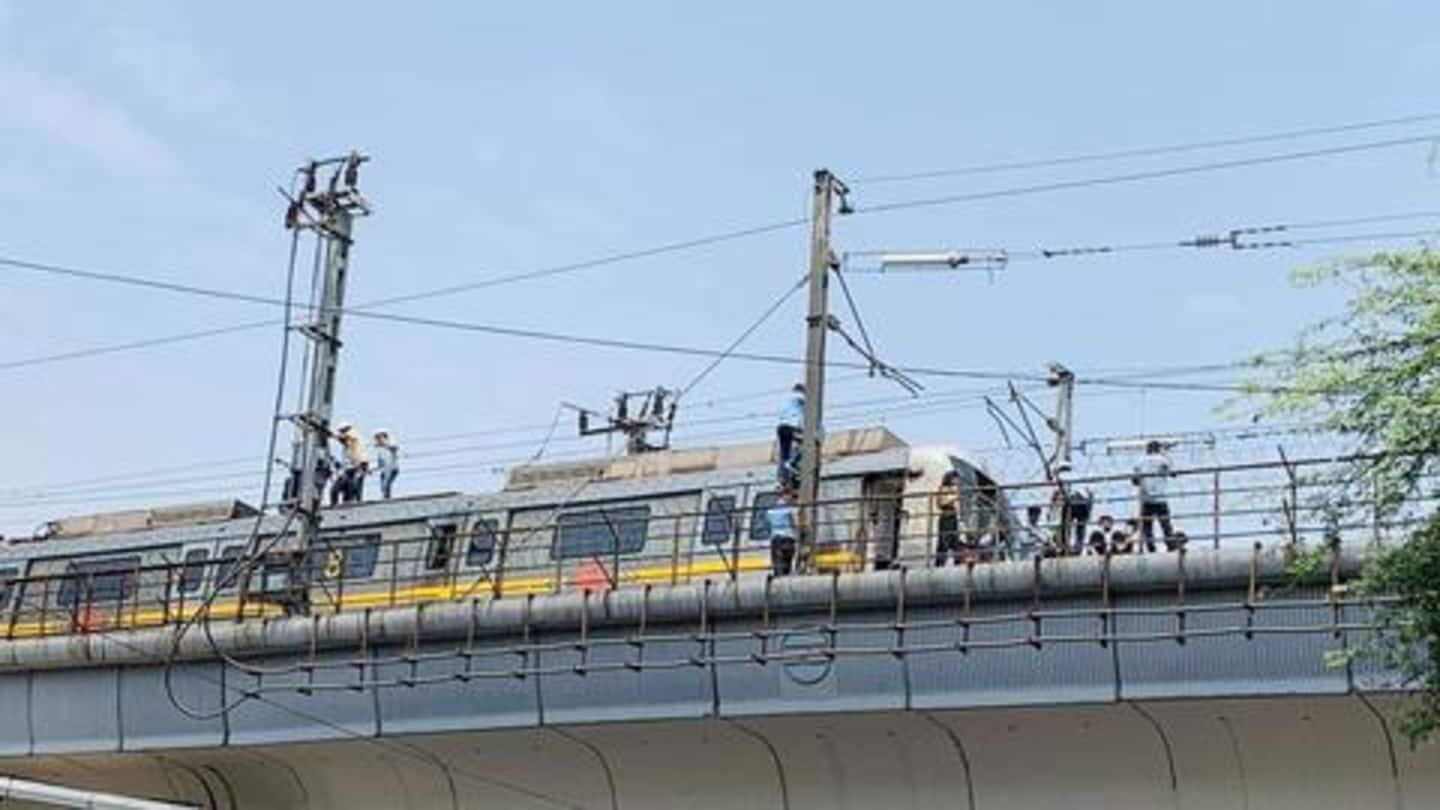 Yesterday, commuters of Delhi-Gurugram Metro had little idea their usual day would turn into a nightmare. On Tuesday, a technical snag affected services on the yellow line, which runs between Samaypur Badli and Huda City Centre. As a result, nearly 6,000 passengers were struck in two trains without AC in the sweltering heat. The passengers were evacuated after almost two hours. Here's what happened.
Backstory: Snapped wires affected yellow line during peak hours
The turmoil started after an overhead electric wire snapped on the yellow line. "Due to tripping of the power supply, two trains halted in this section," a DMRC official said. While one train was stuck between Qutub Minar and Chattarpur stations, another one was halted between Chattarpur and Sultanpur. Both the trains housed approximately 6,000 passengers. The ordeal became unbearable after ACs stopped working.
The passengers were evacuated after almost 2 hours
It took DMRC close to two hours to evacuate the passengers from both the trains. The first train had some 2,700 passengers who were evacuated by 11:10 AM. On the other hand, 3,000 passengers were aboard the second train and they took a sigh of relief at 11:27 AM. DMRC had to make special arrangements for women, children, and differently-abled passengers.
DMRC carried out its biggest evacuation ever
"Special assistance was provided to 11 commuters, which included differently-abled passengers and those not feeling well. We facilitated their shift by providing wheelchairs," DMRC's spokesperson said. It is extremely rare that two trains get stuck in the same route, which is why DMRC had to carry out its biggest evacuation ever. When such incidents happened earlier, DMRC had to move 500-1,000 passengers only.
The incident also affected traffic services between Delhi and Gurugram, as commuters spilled on streets. A 25-year-old told TOI that he couldn't find autos or cabs to reach Gurugram. He walked for some 2 km to reach Sultanpur and boarded the metro again to reach MG Road. Other commuters complained of surge prices in cabs. Instead of booking cabs, they chose to wait.