#HappyFriendshipDay: 5 Bollywood movies which capture millennial friendships
#HappyFriendshipDay: 5 Bollywood movies which capture millennial friendships
Written by
Shuvrajit Das Biswas
Aug 05, 2018, 10:08 am
3 min read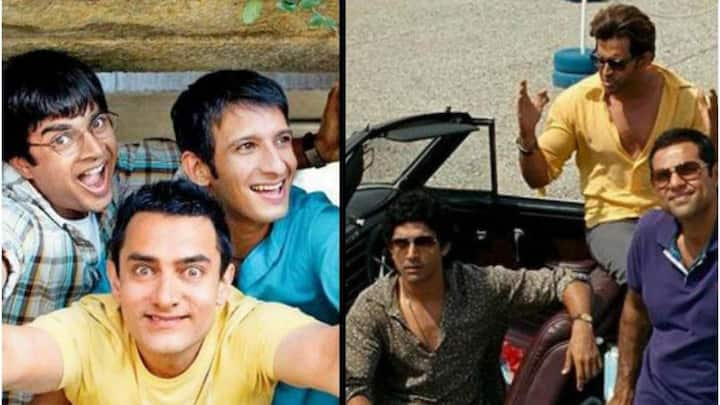 Today is Friendship Day- the day to actually thank those, whom we insult the year around. Because what is friendship without this banter, right? Recently, Bollywood has also tapped on the millennial friendships, unlike previous classics which made us cry (read Sholay, Dosti). These days it's about making fun of the friend, and yet not letting go. Here's looking at five such movies.
The 'Magik' of friendship is extremely real
Directed by Abhishek Kapoor, 'Rock On!!' released in 2008. The film followed Arjun Rampal and Farhan Akhtar as Joe and Aditya, bandmates, and how they reunited after years of estrangement. The message was pretty clear- never give up on your dreams or friendship. So if you were in a band that broke up, maybe call them over and reminisce the good times.
You can be lovers, but first you've to be friends
The 2008 release 'Jane Tu...Ya Jaane Na' was directed by Abbas Tyrewala. The story is about Jai and Aditi, as narrated by their friends. These friends from college got along famously but didn't realize they had feelings for each other until circumstances forced them to face the truth. If you have a special someone, who's also your best friend, we recommend watching this together.
Friendships forged in fires of colleges last a lifetime
'3 Idiots' by Rajkumar Hirani is still one of the best films of Bollywood. The tale of Rancho, Chatur, and Farhan reminded us of our college days- the rule-breaking, preparations before exams, and shared disappointment or elation after the results. The film taught that best friends stick together during tough times. This is the finest film you can enjoy with your college buddies.
Nothing brings friends closer than being on the road
'Zindagi Na Milegi Dobara' directed by Zoya Akhtar came out in 2011. The film followed three friends on a road trip in Spain, which brought them closer and helped them rediscover the meaning of love, life, and families. The movie will remind you of the road trips with friends. Also, if you haven't ever hit the road with friends, this one will force you.
Wanderlust is great, but friends are better
Directed by Ayan Mukherji 'Yeh Jawaani Hai Deewani' released in 2013. The story followed Bunny, his wanderlust, and love for Naina. However, the friendship Bunny shared with Avi, made for an important supporting plot. Classmates and friends from school, Bunny-Avi's bond taught us that time and distance can't break friendships. Re-establish contact with your old friends and watch this film together!