Hrithik breaks silence on Kangana-controversy; Actress seeks answers to questions
Hrithik breaks silence on Kangana-controversy; Actress seeks answers to questions
Written by
Ramya Patelkhana
Edited by
Vaneet Randhawa
Oct 05, 2017, 09:17 pm
3 min read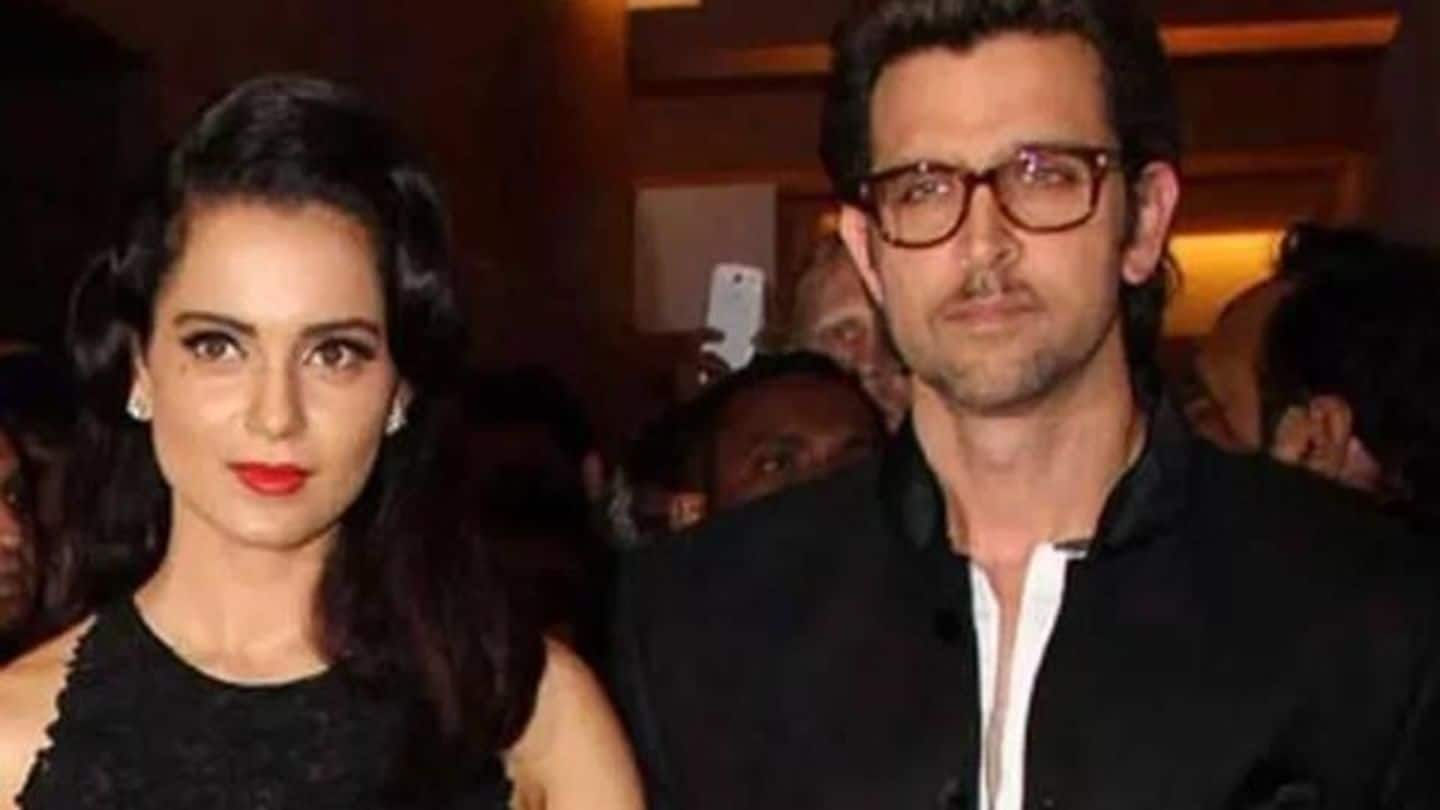 Though the legal battle between alleged exes Kangana Ranaut and Hrithik Roshan ended, the spat between them sees no end. Breaking silence after nearly two years, Hrithik posted an official statement on the controversy. Following Hrithik's statement, Kangana shot back at him, seeking answers to "9 questions" he had been allegedly avoiding. Here's all about their ugly spat.
Hrithik rubbishes media reports on spat; calls them "circus"
On his Facebook page, Hrithik Roshan wrote that he never met Kangana "one on one". He asserted that there was "no evidence, no paparazzi pictures, no witnesses, not even a memento" of the alleged "7-year-long passionate affair". On his alleged engagement to Kangana in Paris in Jan'14, the actor said his passport details show that he never traveled outside India at that time.
Situation for me has unfortunately turned malignant: Hrithik
Kangana's sister "leaks" Hrithik's alleged email to Kangana
Hours after Hrithik Roshan posted his statement on Facebook, Kangana Ranaut's sister Rangoli hit back at him. She took to Twitter to slam the actor for his letter and even shared a screenshot of an email which Hrithik allegedly sent to Kangana in May'14. She again shared the picture of Hrithik and Kangana together, which the actor dismissed as "photoshopped" in his statement.
Hrithik's alleged email to Kangana on 5 May'14
Actors were dating when Hrithik's marriage was in trouble
The Hrithik-Kangana controversy is considered one of the dirtiest fights ever over a soured Bollywood love affair. The actors allegedly started dating while working for Krrish 3, when Hrithik was married to Suzzane. Kangana put an end to their relationship after learning he didn't want to divorce his wife. However, following his divorce, they reportedly got back together and dated until 2014-end.
Kangana warns Hrithik to take back notice or face criminal-case
After their alleged relationship ended, Kangana mentioned Hrithik as a "silly ex" in Jan'16, which led a controversy. Following her statement, Hrithik slammed Kangana and retaliated with a tweet denying having any affair with her. He had also sent her a legal notice and asked her to call a press conference and apologize. Kangana then refused to apologize and sent him a counter-notice.
The curious case of 1439 mails
Hrithik claimed that on 24 May 2014, Kangana had approached Hrithik at Karan Johar's party and had thanked him for sending her an email appreciating her work in Queen. Hrithik brought to Kangana's notice that he hadn't seen the movie and some imposter had emailed her. Further, Hrithik revealed that on giving her his real id, she sent him a barrage of 1439 emails.
Hrithik said an impersonator was communicating with Kangana
Hrithik claimed someone was impersonating him through a fake email-id and had contacted Kangana. However, Kangana said that the email-id was provided by Hrithik himself. He also claimed that Kangana was suffering from Asperger's Syndrome, following which the actress denied his claims.
Legal battle ends after about a year
The legal counsels of both actors had also stated that there was a necessity for a "closure to the matter" involving Hrithik and Kangana which had turned "ugly". Many celebs also spoke in Kangana's support in the matter. However, in Nov'16, the legal battle ended as the Mumbai Police cybercrime cell closed the case submitting, a "nil report" owing to lack of leads.