'Avengers: Endgame' beats 'Avatar' to become highest grossing film ever
'Avengers: Endgame' beats 'Avatar' to become highest grossing film ever
Jul 21, 2019, 07:33 pm
3 min read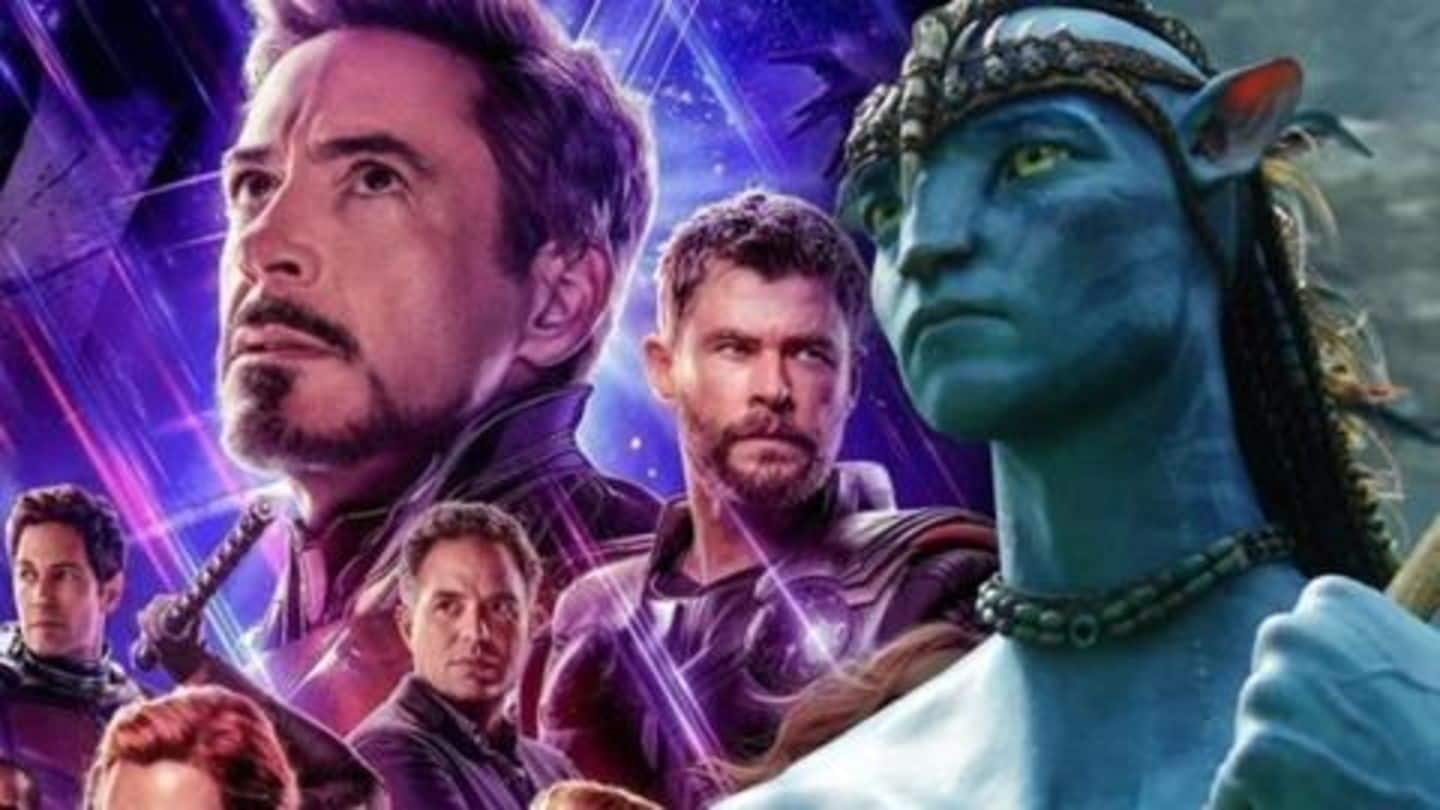 After months of speculations, Marvel's superhero extravaganza Avengers: Endgame has finally ended James Cameron's sci-fi epic Avatar's 10-year reign at the worldwide box office. It is now the highest grossing film of all time. The Russo brothers directorial, which serves as the final film in the coveted Avengers series, has achieved the feat in its 13th weekend of release. Here are the details.
2009 sci-fi epic 'Avatar' held the record for 10 years
Previously, James Cameron's 2009 science-fiction epic Avatar (2009) produced by Cameron and Jon Landau at a budget of $237 million, had earned a total of $2.788 billion through its theatrical run, thus dethroning romance saga Titanic (1997) to become highest grossing film of all time.
By Sunday, 'Endgame' to become greatest global box-office champion
By Saturday, the Disney-Marvel blockbuster collected $2.7892 billion at the global box office, just $500,000 shy of Avatar's all-time collections (not adjusted for inflation). Once weekend ticket sales are tallied, it will easily cover the said deficit. Endgame has amassed $853 million at the domestic (USA) box office, becoming the second biggest film in North America after Star Wars: The Force Awakens ($936 million).
Thank you to fans around the world: Disney
Announcing the achievement on Saturday, Alan Horn, co-chairman and Chief Creative Officer at Disney Studios said, "A huge congratulations to Marvel Studios and Walt Disney Studios teams, and thank you to the fans around the world who lifted Avengers: Endgame to these historic heights."
'Avengers: Endgame' performed terrifically at the International box office
The Marvel movie has been able to achieve such incredible commercial mandate owing to its huge international box office collections. The film collected $629 million in China, $114 million in the UK, $105 million in South Korea, and $85 million in Brazil. Back in India, despite stiff competition from many major domestic releases, the film raked in more than Rs. 400 crore.
'Avengers: Endgame' was re-released in June to overcome 'Avatar'
Interestingly, in order to reach the ultimate Box office glory, film distributors Disney Studios had re-released Avengers: Endgame in June, with additional footage, with an aim to surpass Avatar as the World's top earning flick.
Avengers teamed up again to defeat Thanos and redeem Universe
Based on comics from late Stan Lee, and produced by Kevin Feige, the 22nd film in the Marvel Cinematic Universe sees the Avengers assembling up again with the mission to reverse Thanos' actions and restore balance to the Universe. The ensemble cast of the film includes Robert Downey Jr., Chris Evans, Mark Ruffalo, Chris Hemsworth, Scarlett Johansson, Jeremy Renner, and Josh Brolin, among others.
Notably, Disney has stakes in both 'Endgame' and 'Avatar' series
Since Disney concluded its $71.3 billion acquisition of Fox, the Avatar series is now part of the Disney empire. This means that seven out of top ten all-time grossing films now belong to Disney.