#IndiaStrikesBack: Akshay, Ajay, Rajamouli salute IAF's attack on JeM's camp
#IndiaStrikesBack: Akshay, Ajay, Rajamouli salute IAF's attack on JeM's camp
Feb 26, 2019, 05:48 pm
3 min read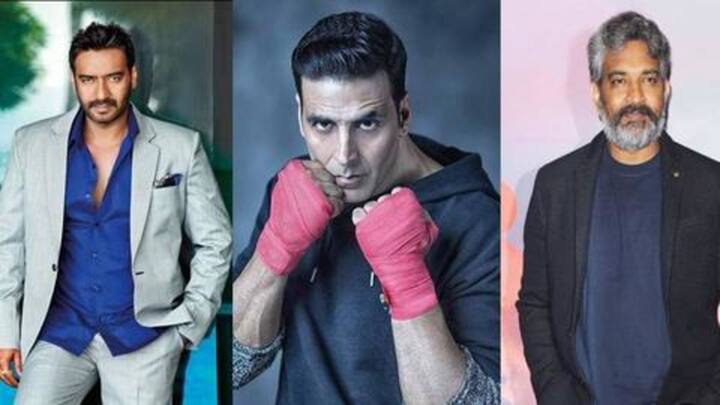 Today, the nation woke up to the big news of Indian Air Force carrying out an aerial strike on terror camps in Pakistan. Proudly termed as 'Surgical Strike 2.0' by Indians, this attack was India's revenge for the dastardly Pulwama attack in which 40 Indian soldiers were martyred. Several Bollywood celebrities have lauded the IAF for their befitting reply to the terrorists.
India dropped 1,000 kg bombs across LoC, destroyed terror camps
Reportedly, 12 Mirage-2000 Indian fighter jets of the Indian Air Force struck several terror camps across the LoC in the wee hours. The strikes neutralized Jaish-e-Mohammed camps in Balakot, Muzaffarabad, and Chakothi by shelling 1,000 kg bombs within 19 minutes. The casualties could be somewhere around 200-300, the reports added. It was at this camp that mastermind of Pulwama attack, Kamran was trained.
Quiet no more: Akshay is proud of Indian Air Force
Hailing Indian Air Force's brave retaliation, several celebrities took to micro-blogging site Twitter to express their pride. Among them was superstar Akshay Kumar, who lauded IAF for striking deep into the enemy. He wrote, "Proud of our #IndianAirForce fighters for destroying terror camps. Quiet no more! #IndiaStrikesBack". Ajay Devgn also saluted the IAF and tweeted, "Mess with the best, die like the rest".
Taapsee hails IAF strike with a victory sign
Let us all pray for IAF's safety, pleads Sanjay Dutt
Salute to the #IndianAirForce for their indomitable spirit in keeping our country safe! Let us all pray for their safety. Jai Hind 🇮🇳

— Sanjay Dutt (@duttsanjay) February 26, 2019
From now on, zero tolerance towards terror
Meanwhile, director Omung Kumar also lionized the aerial strike and said, "Proud of our forces. We've shown Pakistan that India will no longer tolerate it's diabolical designs and terror tactics. Zero tolerance towards terror". "Our forces have given a befitting reply to the terror tactics employed by our enemies. I salute their valor. From now on, zero tolerance towards terror," producer Anand Pandit stated.
'Happy that government gave free hand to our armed forces'
Filmmaker Madhur Bhandarkar also voiced similar opinions and eulogized the attack by Indian Air Force. "I am happy that the government of India gave a free hand to our armed forces and salute to our forces who have carried such a brave strike again destroying the terror camps. At this hour we should all stand united and back our armed forces," he told PinkVilla.
It's time for all Indians to stand united: Madhur
Salute to the daredevil IAF pilots who braved to strike in the heart of our enemy. It's time for all Indians to stand united as one.🇮🇳🙏 #IndiaStrikesBack #JaiHind

— Madhur Bhandarkar (@imbhandarkar) February 26, 2019
'Baahubali' director SS Rajamouli expresses his gratitude, hails IAF
Not just Bollywood, even celebrities from South Indian Film Industry joined the chorus and cheered for the IAF. Rakul Preet Singh saluted the forces and stated that the entire country is 'super proud' of IAF. "Indian Air Force we salute you with everything we can! A proud day for our country," Akhil Akkineni tweeted. S. S. Rajamouli, director of Baahubali, also expressed his gratitude.
Kamal Haasan says 'India is proud of its heroes'
Our 12 return safely home after wreaking havoc on terrorist camps in Pakistan. India is proud of its heroes. I salute their valour.

— Kamal Haasan (@ikamalhaasan) February 26, 2019
No starting wars but ending it like, Samantha points out