Shabana Azmi is sedated but coherent, says Boney Kapoor
Shabana Azmi is sedated but coherent, says Boney Kapoor
Jan 20, 2020, 02:10 pm
3 min read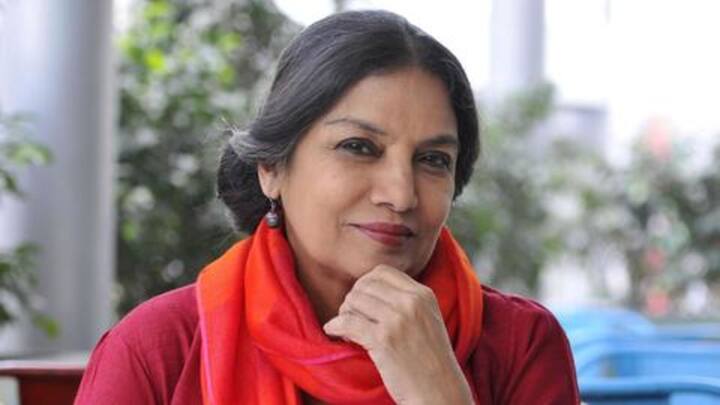 Veteran actress Shabana Azmi, who is currently admitted in the ICU at Mumbai's Kokilaben Dhirubhai Ambani Hospital, is under sedation but coherent and talking normally, shared film producer Boney Kapoor, who visited her at the hospital. Shabana (69) was critically injured in a major road accident on the Mumbai-Pune Expressway on Saturday afternoon. Here are more details on this.
According to doctors, there is nothing alarming: Kapoor
Speaking to Mumai Mirror, Kapoor, who visited the hospital on Sunday, said, "According to doctors, there is nothing alarming. She's sedated as there is some pain but everything is fine." Except for Shabana's husband and poet/lyricist Javed Akhtar, her brother Baba Azmi, and her sister-in-law Tanvi Azmi, nobody is allowed inside the ICU, Kapoor further informed the daily.
Shabana is a fighter, will come out of it: Kapoor
"Shabanaji is coherent, talking normally, recognizing people. For now, she is under observation and the doctors are making sure there is no internal injury and that potential dangers are ruled out. She is a fighter and will come out of it," Kapoor added.
All the scan reports are positive, Javed said
Meanwhile, actor/director Satish Kaushik said, "Shabanaji's condition is improving and her reports are normal. I met Javed (Akhtar) saab too and everyone is relieved. God is kind." Javed told Bollywood Hungama, "She (Shabana) is in the ICU but all the scan reports are positive. It seems there's no serious harm done." Her doctor had also stated that she is stable and under observation.
Anil Kapoor, Tabu, Honey Irani visited Shabana at the hospital
Other Bollywood celebrities who visited Shabana at the hospital include Javed's ex-wife Honey Irani, his children Farhan and Zoya Akhtar, Vipul Shah, Ashutosh and Sunita Gowariker, Farah Khan, Vicky Kaushal, Ritesh Sidhwani, Anil Kapoor, and Tabu, among others.
Accident happened at 3:30 pm on Saturday
The accident happened at around 3:30 pm on Saturday after Shabana's car rammed into a moving truck near Khalapur toll plaza (Raigad district), over 60km from the state capital Mumbai. Reportedly, Shabana's driver crashed into the truck after attempting to overtake another vehicle. The driver, Amlesh Yogendra Kamat (38) had also sustained injuries in the accident.
Meanwhile, the driver has been booked for rash driving
Following the accident, the truck driver whose vehicle was hit by Shabana's car filed an FIR against Kamat. The driver has now been booked under Sections 279 (rash and negligent driving) and 337 (causing hurt by negligence) of the Indian Penal Code (IPC).