Donald Trump mentions 'DDLJ' and 'Sholay' in speech
Donald Trump mentions 'DDLJ' and 'Sholay' in speech
Feb 24, 2020, 08:51 pm
2 min read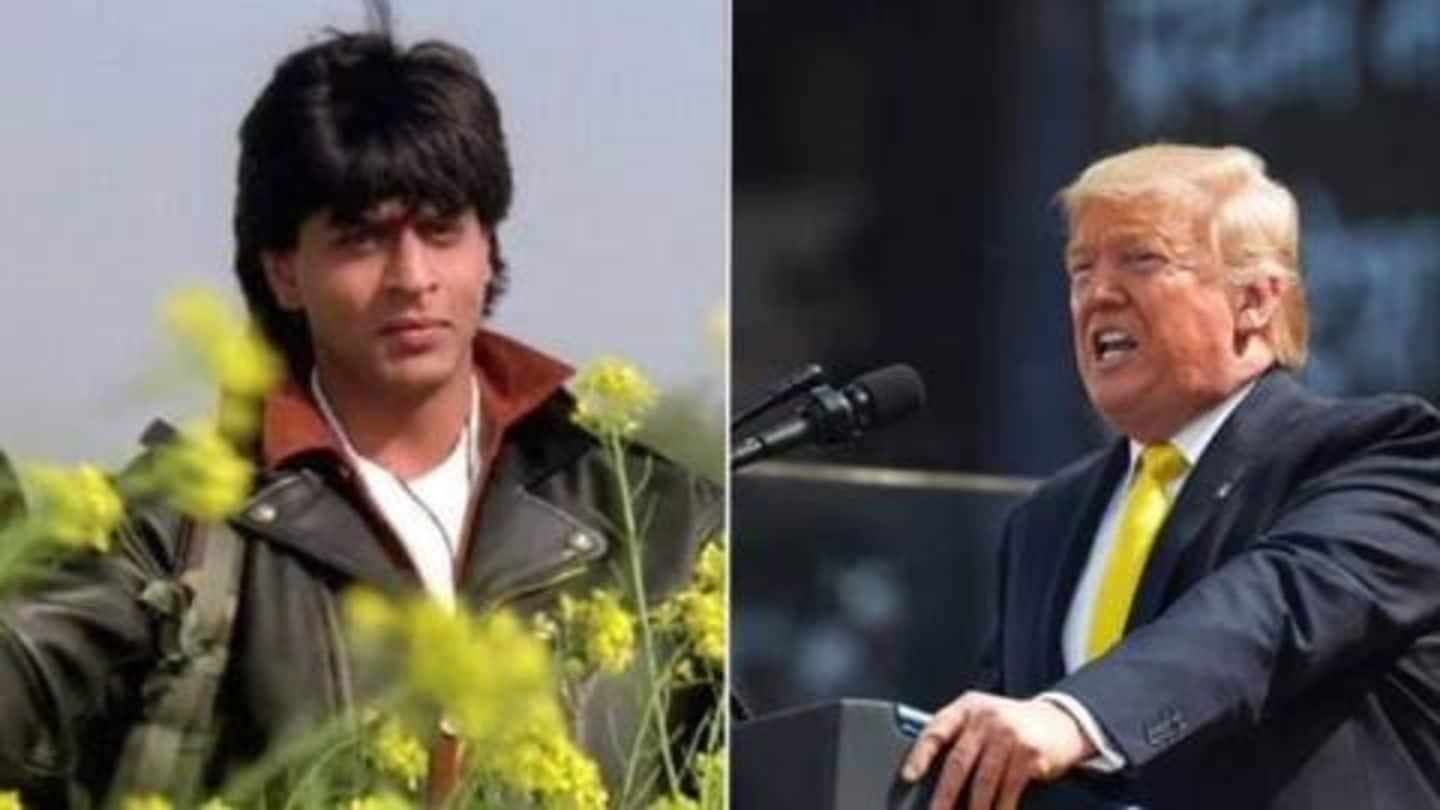 On his maiden trip to India as the President of United States, Donald Trump brought up topics such as Bollywood and cricket, clearly to forge a connection with the Indian milieu. During his speech at the Motera Stadium in Ahmedabad earlier today, the 45th President of the US mentioned classic Hindi movies DDLJ and Sholay, and star cricketers Sachin Tendulkar and Virat Kohli.
Trump also spoke about India's unity, Pakistan and terrorism
During his speech at the world's largest cricket stadium, Trump touched upon various matters. Starting off with "Namaste India", Trump lauded India's democratic values and unity. "Your unity is an inspiration to the world," he said. Further, the US President, who landed in Gujarat this morning, also mentioned their efforts to combat terrorism and the impending trade deal between India and the US.
Trump mentioned bhangra, 'DDLJ', Tendulkar and Kohli in speech
Later during his speech, Trump garnered a huge cheer from the massive crowd as he said, "All over the planet people take great joy in watching Bollywood films, bhangra, and classic films like DDLJ and Sholay." Then, in a nod to India's craze for cricket, Trump added, "You cheer on great cricketers like Sachin Tendulkar and Virat Kohli".
'DDLJ', 'Sholay' command a cult following among Indians
Shah Rukh Khan and Kajol's iconic 1995 movie Dilwale Dulhania Le Jayenge (DDLJ) and Ramesh Sippy's epic action movie Sholay, starring Amitabh Bachchan and Dharmendra, command a cult fan following among Indians. By referring to these classics and two of India's most popular sportsmen, Trump, who's eyeing a re-election this year, attempted to achieve a deeper sense of connection with his admirers in India.
Not the first US president to refer to 'DDLJ', though
Trump recently termed Ayushmann Khurrana's movie 'great'
Not long ago, Trump also lauded Ayushmann Khurrana's movie Shubh Mangal Zyada Saavdhan, that showcases gay romance. Retweeting a post that celebrated the Bollywood movie, Trump wrote, "Great". In response, the movie's star Ayushmann said, "It was a very surprising tweet. I want him to work for LGBTQi rights in his country. I hope the LGBTQi community in US gets his support."