Shocking! Miley Cyrus' 'fan' forcefully kisses her, video goes viral
Shocking! Miley Cyrus' 'fan' forcefully kisses her, video goes viral
Written by
Trivesh Sharma
Jun 05, 2019, 12:15 am
2 min read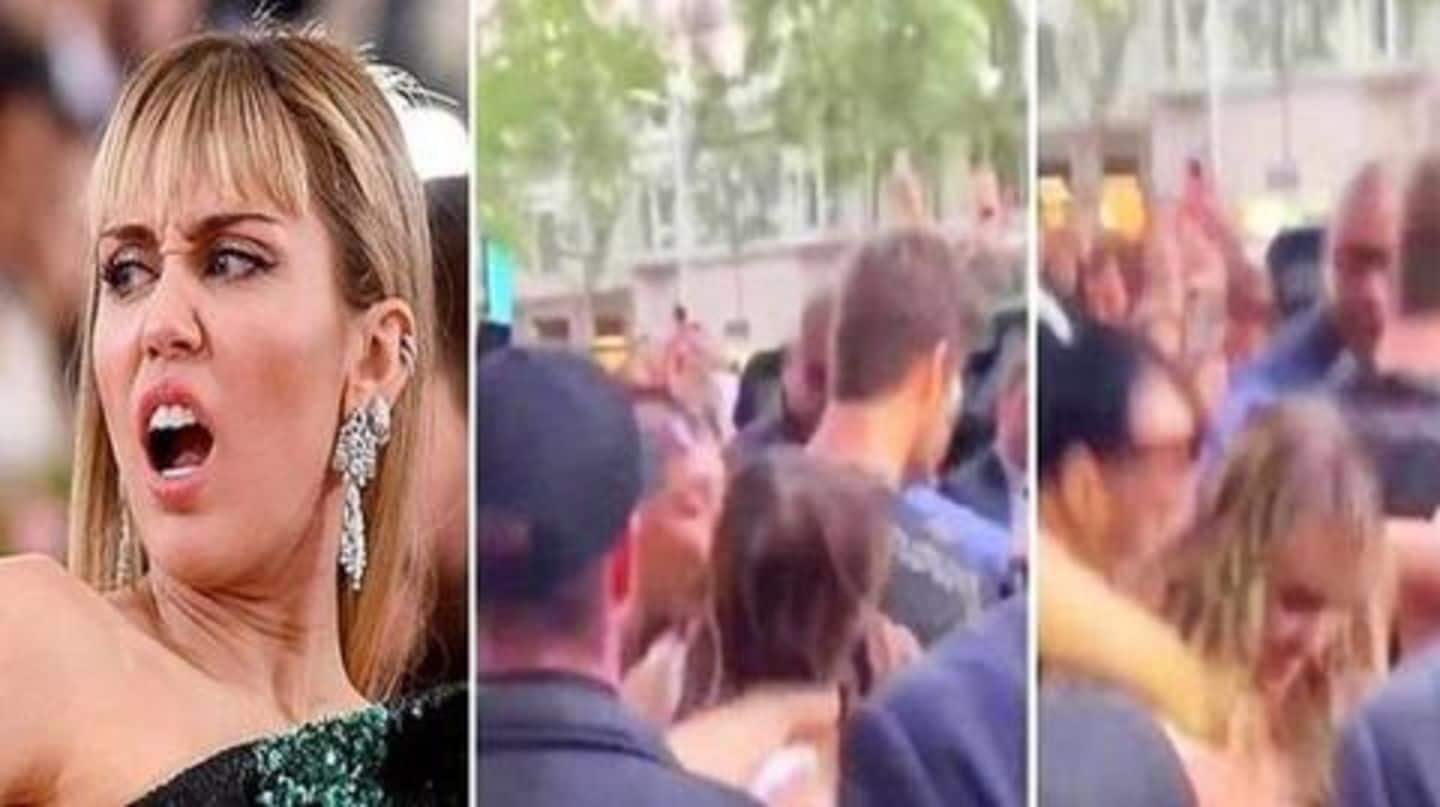 The world of glamor may seem glitzy, but celebrities have to go through a lot. From prying paparazzi to fans who don't respect distance, things really take a nasty turn sometimes. Something similar happened with singer-actor Miley Cyrus when she attended Primavera Sound Festival in Barcelona. A fan forcefully kissed the 26-year-old when she was getting out of her hotel with husband Liam Hemsworth.
Fan tried to grab Miley, kissed her on back
A video of the obnoxious incident has surfaced on social media. A fan (read creep) can be seen trying to grab Miley. He first pulled her hair and then tried to kiss her forcefully. He ended up kissing her on the back. Miley quickly turned away, while her husband put his hands around her. We can only imagine how traumatic it must have been.
Miley's fans supported her, asked her to press charges
After watching the video, one fan called the incident "disgusting", while another one asked if the groper was arrested by police. "She needs to press charges. This is not ok," wrote another fan on Twitter. Moreover, some of her fans trolled her security guards and suggested her to hire new people. Notably, the pop star is yet to comment on the incident.
Here is how the insane fan reacted
She needs to press charges. This is not ok.

— TheBradenBunch (@BradenBunch09) June 3, 2019
Liam and Miley are one of Hollywood's most adored couples
The incident and Liam's reaction to it shows he knows how to protect Miley from scary fans. For those who don't know, Miley and Liam grew close to each other while shooting for 2009 releaseThe Last Song. Their relationship went through ups and downs and in December last year, they got married secretly. Miley once said she likes that Liam respects her so much.
Like Miley, fans have troubled other celebrities too
Well, The Wrecking Ball singer is not the only to have such over-enthusiastic fans. In 2015, Maroon 5 singer Adam Levine was aggressively addressed by a female fan during a live concert in California. There was another instance when a fan got so close to Kylie Jenner that she yelled at him, "Don't touch me." Creepy fans really need to take a chill pill.