GoT: Five things you might have missed in Episode 2
GoT: Five things you might have missed in Episode 2
Written by
Siddharth Tyagi
Apr 23, 2019, 02:31 pm
3 min read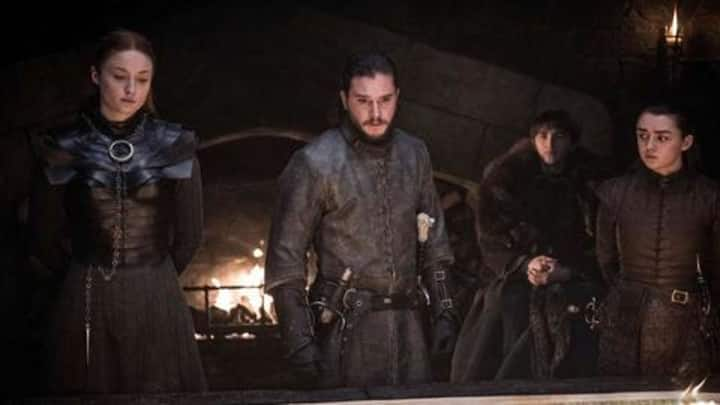 The second episode of Season 8 of Game of Thrones aired yesterday and focused on giving a satisfactory account of the pre-war Winterfell. It showed thought processes of characters before the upcoming war and had a few wholesome moments as well. It also had Easter eggs, hidden details, and call-backs to the books. We bring five things viewers might have missed in yesterday's episode.
Arya and Gendry: A love story spanning seasons
The young couple finally slept together and the way Arya looked at Gendry was a direct call-back to the look she gave him in Season 2. They also talk about the time Arya asked him to 'be' his family in Winterfell. The show also reminds us that Beric Dondarrion was on Arya's list because he sold Gendry to the Red Woman. Such is love!
Remembering the people in their past
We saw the last remaining brothers of the Night's Watch, Jon, Sam, and Eddison talking about the friends they lost and making a pact that the last remaining will burn the others. Davos remembered Shireen when a little girl interacted with him and Dany remembered Rhaegar, Drogo. Tormund (ridiculously) remembered a giant he killed and his wife who's the reason he loves giant's milk!
Old dialogues make a return, so does Ghost
Bran says Jaime's notorious "The things we do for love" to him, signifying that he remembers everything. Tyrion repeats his quotable line, "I want to die in my bed, at the age of 80 with a belly full of wine and...", well you know the rest. Finally, Jon's direwolf Ghost makes a long-awaited but underwhelming appearance in a couple of frames.
How are Jorah and Lyanna Mormont related?
Jorah and Lyanna are first cousins. Jorah is the son of Jeor Mormont, the previous Lord Commander of Night's Watch. Since Jorah was exiled, Jeor's sister, Maege became the Mormonts' matriarch. She died too and the mantle passed on to her daughter, Lyanna. Also, Jorah received House Tarly's ancestral Valyrian Steel sword, Heartsbane from Samwell (a call-back to him giving away Longclaw to Jon).
The biggest point of discussion: Jenny's Song
I guess Podrick sang to 'those women'! In his beautiful voice, Pod sings Jenny's Song which also serves as the episode's conclusion music. The song is based on Jenny, who was married to Duncan Targaryen and was the reason why Duncan forfeited his throne. She also has a role in Azor Ahai's theory. It is important because it hints at Jon and Dany's future.