#GameOfThrones: HBO reveals first look photos of Season 8
#GameOfThrones: HBO reveals first look photos of Season 8
Feb 08, 2019, 01:54 pm
3 min read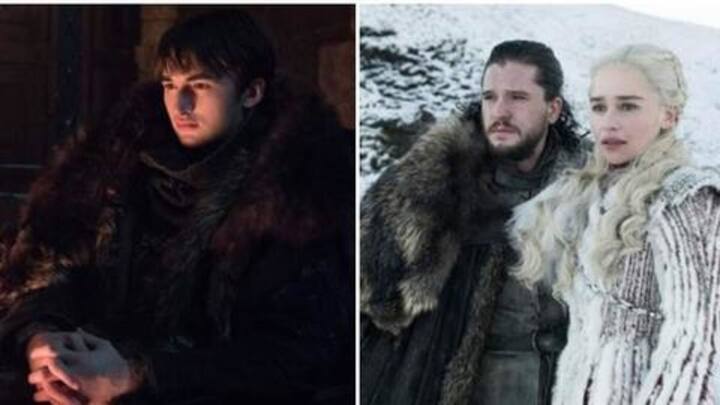 Game of Thrones is going to create one of the most important instances in pop culture when the HBO show airs its eighth and final season on April 14. However, before we find out who gets to sit on the Iron Throne, the show makers are keeping fans on their toes, by revealing a first look at the pictures of several key cast members.
What we know about Season 8 so far
While details about Season 8 have been kept under wraps, we know some things headed our way. A clip showed a meeting between Sansa Stark of Winterfell and Daenerys Targaryen, potential queen of Westeros, as Sansa swears allegiance to Daenerys. Further, a teaser showed the Starks in crypts of Winterfell, dealing with their past, as an icy chill crept up, threatening White Walkers' invasion.
Images show all the major players of Season 8
HBO's collection of 14 pictures show close up shots of several major characters including Daenerys Targaryen, Cersei Lannister, Sansa Stark, Jon Snow, Jaime Lannister, Tyrion Lannister, Ser Davos Seaworth, Varys, Arya Stark, Brienne, Bran Stark, and Samwell Tarly. All the pictures show the characters showing weariness and concern on their faces, perhaps preparing for the White Walker invasion that is coming to Westeros.
Jon and Daenerys pictured together, sharing loving looks
Jon and Daenerys seem to be carrying forward their loving relationship in Season 8. Perhaps still unaware that Daenerys is Jon's aunt and he is actually Aegon Targaryen, the pictures show them together. Further, the two are seen staring into each other's eyes lovingly. Notably, these are the only two characters who seem to have been photographed together, hinting at their alliance and relationship.
Arya looks aggressive with her sword clearly visible
Arya's photo stood out as Ned Stark's youngest daughter seems to have come a long way from being just a truant child. She looks positively aggressive, perhaps staring at the person who is next on her list of characters she would like to assassinate. Having trained to be a faceless assassin, she seems at home with her trusty sword Needle, whose helm is visible.
Jaime Lannister steals the show with his picture
Of all the pictures the most striking was Jaime Lannister's played by Nikolaj Coster-Waldau. Jaime was last seen leaving Cersei's side to travel North, having disagreed with his sister and lover's political stance in face of the potential White Walker invasion. The new photo shows Jaime dressed in the armor of the Northern army, suggesting that the Kingslayer might have changed sides.