I'm someone who believes in looking ahead in life: Bautista
I'm someone who believes in looking ahead in life: Bautista
Written by
Anamica Singh
(Sourced from PTI)
May 18, 2021, 09:59 am
3 min read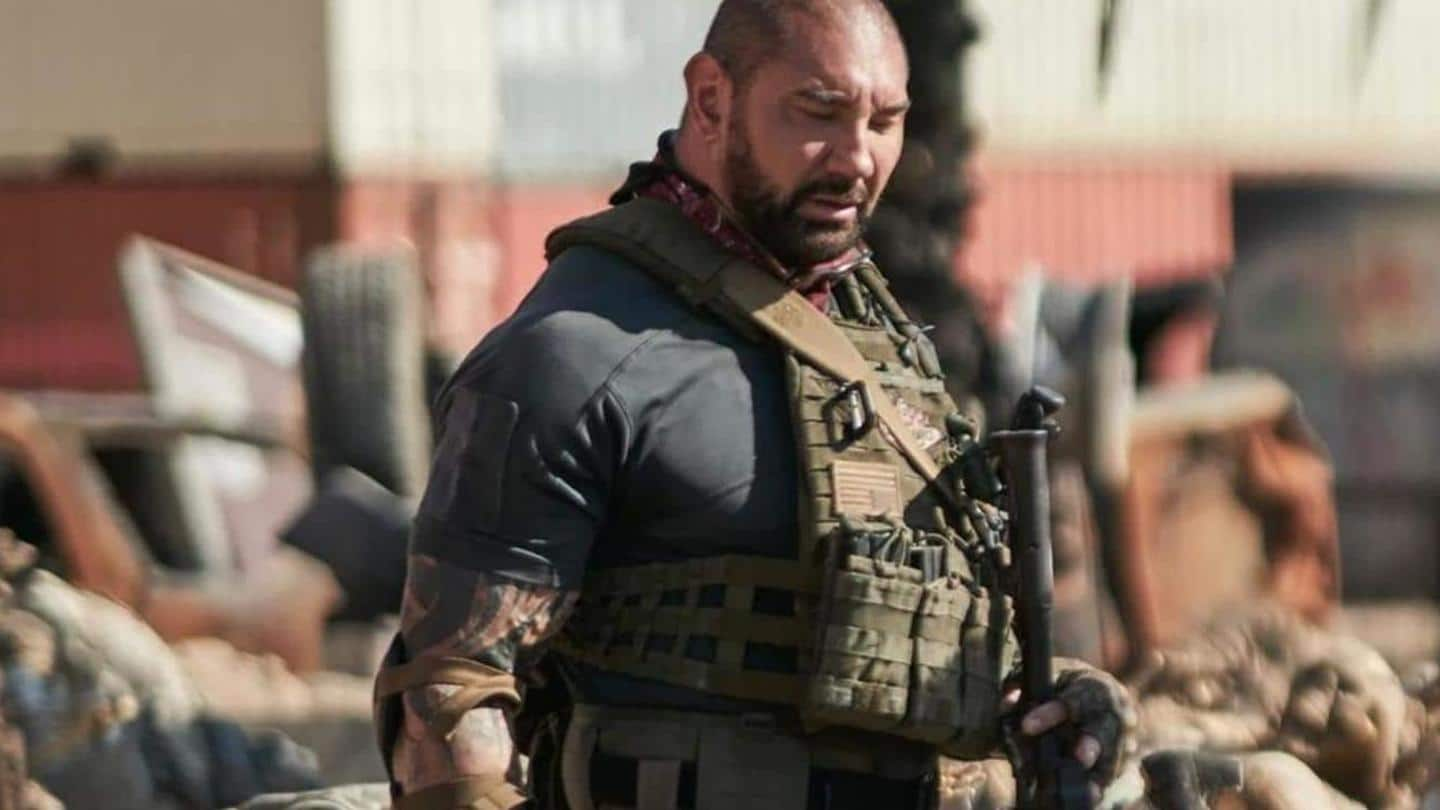 Hollywood star Dave Bautista says though he is proud of his accomplishments so far, he is someone who believes in looking ahead in life. Best known to Indian audiences as Drax the Destroyer from Marvel Cinematic Universe's Guardian of the Galaxy series, the professional wrestler-turned-actor has had an interesting career in films.
There are things I am desperate to achieve: Bautista
"I'm proud of what I've done," Bautista said in an interview. "But I'm so focused on moving forward and on things that I still am desperate to accomplish that there are not many days that I sit and reflect and look back on what I've done and where I've come from," the actor, who has some big releases lined up, said.
He will next be seen in 'Army of the Dead'
Bautista, 52, has a lot of films slated for release in the near future, including Zack Snyder's zombie heist drama Army of the Dead, Denis Villeneuve's Dune, and Taika Waititi's Thor: Love and Thunder.
'Army of the Dead' will release on Netflix May 21
His other prominent films include the James Bond movie Spectre, Blade Runner 2049, and Marvel Studio's Avengers: Infinity War and Avengers: Endgame. The actor is currently promoting Army of the Dead, slated for release on Netflix on May 21. It's a role that he joked gave him a chance to be prepared in case of a zombie apocalypse.
I am a fan of Snyder's visual style: Bautista
Taking up the role of Scott Ward, the founder of the mercenary group - Las Vengeance, in the movie, who plans and leads a group of soldiers on a Las Vegas casino heist amid a zombie apocalypse, was a no-brainer for Bautista who confessed to being a fan of Snyder's visual style. "Snyder would always be hanging around the set," Bautista said.
'I can take up roles that don't pay much money'
"I know that Guardians of the Galaxy 3 is coming up. So if I want to do a series that's not going to pay much money, but I feel like as an artist I could become a better performer taking this role, then I'll have the luxury of doing that," he added Army of the Dead also features Ella Purnell, Omari Hardwick among others.
Big roles let me choose small-budget projects as well: Bautista
Bautista has mostly featured in spectacle films but he does not believe that these movies don't offer actors a chance to play rich roles. The actor says the luxury to do big roles gives him a chance to pursue interesting characters in small-budget projects.