Kangana Ranaut supports Kartik Aaryan after 'fallout' with Karan Johar
Kangana Ranaut supports Kartik Aaryan after 'fallout' with Karan Johar
Written by
Shreya Mukherjee
Apr 17, 2021, 03:44 pm
2 min read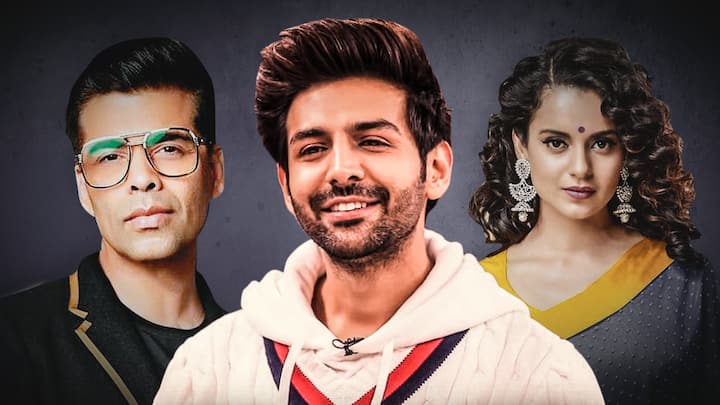 Actress Kangana Ranaut has yet again attacked filmmaker-producer Karan Johar regarding nepotism, and this time the hit surrounds actor Kartik Aaryan getting removed from Dostana 2. Yesterday, it was reported that Dharma Productions has fired Aaryan and will never work with him again. The actor's alleged tantrums were to be blamed. Later, Dharma confirmed they'll be recasting Dostana 2 but refused to give details.
We've decided to maintain a dignified silence: Dharma on recasting
'Please leave him alone, like Shushant don't go after him'
While neither of the two parties has confirmed the reports, Ranaut took Aaryan's side late on Friday. Sharing the link to Dharma's announcement, she said, "Kartik has come this far on his own, on his own he will continue to do so, only request to papa jo and his nepo gang club is please leave him alone like Shushant don't go after him... (sic)."
'Kartik no need to be scared of these chillars'
Expressing her support, Ranaut asked Aaryan not to be "scared" due to the "nasty articles" that blame his "attitude for the fall out." Drawing a comparison with Sushant Singh Rajput, she wrote, "They spread same stories of drug addiction and unprofessional behavior for SSR also." She also mocked Johar's production house for saying they would be keeping a "dignified silence" on the matter.
'Know that we are with you,' concluded the 'Manikarnika' star
The actress encouraged her junior colleague and asked him to trust his "instincts and be disciplined" instead. She concluded the Twitter thread by sending love, writing, "Know that we are with you, the one who did not make you can't break you either (sic)." The post resonated with her fans, raking in more than 13,000 likes within hours.
SSR's fans unhappy with suicide mention in Ranaut's tweet
However, Ranaut was criticized by a section of Rajput's fans for bringing him into the post. One social media user wrote: "Stop comparing Sushant with Kartik Aryan." Another said: "While I agree with the rest of what you say, kindly correct this statement ma'am. Sushant didn't hang himself. He did NOT commit suicide (sic)." Meanwhile, Aaryan is yet to comment on the matter.
You can read her tweet here
Kartik has come this far on his own, on his own he will continue to do so, only request to papa jo and his nepo gang club is please leave him alone like Shushant don't go after him and force him to hang himself. Leave him alone you vultures, get lost chindi nepos... https://t.co/VJioWHk38i

— Kangana Ranaut (@KanganaTeam) April 16, 2021