Are Katrina, Vicky Kaushal really dating? Neha Dhupia spills beans
Are Katrina, Vicky Kaushal really dating? Neha Dhupia spills beans
Written by
Pallabi C Samal
May 08, 2019, 04:48 pm
3 min read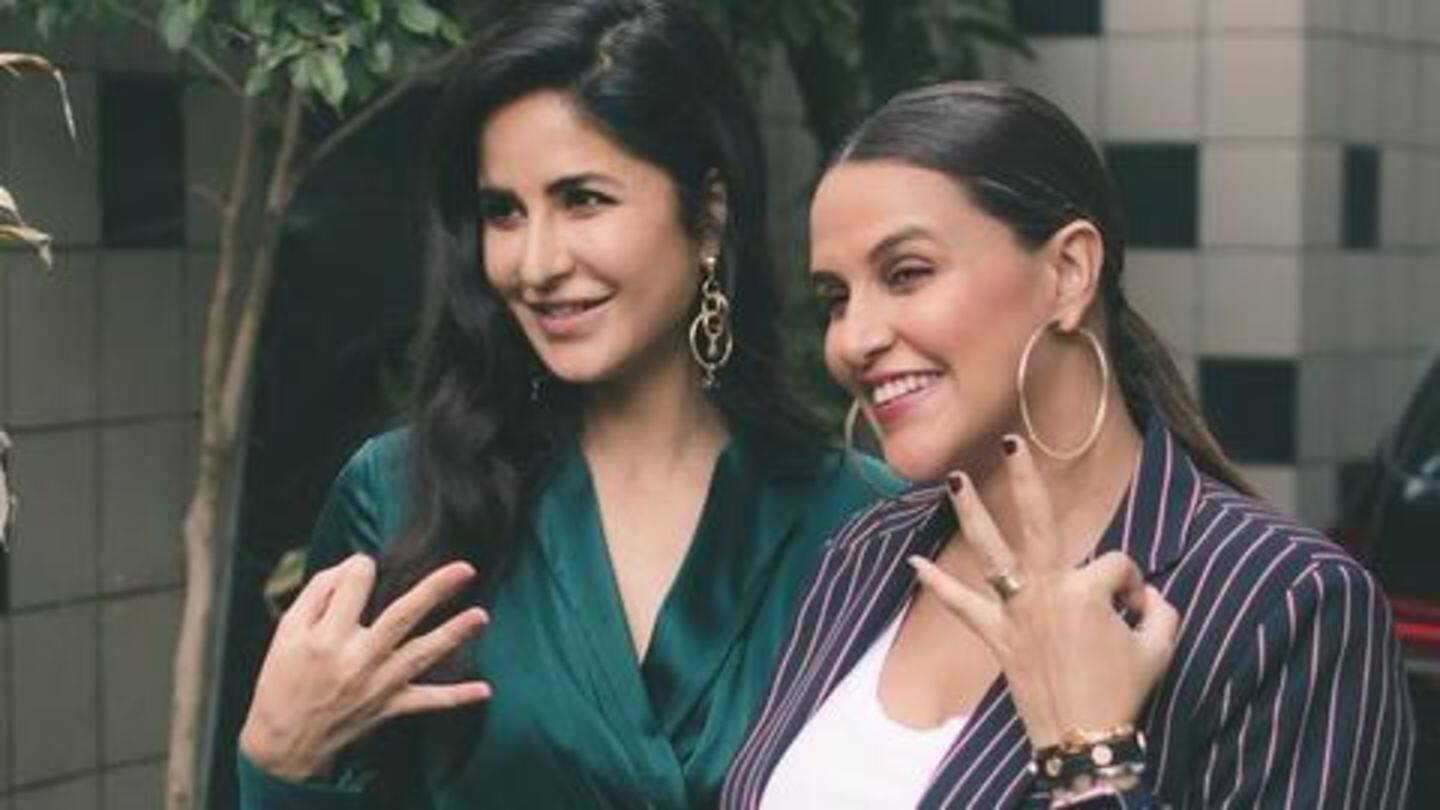 Ever since Katrina Kaif said on Koffee with Karan that she wants to work with Uri actor Vicky Kaushal as she feels that they would look good together on-screen, rumor mills have been busy hinting about a possible romance between them. Though everyone teases Vicky taking Katrina's name in functions, parties, award ceremonies, nothing is confirmed yet. Recently, however, Neha Dhupia revealed something interesting.
When asked if Katrina-Vicky are dating, Neha blinked twice
Neha, who is hosting the third season of BFFs With Vogue, which airs on Colors Infinity, was recently asked rapid fire questions, keeping in line with her show's format. When she was asked about who would throw the least tantrum on sets, she answered Katrina, frankly expressing her fondness for her. She was then asked if Katrina was dating Vicky, and she blinked twice.
Last November, Katrina had said about Vicky's pairing with her
Blinking twice meant 'no,' and once meant 'yes'. We so wanted Neha to blink once, since Katrina and Vicky are painting the town red with their sizzling chemistry and open admiration for each other. It all started last November, when Katrina, who was accompanied by October actor Varun Dhawan, said on Karan Johar's show, "Vicky Kaushal and I might look good together."
When Karan told Vicky about Katrina's admiration for him
In December, Vicky appeared on the show along with Andhadhun actor Ayushmann Khurrana. So Karan seized the opportunity during his rapid fire round to ask Vicky's reaction to what Katrina had said earlier on the show. Vicky mockingly fainted, evoking laughter from Karan and Ayushmann. Later he said he did not believe Katrina even knew that he existed. We now know she did!
In January, Vicky asked Katrina to marry him on-stage
Then in January, at an awards function, Vicky teased Katrina about marrying him. He asked her, "Why don't you find a nice boy like Vicky Kaushal and get married to him? The season of weddings is on, so I thought, you too would want to do the same and so I thought I ought to ask you." Katrina, naturally stumped, managed a "What?"
When Vicky proposed marriage to Katrina, and Salman 'fainted'
A few moments later, the title song from Mujhse Shaadi Karogi started playing in the backdrop, and Vicky started singing it. Katrina, left blushed by now, couldn't help but say, "Himmat nahin hai (I don't have the courage)." Salman Khan, who was present at the event, pretended to fall asleep on his sister Arpita's shoulders, only to mock wake up to hear Katrina's reply.
Vicky, Katrina's intense love story to be like 'Kedarnath'?
Interestingly, Vicky and Katrina are in talks for an intense love story that will be produced by Ronnie Screwvala. "It will possibly be inspired from real life and something along the lines of Kedarnath. Both the actors share amazing chemistry off-screen. They have come together on a television show Tape Cast where both appeared to be very comfortable with each other," a source said.
Meanwhile, Neha is planning to return to films soon
The duo also gelled up during Zoya Akhtar's house party last month, where their chemistry sparked rumors suggesting that they are more than friends now. Meanwhile, Neha is planning to return to films soon, and will be working out to get back in shape. She celebrates her first wedding anniversary with husband Angad Bedi today. The couple is blessed with a daughter, Mehr.