#KWK6 grand finale: Arch-rivals turned friends Kareena-Priyanka gossip, laugh, talk
#KWK6 grand finale: Arch-rivals turned friends Kareena-Priyanka gossip, laugh, talk
Feb 18, 2019, 02:29 pm
3 min read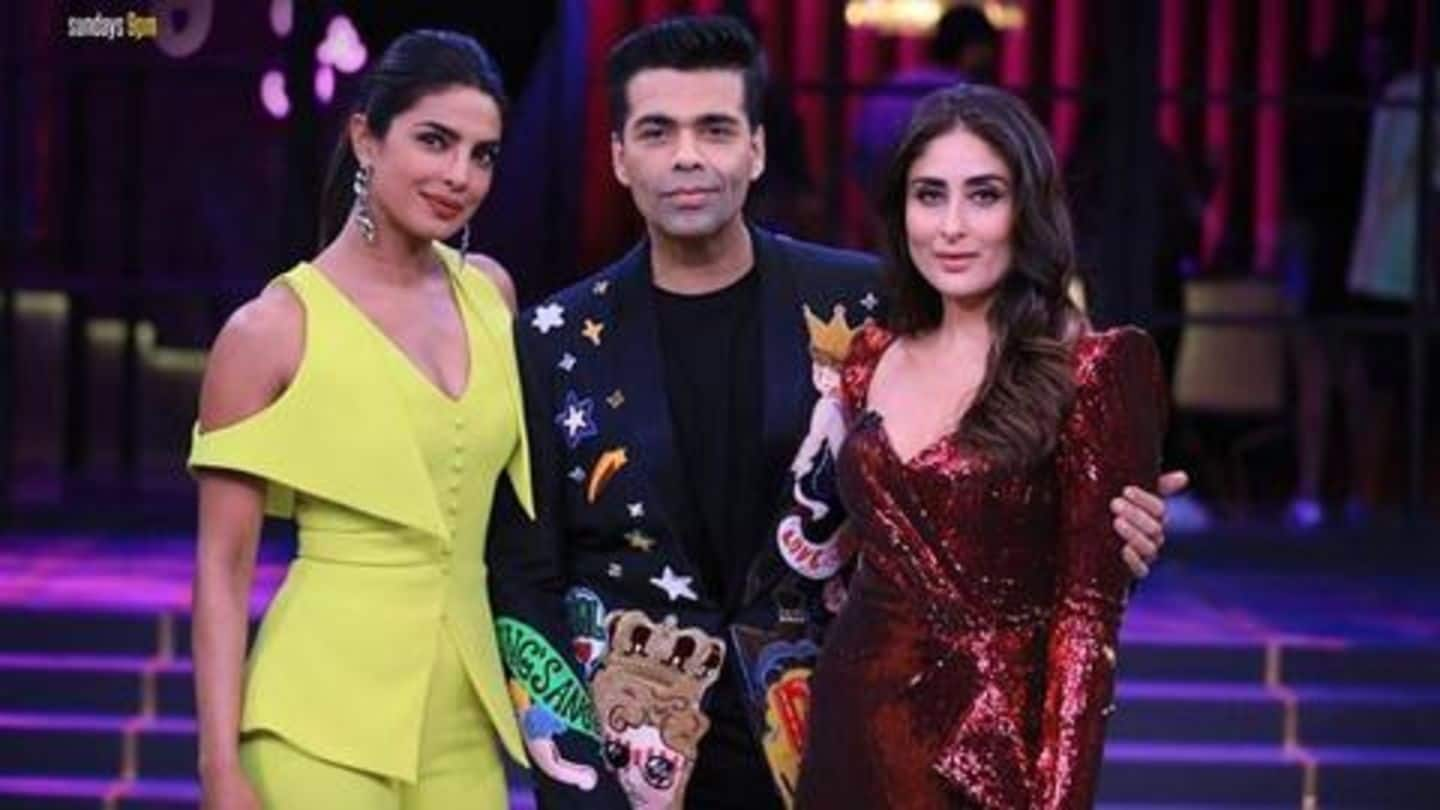 The sixth season of Koffee With Karan is heading towards its grand finale and all eyes are on the final episode. After all, it will feature arch-rivals Kareena Kapoor Khan and Priyanka Chopra, who will bring the curtains down for KWK 6. Interestingly, this will be the first time the two of them will be sharing the couch. Expect some definite firecrackers, people!
Did you know: Both Kareena, Priyanka got proposed in Greece
Like every other episode, Star World teased a promo of KWK 6 finale too, and it showed the camaraderie the two actors share now. At their quirkiest best, both Kareena and Priyanka talked about how both of them got proposed in Greece, while not shying away from pulling each other's leg. The little clip surely promised the episode will be fun.
Watch how the two divas bring the house down
'Don't forget your roots,' Kareena asks Priyanka on the show
The episode also touched upon Priyanka's career in the West, but in a funny manner. When Karan asked Priyanka, "Do you know who Varun Dhawan is dating," she denied any knowledge. To this, the Heroine actress retorted if Priyanka, dressed in a lemon yellow two-piece, only knows about Hollywood actresses now. "Don't forget your roots, huh," Kareena 'advised' Priyanka, who was left in splits.
Kareena-Priyanka's hate relationship started over Shahid Kapoor
The finale featuring these two actors is significant, as they have had their share of nasty catfight, which lasted several years. Their cold war initiated after the two worked in Aitraaz (2004), where Priyanka stole the entire limelight through her brilliant performance. Also later, when Priyanka was linked to Shahid Kapoor, it miffed Kareena. After all, Kareena and Shahid were dating once.
The catfight turned public on 'KWK 4' in 2007
Kareena-Priyanka's cold war became public in 2007 on KWK 4. It happened when Kurbaan actress ridiculed Priyanka for her accent. This didn't go down well with PeeCee who, during her appearance on KWK 4, retaliated, "I got it from the same place her boyfriend got it from." Bebo was dating Saif Ali Khan back then and this was Priyanka's direct jibe at their affair.
The divas called it truce in 2010, or did they?
Finally, goodwill prevailed and during Umang 2010, Kareena and Priyanka shared a hug, danced with Saif Ali Khan and Shah Rukh Khan and showed signs of a patch up. Soon after, there were reports that the divas have called it a truce. However, they still chose to maintain a safe distance from each other, but lauded each other on several occasions.
Kareena, Priyanka finally had a change of heart in 2016
2016 came with an unexpected twist in Kareena-Priyanka's love-hate relationship and KWK once again changed their equation - this time from foes to friends. On KWK 5, Bebo was all praises for Priyanka's achievements in the West. And, Priyanka also reciprocated to her (on the same season) by showering love on Taimur. Now that's what you call a change of heart.