'Ms. Marvel' trailer: 'Brown girl from Jersey' will save world
'Ms. Marvel' trailer: 'Brown girl from Jersey' will save world
Mar 16, 2022, 02:17 pm
2 min read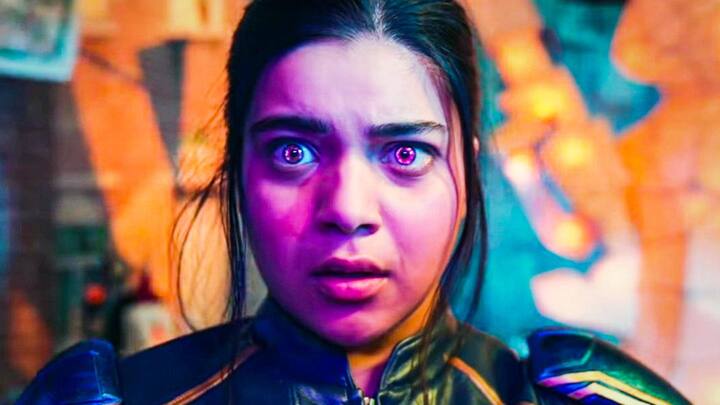 Marvel Cinematic Universe (MCU) is about to get its first Muslim superhero with Kamala Khan aka Ms. Marvel entering the picture. The first full trailer for Ms. Marvel was dropped recently, announcing the original series will premiere on Disney+ Hotstar on June 8. The clip showed us how MCU's Khan is going to be similar and different from the comics one. Here's a breakdown.
What does the trailer show us?
We're introduced to Khan (Iman Vellani) as a die-hard Avengers fan, who dreams about saving the world like her superheroes and writes fan-fictions. As the world gives her the "weird" stamp, our high-schooler protagonist dresses up as her favorite Brie Larson's Carol Danvers aka Captain Marvel. Her fantasy turns into reality when powered by a magical bangle, she turns into an actual superhero.
Clip promises an inclusive narrative
Although the trailer suggests Ms. Marvel will be targeted toward the younger fans, it doesn't appear superficial. We get sequences of Khan offering namaz and in a scene, she laments how "brown girls from Jersey" usually don't become superheroes. Powered with Blinding Lights by The Weeknd playing in the background, the 1:47-minute-long trailer makes us pretty excited for what is to come.
Series drops June 8 on Disney+ Hotstar
But, Ms. Marvel's powers have been changed
MCU often steers away from the narrative followed by characters but here, they have made a huge jump. Instead of her stretching/shrinking abilities in the comics, Ms. Marvel seems to be creating shiny projections in the series. While many fans have objected to this change, some opine Marvel is perhaps trying to not have superheroes with overlapping powers (Mr. Fantastic also has stretching abilities).
Trailer didn't feature Fawad Khan, Farhan Akhtar though!
Apart from changing the shape and size of any body part, Khan is able to copy inanimate objects, even humans. Further, she has extreme healing powers. We'll have to see if these are retained in the series. Separately, desi fans were excited to see whether actors Fawad Khan and Farhan Akhtar debut in MCU with this. But the trailer didn't feature either of them.