On Nick Jonas' birthday, appreciating the perfect partner he is
On Nick Jonas' birthday, appreciating the perfect partner he is
Sep 16, 2018, 01:48 pm
3 min read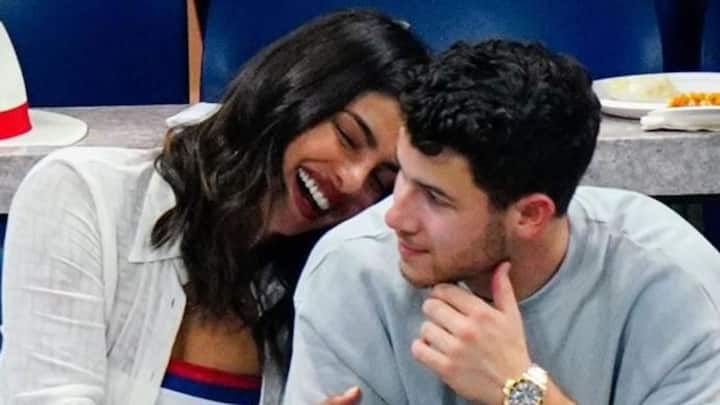 Yes, Nick Jonas and Priyanka Chopra are engaged. And yes, they make a great couple. Those who don't believe it, are the ones who don't believe in love, at all. A look at the lovely pictures of them, and you would know how happy Nick makes Priyanka. On his 26th birthday, here's appreciating the perfect partner Nick (or Jonas Jiju if we may) is.
Their story wrote itself, implying it was meant to be
Nick and Priyanka's relationship isn't your quintessential 'boy-meets-girl' story. For one, Priyanka is older to him. Second, like he said, their love story wrote itself, sans chasing anyone. It was definitely meant to be. And this unusual love story had its share of beautiful moments. After they clicked, Nick and Priyanka remained inseparable, walking hand in hand publicly, and swooning us with love.
Their relationships seems bigger than their individual successes
Let's not forget, both Nick and Priyanka are amazingly successful. Priyanka has taken over the world, broken glass ceilings, and made India proud everywhere. Nick tasted success before he turned 18. The Jonas Brothers' band was minting millions before one knew, and the trajectory has only seen an upward trend. But their successes led them to each other, and didn't become a roadblock.
Have you ever seen Priyanka this happy? We haven't
If one looks beyond the media attention the couple gets, the smile on Priyanka's face is unmissable. Priyanka has been in the public eye for years now, but never has she been this happy. The ear to ear smile reflects in her eyes, and that speaks volumes of the love Nick showers on her. She is a perfect example of how amazing happy women look like.
Nick traveled continents for engagement, and it's a big deal
That Nick came to India for the engagement, deserves a special mention too. Compare him to other men (and their fragile egos), and you'll understand why it's a big deal. Leave traveling continents, some might not even cover miles. Not only this, he spoke how fulfiling the experience was. And we are sure sitting through the desi function wouldn't have been easy at all.
Nick gets hate for loving Priyanka, he doesn't care
The amount of hate the couple gets on social media is upsetting. People, claiming to be Nick's fans, spew venom against Priyanka. But Nick has mastered the act of ignoring haters. He rather gives his attention to Priyanka, the woman who deserves it all. He makes her laugh, claims she is 'his', and just stands by her. Ladies, don't settle till you find your Nick.