Rakhi Sawant drapes Pakistan's flag, creates uproar on social media
Rakhi Sawant drapes Pakistan's flag, creates uproar on social media
Written by
Pallabi C Samal
May 09, 2019, 03:59 pm
4 min read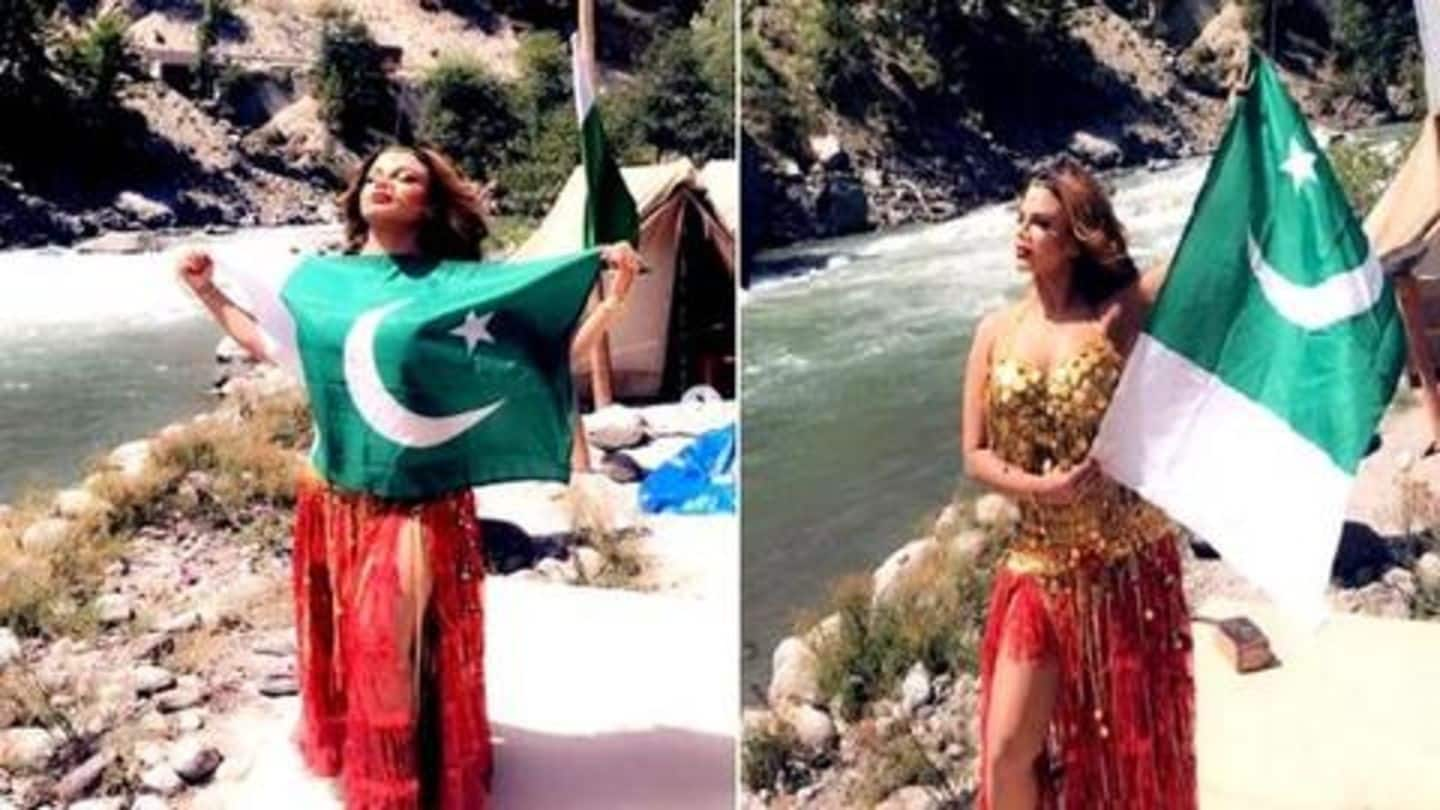 Yesterday, Bollywood bombshell Rakhi Sawant uploaded a series of photographs featuring her, which has infuriated social media. Reason? Rakhi, in the picture that has gone viral now, is seen draping a Pakistani national flag. Her caption however clarified her act, but the Internet was in no mood to forgive her. In a video later, she defended Pakistan and its people, worsening matters.
India, Pakistan relationship soured after February 14 Pulwama attack
India and Pakistan have been at loggerheads ever since a terrorist attack in Pulwama (Jammu and Kashmir) on February 14 killed 40 CRPF jawans. Pakistan based Jaish-e-Mohammed claimed responsibility for the attack and in response, India launched airstrikes in Balakot. A day after the discreet operation, Pakistan sent jets which returned due to IAF's intervention. Pakistan lost one F-16 in the dogfight.
Earlier, Rakhi applauded IAF's aerial strike, PM's efforts
While the entire nation was in fury, Rakhi herself took to Instagram and repeatedly demanded that she doesn't need anything like bullet train or vikaas, but revenge. And after the Balakot strike, she lauded Prime Minister Narendra Modi, and said, she "can also die for the nation, I will willingly go to the rival's territory with 50-100 bombs and destroy them if needed."
Rakhi clarifies she's playing a Pakistani girl in the film
Coming back to the picture, Rakhi was seen dressed in a feather skirt, thigh-high slit with a halter neck and low-cut blouse. She had draped Pakistan's flag beside a crystal-clear water stream, and captioned it as "I love my india but its my character in the film dhara 370." Later in a video she said that she's playing a Pakistani girl in the film.
In the film, Rakhi will expose terrorist organizations
In the video, the 40-year-old performer also said that in her role, she would expose terrorist organizations, which lure children into taking to arms in the name of jihad. She further said that the film is based on Kashmiri pundits and Kashmir.
Im jast plying my character in the film, says Rakhi
Stop exposing, Islam doesn't allow that, says a Pakistani user
As soon as Rakhi posted the pictures, netizens lashed out at her, and started calling her out. Sambrina Khamisa, a Pakistani, slammed Rakhi for exposing too much, saying Islam doesn't allow that. "From nowhere u define our culture, pakistan follows islam which is so pure and peaceful religion which not allowed women to display her personal parts, proud to be Pakistani," she wrote.
Netizens called Rakhi mad, anti-national, threatened to 'unfollow' her
There were also others who trolled Rakhi calling her anti-national, and threatening to 'unfollow' her on Instagram. Some others called her mad, and expressed their anger on her. Another user asked that for money, Rakhi can also embrace the flag of a rival country?
Rakhi uploads another video, says she loves Pakistani people
Rakhi, some hours later, uploaded another video, in which she emphasized her role in the film, and started defending people of Pakistan. She said that Pakistanis are sweet people, and that all are not bad. She added that she respects Pakistan and its people, and only those attached with terrorist organizations should be condemned. She was massively trolled this time as well.
The other video by Rakhi was also slammed by others
Rakhi seems to have an open affair with controversies
Rakhi loves raking in controversies. Last year, she taunted asking if DeepVeer's wedding is a catalogue shoot for designer Sabyasachi. Her next was shaming Bigg Boss contestants Anup Jalota and a much younger Jasleen for being in a relationship. Also, amid the #MeToo storm, Rakhi supported Nana Patekar, and accused Tanushree Dutta of being a drug addict, a liar, attention seeker, eunuch, etc.