Don't take panga with media: Rakhi Sawant's advice to Kangana
Don't take panga with media: Rakhi Sawant's advice to Kangana
Edited by
Pallabi C Samal
Jul 12, 2019, 06:02 pm
3 min read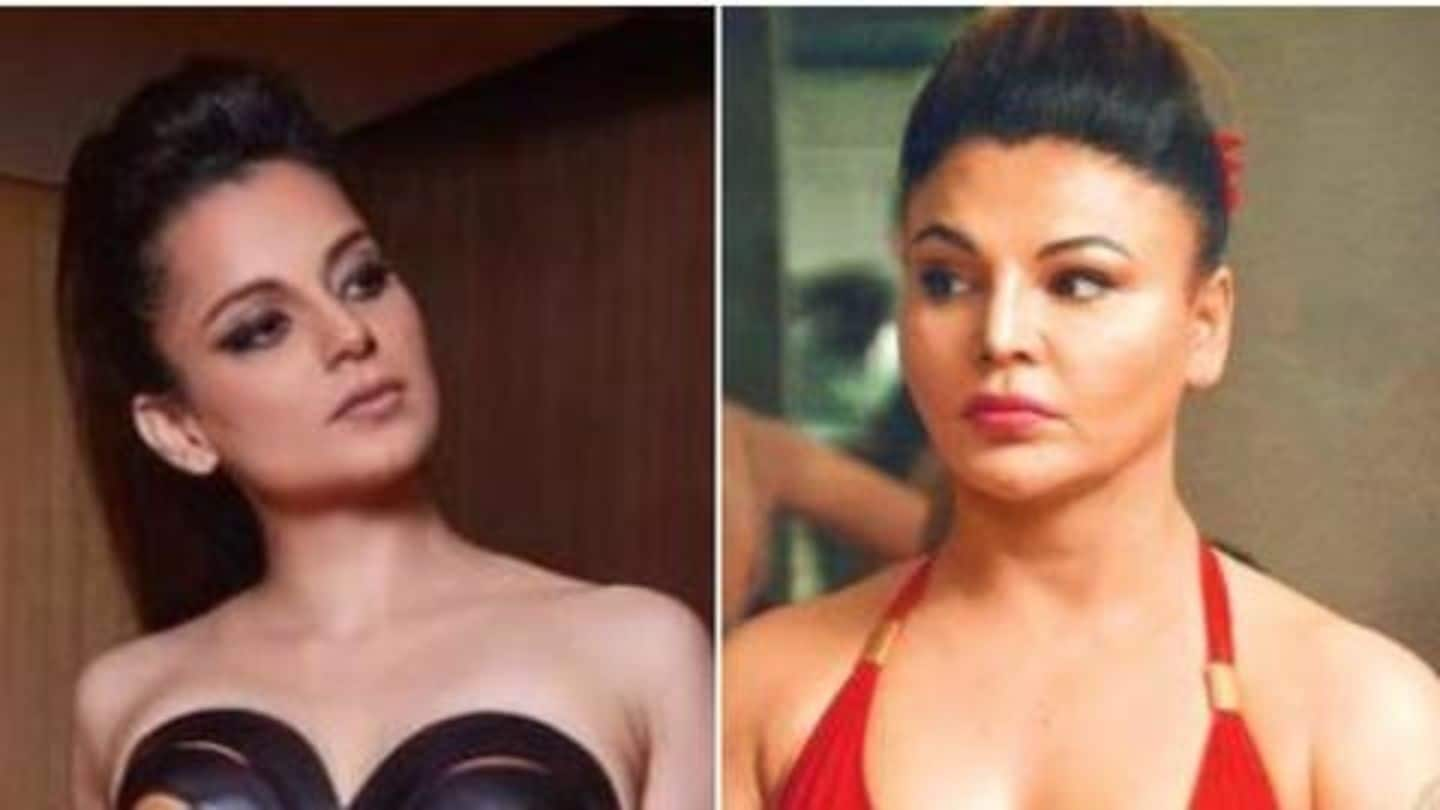 Earlier this week Kangana Ranaut sparked a controversy following a spat with a journalist. As she remains adamant to not apologize to a section of "liberal media" that she equated to "termites", Rakhi Sawant advised the Queen actress not to mess with the media. Rakhi also hailed Kangana as "the best actress," and urged her to "chill," asking her to "sit inside a fridge."
Media is equivalent to God these days, says Rakhi
In 2-minute-long Instagram video, Rakhi told Kangana that if she wants to survive in Bollywood, "don't panga with media." Terming both Kangana and her sister Rangoli Chandel as "hard-working," Rakhi added that today's media is like God, and that it makes and breaks a person's character. She added media puts one on a pedestal just as quickly as they get you off it.
Here is what Rakhi has suggested Kangana and her sister
Rakhi had said Kangana's media brawl is a publicity stunt
Earlier, Rakhi had dropped hints that Kangana's recent controversy is a mere publicity gimmick for her movie, Judgementall Hai Kya?. Right after the spat went public, the Main Hoon Na actor had commented, "Ab film pakaa hitt nahi hitter hai Judge mental". Amid all this, Rakhi however sent her wishes to Kangana for the movie, and declared that it will be a hit.
You've been running a smear-campaign against me, Kangana to journo
Notably, it started after Kangana slammed journalist Justin Rao during an event for his negative reviews for her movie, Manikarnika. "You called me a jingoistic woman who's making a film on nationalism. You have been running a smear campaign against me," she alleged. Rao was quick to retort, and said that she cannot make such accusations just because she's at a position of power.
Entertainment Journalists' Guild of India announced Ranaut's boycott on Tuesday
Following this, the Entertainment Journalists' Guild of India boycotted Kangana and denied giving her media coverage, however, assured that the boycott would not extend to the film, Judgementall Hai Kya? They also demanded a written, public statement, condemning Kangana's behavior, from the film's producer Ekta Kapoor, her production banner Balaji Films, and the actor herself. Chandel had earlier maintained that Kangana would not apologize.
Section of media in our section functions like termites: Ranaut
The 32-year-old, unfazed by all these, refuses to apologize. In a composed manner, Kangana said in a video, "The media often boosted me. But a section of media in our section functions like termites who are attacking our country's grace, honor, unity, and integrity." She also slapped a legal notice to the guild demanding a clarification on their stand over the matter.
Here is what Kangana said in the video