Hard Kaur plans to launch song supporting Khalistan movement
Hard Kaur plans to launch song supporting Khalistan movement
Written by
Siddhant Pandey
Aug 13, 2019, 03:15 pm
3 min read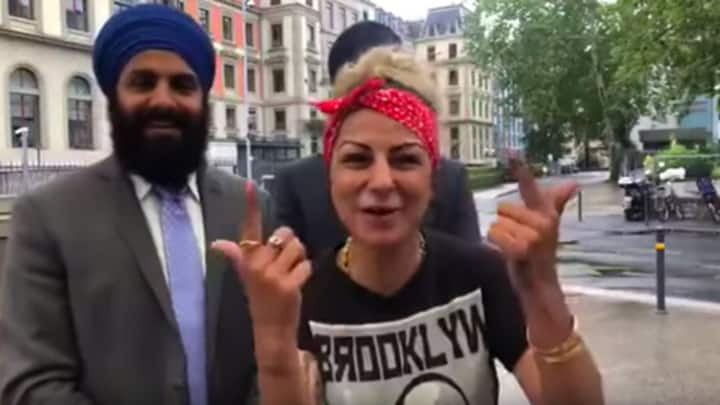 Rapper Taran Kaur Dhillon aka Hard Kaur, who recently was seen voicing support for the Khalistan movement, will soon release a new song in support of the movement. Last month, the 39-year-old rapper had joined the secessionist 'Referendum 2020' campaign, run by the banned group, Sikhs for Justice (SFJ), which has been demanding a separate homeland for Sikhs, Khalistan. Here are more details.
Kaur's upcoming 'Referendum' song is titled 'We Are Warriors'
In a video, Kaur announced, "My 'Referendum' song is coming soon. It's called 'We Are Warriors.'" Shouting "We want freedom" and "Khalistan zindabad," Kaur is seen with SFJ members, who helped her move the United Nations in her sedition case. To recall, Kaur was booked for sedition in June for her comments on Uttar Pradesh Chief Minister Yogi Adityanath and RSS chief Mohan Bhagwat.
This is where she is heard making the announcement
Kaur claims she received death, rape threats from Indians
The 16-second-long Instagram video is clipped out from a 36-minute-long video, shared on YouTube by 'Sikhs For Justice Channel' on August 7. In the video, Kaur discusses the sedition case against her and why she decided to move the UN. In another video shared by the channel the day before, Kaur alleges that she was sent death and rape threats by Indians.
Come and fight like a man: Kaur to Modi, Shah
Later in the video, Kaur continued to challenge Prime Minister Narendra Modi and Home Minister Amit Shah saying, "Why (are) you doing all these girly things? Like sedition charge... 'We are gonna rape you... We are gonna kill you...' Come and fight like a man."
She also challenged Shah, Modi to a fight
A section of the August 7 video is now going viral, wherein Kaur is heard threatening both Shah and Modi. Addressing Shah, Kaur said, "You use people! You use armies and people for your personal agenda." She added, "Come in the ring alone, boy. Just you and me. Amit Shah. Modi. Anyone. If you've got balls, come alone."
Here's a shorter clip of Kaur challenging the two politicians
Rapper #HardKaur has posted a video with pro-Khalistan leaders voicing support for the secessionist "Referendum 2020" campaign being run by Sikhs for Justice (SFJ) for a separate homeland for Sikhs. She is heard challenging PM Modi and Home Minister Amit Shah in the video. pic.twitter.com/DIi7IMbTSe

— Story Of The Hour (@StoryOfTheHour) August 13, 2019
The rapper also criticized Centre recently over J&K bifurcation
In July, Kaur shared a series of pro-Khalistani posts, appealing followers to vote for the 'Referendum 2020' movement by SFJ. She was seen wearing a 'Punjab Referendum 2020 Khalistan' t-shirt and praising the militant leader, Jarnail Singh Bhindranwale. Most recently, Kaur has also condemned the Central government's move to bifurcate Jammu and Kashmir into the Union Territories of J&K and Ladakh.
Centre to form tribunal to adjudicate ban on SFJ
Formed in 2007, US-based group, Sikhs for Justice advocates for an independent state of Khalistan. It was banned by the government on July 10. However, last week, the Centre set up a tribunal to adjudicate whether there is sufficient reason to impose a ban.