Shatrughan Sinha slams Mukesh Khanna for mocking daughter Sonakshi
Shatrughan Sinha slams Mukesh Khanna for mocking daughter Sonakshi
Apr 10, 2020, 10:24 pm
3 min read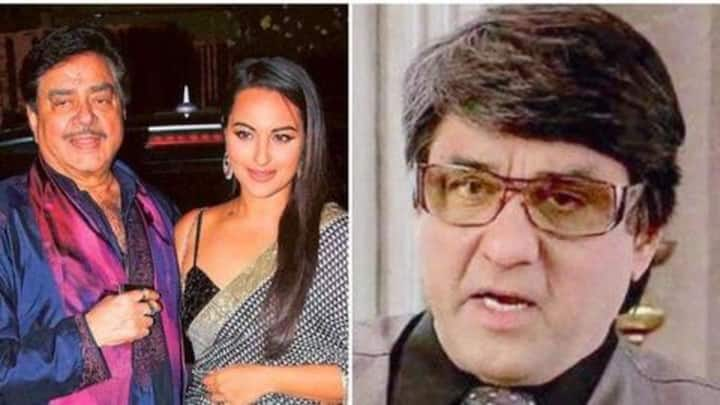 The ongoing reruns of classics Ramayan and Mahabharat are triggering two things the most: massive viewership for Doordarshan and some fresh controversies. The reruns have also brought back to the fore Sonakshi Sinha's infamous KBC fiasco. After Mahabharat actor Mukesh Khanna took a dig at the actress, her father, actor-turned-politician Shatrughan Sinha has come out in her support. Here's what went down.
Firstly, what is the 'KBC' fiasco all about?
Last year, Sonakshi became an easy target for trolls after the actress failed to answer a basic question pertaining to Ramayana on popular quiz show Kaun Banega Crorepati (KBC). The question was, "According to Ramayana, Hanuman fetched the Sanjeevani Booti (herb) for whom?" Sugriva, Lakshmana, Sita and Rama were the options. However, a clueless Sonakshi then took a lifeline to answer the easy question.
Referring to the reruns, Mukesh Khanna mocked Sonakshi
In light of the reruns, Mukesh Khanna, who played the role of Bhishma Pitamah in TV series Mahabharat, mocked Sonakshi for her poor knowledge about the Hindu epic. He said, "I think the re-runs... will also help people like Sonakshi Sinha who have no knowledge about our mythological sagas. People like her don't know who did Lord Hanuman get Sanjivani for."
What makes Khanna an expert on 'Ramayan', asked Shatrughan
Now, Sonakshi's father Shatrughan Sinha has hit back at Khanna for his comments. Without mentioning him, Shatrughan asked, "Firstly what qualifies this person to be an expert on all things to do with the Ramayan? And who has appointed him the guardian of the Hindu religion?" He added that inability to answer a question does not imply that Sonakshi is not a good Hindu.
Sonakshi does not need approval from anyone: Shatrughan
Shatrughan then added that he is proud of all his children. He said, "Sonakshi became a star on her own. I never had to launch her career. She is a daughter any father would be proud to have." He added, "Not answering a question on the Ramayan doesn't disqualify Sonakshi from being a good Hindu. She doesn't need a certificate of approval from anyone."
Earlier, 'Mahabharat' co-star Nitish Bharadwaj also schooled Khanna
Before Shatrughan, Nitish Bharadwaj, Khanna's co-star in Mahabharat also disagreed with him. He suggested Khanna to not be too harsh on the younger generation. He said, "Why target Sonakshi alone? There's always a better way to say the same thing. A balanced, soft and empathetic way and it is received better too. Seniors seem worthy of respect if they walk the path of empathy."