#YoSonakshiSoDumb trends after actress fails to answer question on Ramayana
#YoSonakshiSoDumb trends after actress fails to answer question on Ramayana
Sep 21, 2019, 12:20 pm
2 min read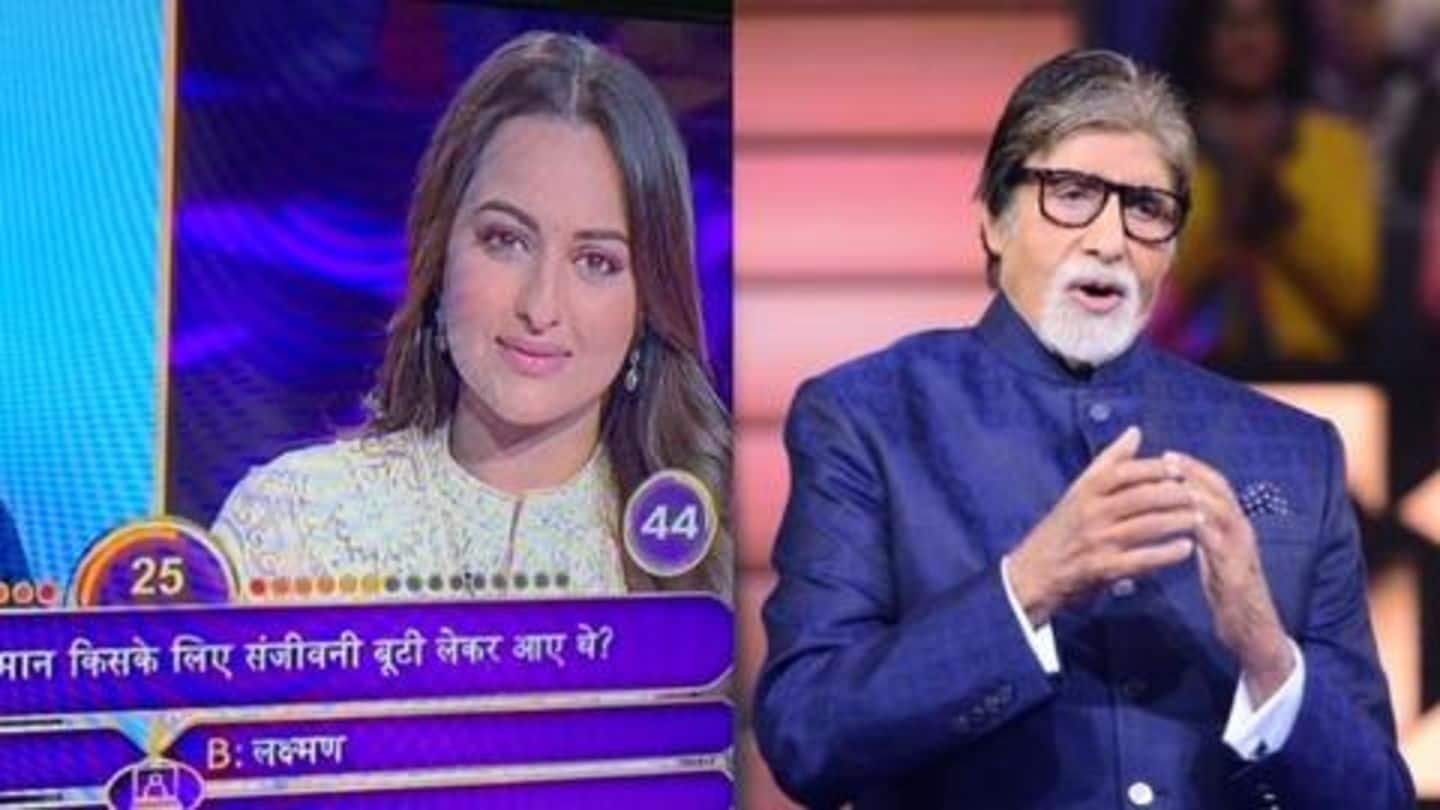 The recent episode of Kaun Banega Crorepati 11 was all about humor and glamour as Sonakshi Sinha was the special guest for the Karamveer segment. However, the actress soon became the ultimate meme fodder after she failed to answer a basic question regarding Ramayana. She was not only brutally trolled on social media, even host Amitabh Bachchan took a jibe at Sonakshi's poor knowledge.
Can you answer what Sonakshi couldn't? Of course, you can
The Karamveer segment of KBC 11 had Ruma Devi, President of the Gramin Vikas Evam Chetna Sansthan, as the special contestant. Ruma was accompanied by Sonakshi to help her in the game. During the show, both were quizzed, "According to Ramayana, Hanuman fetched the Sanjeevani herb for whom?" To answer this simple question, Sonakshi took the help of a lifeline, thus inviting severe backlash.
Alia will sleep peacefully today, trolls hilariously remark
Sonakshi's poor knowledge on the show sparked a meme fest, wherein she was called out for her dumbness. "What a script man I guess your father needs to teach you basics of Ramayana. @sonakshisinha didn't expect this from you. Your brothers are named after lord Rama's son luv & khush. Shame," a Twitter user wrote. Another user wrote, "Alia will sleep peacefully today #sonakshisinha."
Your entire family, even home, is named after Ramayana, Sonakshi!
Is Sonakshi giving competition to Alia and Ananya?
Lord Hanuman brought Sanjivani for Sita, according to the actress
Sonakshi fears to be kicked out of her house 'Ramayana'
Not just netizens, even Bachchan mocked Sonakshi as most of her family members' names are inspired from the Hindu mythology. To note, her uncles and father go by the names of Ram, Lakshman, Bharat and Shatrughan Sinha, while Sonakshi's brothers are named Luv and Kush. To this, Sonakshi quipped that she might be kicked out of her house Ramayana after this major gaffe.
For now, she is looking forward to 'Dabangg 3' release
Meanwhile, on the work front, Sonakshi is gearing up for the release of Salman Khan's Dabangg 3 in December this year. The actress, who made her debut with the Dabangg franchise in 2010, will be reprising her role of Rajjo in the movie. Apart from this, Sonakshi will also be seen in Ajay Devgn's Bhuj: The Pride Of India next year.