SpiceJet honors Sonu Sood's humanitarian efforts during COVID-19 migrant crisis
SpiceJet honors Sonu Sood's humanitarian efforts during COVID-19 migrant crisis
Written by
Shreya Mukherjee
Mar 20, 2021, 08:19 pm
2 min read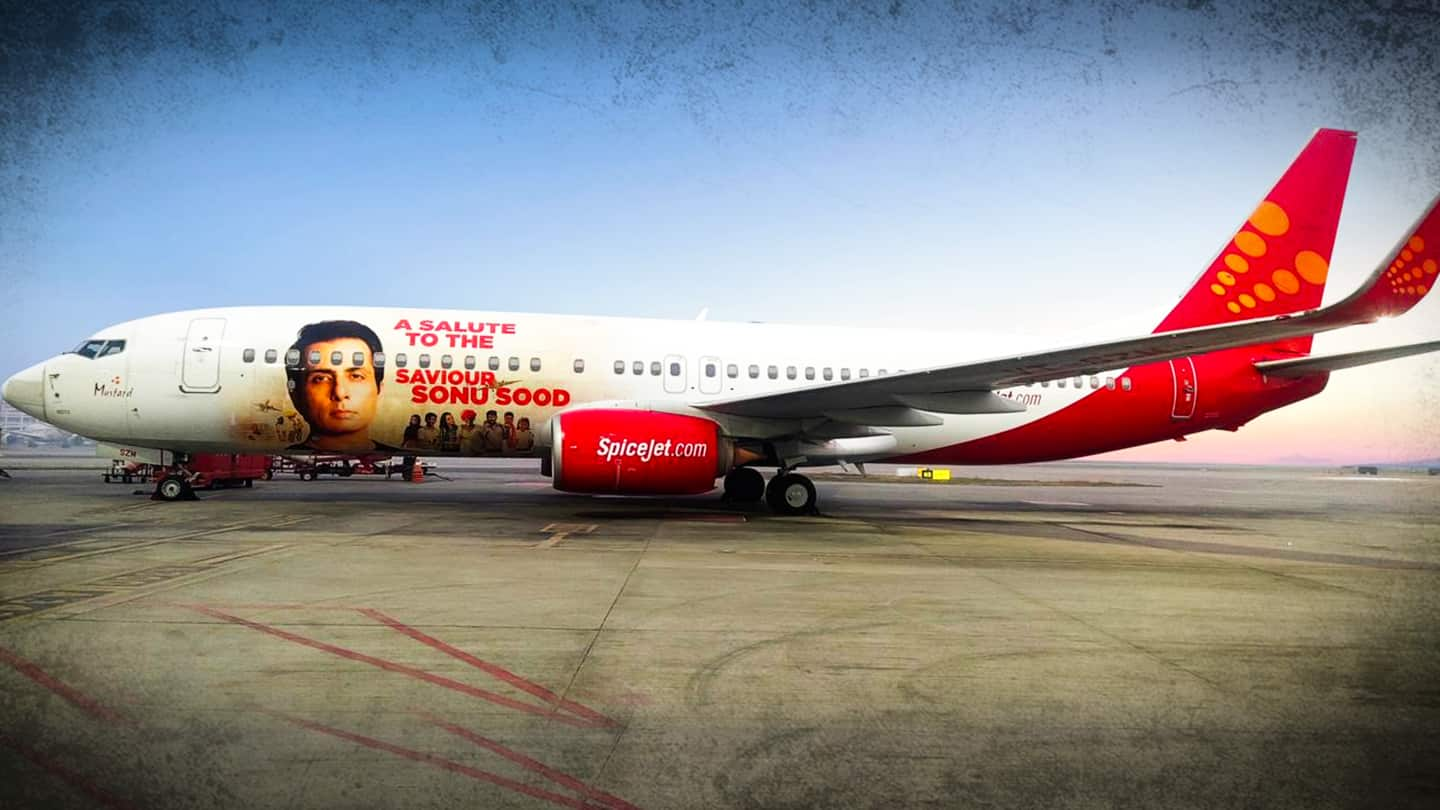 Sonu Sood, the usual antagonist on celluloid, had turned into a savior for thousands last year, as he helped migrant workers reach their hometown, and JEE, NEET aspirants their exam centers, by providing transportation. Acknowledging this magnanimous act, SpiceJet has given a unique tribute to Sood, by dedicating an aircraft livery for Boeing 737. Notably, he is the first Indian actor to achieve this.
A salute to the savior Sonu Sood, read the livery
The livery featured the actor's face and had the words, "A salute to the savior Sonu Sood," printed on them. Sharing the news on Twitter, an emotional Sood recounted his journey to stardom, when he had come from "Moga to Mumbai on an unreserved ticket." The Dabangg actor felt overwhelmed and expressed gratitude "for all the love," showered by everybody.
Sood wrote an emotional tweet, mentions his parents
Miss my parents more, wrote Sood in the tweet
The tweet added how he misses "my parents more" now. Sood has often mentioned online how he misses his parents. The actor lost his mother, Saroj, in 2007 and his father, Shakti, in 2016. Last year, on his mother's death anniversary, Sood said, "Wish I could sit in a theater with you and watch my film."
Salute to all the fabulous work you've done: Kajal Aggarwal
Soon, wishes started pouring in from the film industry. Actress Kajal Aggarwal shared the picture and congratulated Sood on the occasion. She wrote, "Wow Sonu! This is just amazing. Big salute to all the fabulous work you have done and continue to do," while tagging herself as a "proud friend." Aggarwal and Sood have worked together in Teja-directorial Sita, released in 2019.
Aggarwal used the hashtag proudfriend in her tweet
The film fraternity has always praised the actor's efforts
Aggarwal is not the only one to have appreciated Sood's humanitarian efforts. Back in 2020, actors Shilpa Shetty, Kubra Sait, and director Farah Khan had also praised him for airlifting 177 women stuck during the lockdown in Kerala. Actor Ajay Devgn had also shared an image of Sood on social media and written: "More power to you!" for helping migrant workers return home.