Tree, Island, wisdom tooth: Weird things celebrities gifted each other
Tree, Island, wisdom tooth: Weird things celebrities gifted each other
Written by
Pallabi C Samal
Aug 23, 2019, 11:14 am
3 min read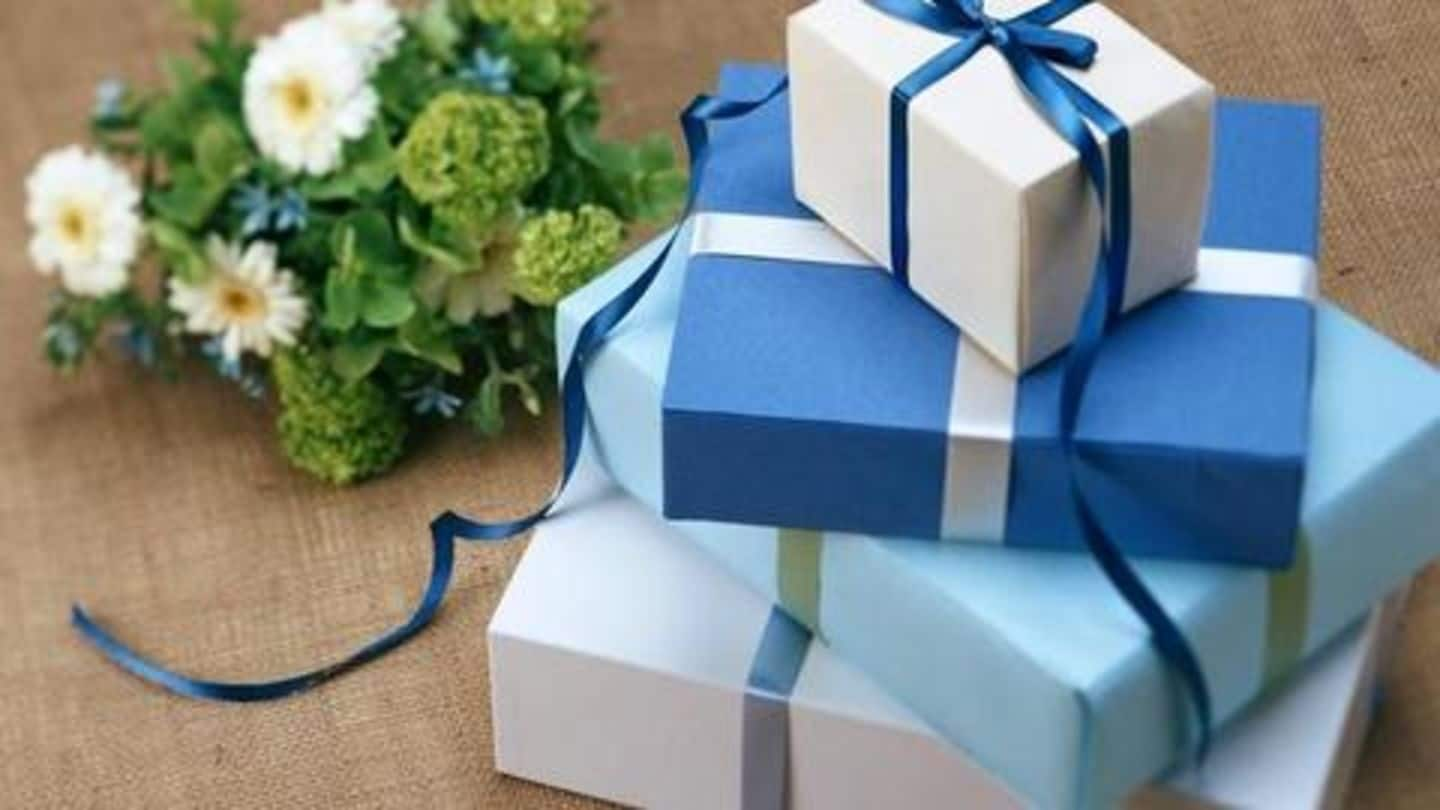 When you are sitting on top of truckloads of money, sky is the limit for you, and your gifts. Our Hollywood celebrities are not like the average Joes; they don't count their money before planning to celebrate someone. For them, gifting each other expensive and weird stuff like an island (!), or a diamond toilet seat, is no big deal. Let's explore further.
Angelina Jolie to Brad Pitt: Ernest Hemingway's typewriter, 200-year-old tree
Though they are now divorced, (RIP Bragelina!), Angelina Jolie showered Brad Pitt with some real weird gifts, like noted novelist Ernest Hemingway's actual typewriter, which he used for writing Who the Bell Tolls, by shelling out $250,000. A 200-year-old, $18,500 olive tree was another Jolie to Pitt gift, as was an entire helicopter and flying lessons, which cost the actress a stunning $1.6mn.
Vials of blood as gift to each other! Really, Jolie?
There were also reports that Jolie gifted a $12.2mn heart-shaped island and a $3mn worth watch to Pitt, but those were soon debunked. Not just Pitt, the Maleficent actress gifted her ex-husband Billy Bob Thornton a truly crazy stuff: Her vial of blood in a necklace! Thornton too responded by giving her his blood, which the duo flaunted, as if those were diamonds.
Gaga gifted bag of her vomit, cake showing sexual act
Trust Lady Gaga never failing to shock you! In 2015, as a proof to show her nervousness, she gifted her American Horror Story boss, Ryan Murphy, a Ziploc bag full of her vomit, which she threw up "in my Rolls Royce." The singer also gave an explicit cake to her co-star Angela Bassett, which the latter "hid it in garage refrigerator."
Scarlett Johansson gifted boyfriend Ryan Reynolds her wisdom tooth
Before Deadpool gave his heart to Blake Lively, he was married to our very own Black Widow, Scarlett Johansson, after dating her from 2007 to 2008. On his 31st birthday, the actress gave him an exceptional gift: Her wisdom tooth, dipped in gold, and strung on a necklace. She also apparently paid for a full body massage for him, but that's unconfirmed.
When Eminem gave diamond-encrusted cock rings to Elton John
Academy Award winner Elton John is sure regretting having invited hip hop star Eminem to his wedding. To celebrate John's civil partnership to David Furnish in 2006, Eminem gave him a pair of diamond-encrusted sex toys (cock rings actually) on velvet cushions, which remain unused till date, said the English singer. Their unlikely friendship started when the two performed at the 2001 Grammys.
Jay-Z to Beyonce: 12.5-acre island; Her to him: Bombardier
To make Beyonce's 29th birthday special, her husband, Jay-Z gifted her a 12.5-acre island, 2.5 miles off Florida shores. The Baby Boy singer, in an equally costly gesture, celebrated the rapper's 41st birthday by buying him an almost $2mn-worth Bugatti Veyron Grand Sport. Beyonce also gifted Jay-Z a jet, a Bombardier Challenger 850 by spending $40mn, to observe his first Father's Day in 2012.
Kylie's gifts will make you want a friend like her
When you've a friend or girlfriend like cosmetics mogul Kylie Jenner, expect some pricey gifts. Like, she gifted her BFF Jordyn Woods a black Mercedes on the latter's 18th birthday, and also a $14,600 Cartier Rainbow bracelet once. This August, her partner Travis Scott gave her a diamond necklace to ring in her 22nd birthday, and also covered her entire mansion with red roses.