Kejriwal doles out another sop, makes 200-units of electricity free
Kejriwal doles out another sop, makes 200-units of electricity free
Aug 01, 2019, 01:02 pm
2 min read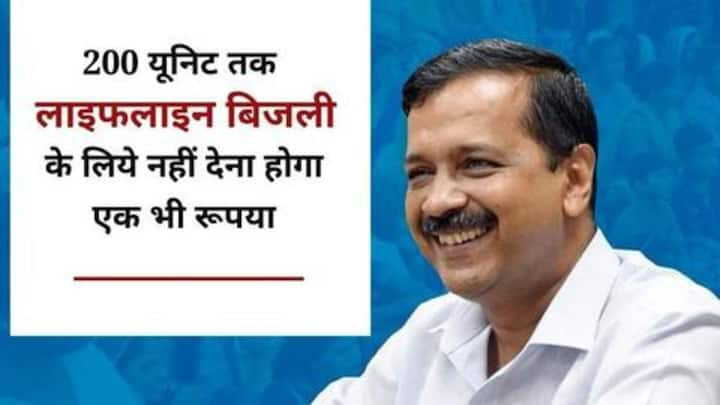 On Thursday, the AAP-led Delhi government announced that households which consume up to 200 units of electricity per month will not be asked to pay a bill. The scheme was announced by Chief Minister Arvind Kejriwal. Further, the state government said a dignified life is the right of every Delhi resident and they are committed to achieving it. Here are more details.
For household consuming 201-400 units, "Half Bill" scheme will continue
Kejriwal also announced that existing rates will be applicable if a household uses more than 200 units. However, if the electricity consumption is between 201 and 400 units, then "Half Bill" scheme introduced in 2015 will be applied. The party hoped this move will encourage Delhi residents to consume less power and play a crucial role in conserving energy.
A look at the electricity rates in the National Capital
To note, the tariff for homes using 201 to 400 units is Rs. 4.5/kWh. Those who use units between 401 and 800 will have to pay Rs. 6.5/kWh. For homes consuming somewhere between 801 and 1,200 units, the cost is Rs. 7/kWh. Rs. 8/kWh will be charged from consumers using more than 1,200 units. The scheme will be applicable from today.
Delhi witnesses fewer power cuts now, claimed Kejriwal
At the press conference, Kejriwal also said while other states have increased rates of electricity units, Delhi has cut it down to provide relief to common citizens. He said that electricity providers were battling financial crisis earlier, but their condition has improved substantially in recent years. "Unlike earlier, there are also fewer power cuts in Delhi," he added.
Common man will get basic services free: Kejriwal
If a household uses more than 200 units, then existing rates will apply. This will encourage people to consumer less power and conserve energy. Between 201-400, the existing 'Half Bill' introduced in 2015 will continue. #PehleHalfAbMaaf pic.twitter.com/73bB5HOeWm

— AAP (@AamAadmiParty) August 1, 2019
According to AAP, 32L homes will get Zero Bill
Calling it a historic decision, Kejriwal said this move will cover at least 33 percent consumers in Delhi as they consume less than 200 units during the summer season. "During the winter, the power consumption of around 70 percent people is below 200," he added. Meanwhile, the official handle of AAP tweeted that 32 lakh households will get Zero Bill starting next month.
Deputy CM Sisodia said every family deserves dignified life
Historic day for Delhi!
CM @ArvindKejriwal declares Free Lifeline Electricity of 200 units to all

Every family deserves a life of dignity. Just like good education healthcare, a basic quantum of electricity to run lights/fans at home is essential for that. #PehleHalfAbMaaf

— Manish Sisodia (@msisodia) August 1, 2019