Assam fuming over BJP leader's assault, protests continue
Assam fuming over BJP leader's assault, protests continue
Feb 02, 2019, 02:50 pm
3 min read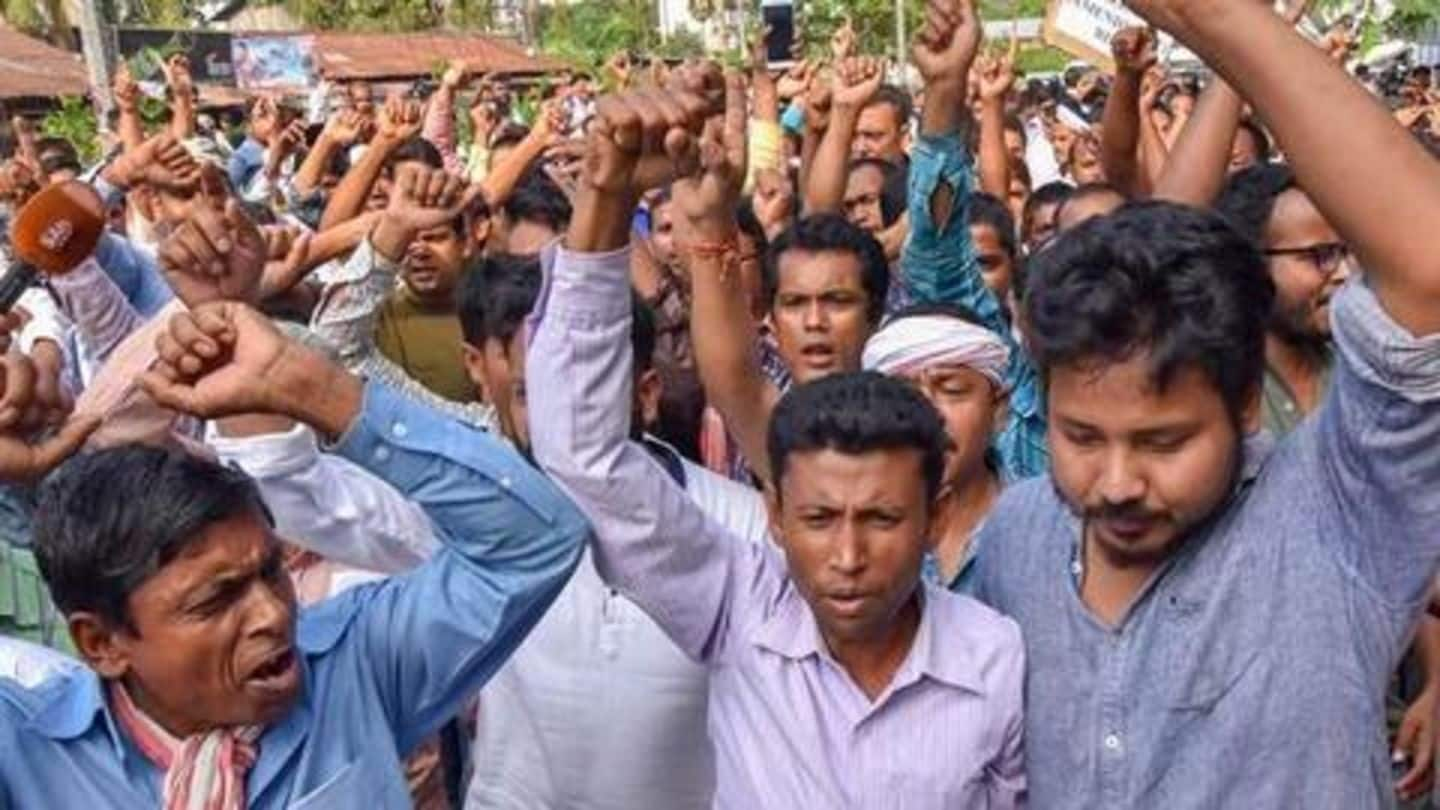 The Karbi Anglong district in Assam witnessed unrest on Friday as protesters took to streets with their respective demands. While BJP cadres held a demonstration demanding the arrest of perpetrators who assaulted a party leader, Karbi Anglong District Congress Committee (KADCC) burnt effigies of Prime Minister Narendra Modi and Chief Minister Sarbananda Sonowal to protest against the Citizenship (Amendment) Bill. Here's what happened.
Backstory: BJP leader was assaulted; police didn't help said eyewitness
Lakheswar Moran, the president of BJP in Tinsukia district, was manhandled by protesters on Wednesday. Moran had gone to attend a function organized by Lok Jagran Manch aimed at busting myths around the controversial bill. The protesters first booed, showed him black flags and later rained blows on him. An eyewitness said police stood there and didn't help initially. The incident was widely condemned.
BJP workers protest against the assault, demand arrest
Though an FIR was lodged, BJP supporters demanded swift action against the accused. BJP state president Ranjit Kumar Dass had asked protesters to not cross 'Lakshman Rekha' and warned they wouldn't stay quiet if such incidents happen. Further, workers gathered at East Karbi Anglong District Committee office, demanding the arrest of culprits. BJP leader Bharat Kr Timung said culprits should be given strict punishment.
Separately, Congress workers say BJP failed Assam
Meanwhile, Karbi Anglong district witnessed another protest which was the handiwork of Congress members. They were protesting against the Citizenship (Amendment) Bill. KADCC general secretary, Bidyasing Rongpi said, "The BJP has failed to fulfill the expectations of the people of Assam, but instead trying to impose the controversial Citizenship (Amendment) Bill which is against the interest of the people of Assam."
Earlier, Himanta Biswa Sarma's statement prompted protest
Notably, Karbi Anglong district had witnessed another protest on January 22 against the contentious bill. Back then, Joint Action Committee for Autonomous State (JACAS) had organized a torchlight procession. JACAS chairman Kharsing Teron said they were upset with Himanta Biswa Sarma's words. Sarma, who is a cabinet minister, had said Karbis weren't opposed to Bangladeshis getting citizenship. But Teron said this was completely false.
Centre wants to pass Citizenship (Amendment) Bill, despite protests
The Northeast states have been boiling due to Citizenship (Amendment) Bill behind which the Centre is throwing its weight. The bill seeks to give Indian citizenship to Hindus, Jains, Christians, Sikhs, Buddhists, and Parsis from Bangladesh, Pakistan, and Afghanistan, who have stayed in the country for at least six years. Protesters believe this will encourage immigration from Bangladesh and change dynamics of the Northeast.