Why were IAF crash martyrs brought back in cardboard boxes?
Why were IAF crash martyrs brought back in cardboard boxes?
Oct 09, 2017, 12:47 pm
2 min read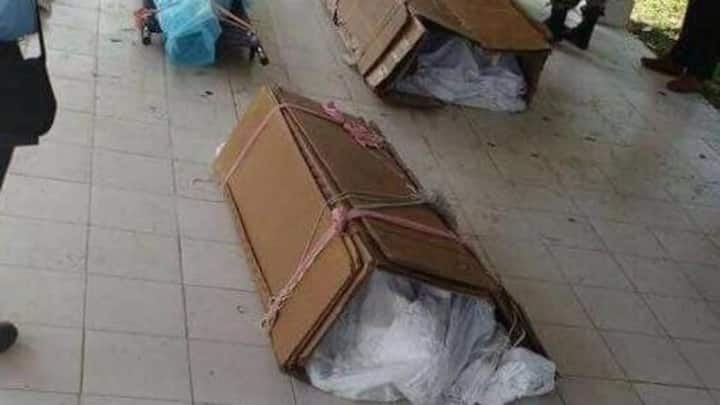 Three days ago, an IAF chopper crashed in Arunachal Pradesh's Tawang, killing all seven military personnel on board. But when the bodies of the fallen heroes were brought back in makeshift cardboard boxes tied with ropes, outrage erupted. Ironically, the incident happened on Air Force Day. People on social media took to Twitter and Facebook to express anger.
Early in the morning on October 6, an Mi-17 V5 carrying five Air Force personnel and two armymen crashed in Tawang, close to the Chinese border. The helicopter was on its way from Khirmnu to Yangste on an air maintenance mission.
Lt Gen HS Panag (R) tweets photo of martyrs' bodies
Why were the bodies brought in cardboard boxes?
According to India Today, the bodies had already been charred badly, and to prevent further damage, officials had to quickly move them to first base in cargo and cardboard boxes. It is apparently a normal practice in remote hilly areas where resources are few. The Army's Public Information ADG later tweeted, "Mortal remains…sent wrapped in local resources is an aberration."
'Fallen soldiers always given full military honor'
Netizens express anger over treatment to martyrs
Despite the clarification, netizens were upset. "Why can't Armed Forces units be given bodybags. Provide dignity to our KIA martyrs," tweeted @JoBeingjoe. "Is this the manner in which we carry the bodies of soldiers?" posted @Homo_Sapien_6. "The nation which can't respect it's soldiers can't live with pride," said@husnaziauddin. A senior IAF official said a court of inquiry has been ordered.