Migrants' exodus: Centre berates Kejriwal, said he had powers
Migrants' exodus: Centre berates Kejriwal, said he had powers
Mar 30, 2020, 03:40 pm
3 min read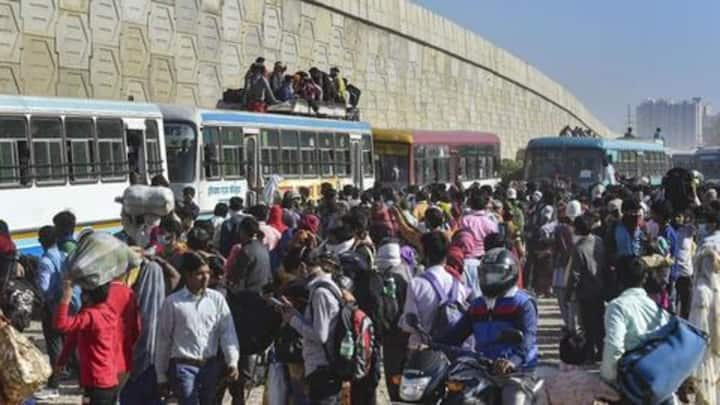 With thousands of migrant workers attempting to flee Delhi after a nationwide lockdown was announced last week, L-G Anil Baijal shot off a strongly-worded letter to Chief Minister Arvind Kejriwal saying he had all the powers to prevent this situation. Reportedly, Prime Minister Narendra Modi and Home Minister Amit Shah expressed concern over the health hazard the migrants were exposed to, due to their movement.
Workers had no option left, they started walking home
Staring at an uncertain future after the lockdown was announced to battle COVID-19, the migrant workers thought of reaching the safest place — their homes. Indians were asked by PM Modi to stay put, but with no money, jobs, shelter, and even food, migrants didn't have a choice. Some walked hundreds of kilometers, others managed to hitch rides, and some, unfortunately, perished.
Migrant workers will now be put under quarantine
As the migrants' plight dominated headlines and blew the lid-off the ill management, Kejriwal's government used DTC buses to ferry them to the Delhi-UP border, this weekend. On Saturday, hundreds of workers sat at ISBT awaiting transport to go to their native places. Thereafter, the government decided to put all the workers in mandatory 14-day quarantine, a massive exercise, the Centre said, was avoidable.
Centre is upset Kejriwal didn't reassure the migrants
Baijal's message to Kejriwal reflects Centre's sentiment that the AAP leader failed to reassure migrant workers that their needs would be taken care of. "It also makes the point that the Delhi government had a free hand to implement the lockdown and had all the powers it needed," an official of the Home Ministry told HT. Two senior IAS officers have been suspended too.
Separately, Shah ordered Khattar and Adityanath to close borders
Going forward, Baijal has asked Kejriwal to persuade migrant workers to remain where they are. Delhi Chief Secretary Vijay Dev has also ordered DTC to only ferry government employees on essential duty. The relaxation will be given to people having valid passes or ID cards. Meanwhile, Shah told Uttar Pradesh and Haryana CMs, Yogi Adityanath and Manohar Lal Khattar to seal their borders.
Separately, Sisodia called the exodus a dangerous situation
The exodus of the workers didn't stop even today and Kejriwal's deputy Manish Sisodia called it a dangerous situation. "Exodus of migrant workers continues even today from Punjab and Haryana...There is a dangerous situation in the entire country," the AAP leader said on Monday. Meanwhile, Kejriwal had also urged migrant workers to stay put and promised them they won't suffer in the National Capital.