Coronavirus cases reach 918 in India; all that happened today
Coronavirus cases reach 918 in India; all that happened today
Written by
Siddhant Pandey
Mar 28, 2020, 10:07 pm
5 min read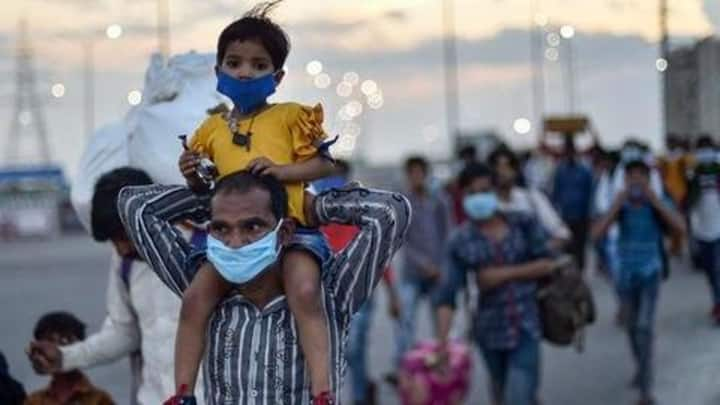 Even as India entered the fourth day of its 21-day lockdown due to the coronavirus outbreak, the issue of migrant workers remained unresolved. Prime Minister Narendra Modi launched an emergency fund accepting donations for the fight against the coronavirus disease (COVID-19). Meanwhile, coronavirus cases across the country crossed 900, with Maharashtra's tally jumping to 186. Here are the key developments from today.
Till Saturday evening, India reported 918 confirmed coronavirus cases
As of 05:45 pm on Saturday, the Union Health Ministry confirmed a total of 918 COVID-19 cases on its website. These include 819 active cases, 19 deaths, 79 cases where the patient was cured or discharged, and one patient who migrated out of India. Maharashtra and Kerala have reported 186 and 176 cases, which together constitute 40% of India's total cases.
India's COVID-19 death toll rises to 25
The Health Ministry website reports 19 confirmed COVID-19 deaths. However, till Friday, 21 deaths had been reported, as confirmed by independent state officials. On Saturday, four deaths were reported, taking the death toll to 25. Separately, a 60-year-old Yemeni national—suspected case of COVID-19—died in Delhi.
These are the four latest COVID-19 deaths
A 69-year-old man died at Kochi Medical College, Ernakulam District Medical Officer Dr. NK Kuttappan confirmed. A 46-year-old woman died in Ahmedabad, the Sardar Vallabhbhai Patel Hospital confirmed. She was also suffering from hypertension and diabetes and was on a ventilator. A 74-year-old man died in Hyderabad, Telangana Health Minister confirmed. Maharashtra's Brihanmumbai Municipal Corporation confirmed the state's sixth death—an 85-year-old doctor in Mumbai.
Till Friday morning, India tested over 26,000 people for COVID-19
As of Saturday, March 27, the Indian Council of Medical Research (ICMR)—India's apex health research body—had approved 112 government labs and 47 private labs to conduct COVID-19 testing. 27,688 samples from 26,798 persons had been tested in India by Friday 9 am, the latest update.
National Teleconsultation Centre launched for doctors treating COVID-19
Union Health Minister Harsh Vardhan said that a National Teleconsultation Centre was launched to allow doctors treating COVID-19 patients to consult each other. The ICMR confirmed that the drug Hydroxychloroquine led to a reduction in viral load in COVID-19 patients. Maharashtra Government decided to include COVID-19 treatment under its healthcare scheme Mahatma Phule Jan Arogya Yojna from April 1.
PM Modi interacted with AYUSH professional via video conferencing
Further, Prime Minister Narendra Modi interacted with Ayurveda, Yoga, Unani, Siddha and Homeopathy (AYUSH) professionals via video conference over COVID-19. Stressing on fact-checking unsubstantiated claims of AYUSH, Modi said the AYUSH professionals could help produce sanitizers and spread awareness.
Modi launched PM-CARES fund
Modi also started a fund for COVID-19: PM-CARES (Prime Minister's Citizen Assistance and Relief in Emergency Situations). All BJP MPs and MLAs pledged one-month salary to the Central Relief Fund. All BJP MPs will also release Rs. 1 crore from their MPLADS (Members of Parliament Local Area Development Scheme) fund. Finance Minister Nirmala Sitharaman contributed Rs. 1 crore from MPLADS fund.
Urge MPs to allocate Rs.1cr from MPLADS fund: LS Speaker
Lok Sabha Speaker Om Birla urges MPs to allocate Rs 1 cr from their MPLADS fund for coronavirus relief

— Press Trust of India (@PTI_News) March 28, 2020
Donations poured in to support India's fight against COVID-19
Tata Group committed Rs. 1,500 crore to COVID-19 treatment. Supreme Court Justice NV Ramana donated Rs. 1 lakh each to PM Relief Fund, Andhra Pradesh Chief Minister's Relief Fund & Telangana Chief Minister's Relief Fund. IAS Association decided to contribute Rs. 21 lakh to the PM-CARES fund apart from donating one-day salary. The University Grants Commission will contribute one-day salary to PM's Relief Fund.
Migrant workers continue to remain stranded on lockdown day 4
Migrant workers across different states gathered in groups as they proceeded to walk towards their native places since the lockdown has left them unemployed. In Maharashtra's Virar, four such workers died and three were injured as a tempo hit them on the Mumbai-Ahmedabad highway. Uttar Pradesh pressed 1,000 buses into service to evacuate workers in Delhi. Critics said this defeated the lockdown's purpose.
Here's a clip from Delhi's Anand Vihar bus terminal
Centre asks states to shelter migrant workers where they are
Delhi Chief Minister Arvind Kejriwal requested MLAs to ask the workers to not migrate as it risks more COVID-19 infections. The Home Ministry asked states/Union Territories to utilize disaster relief funds, set up camps for the workers, and prevent them from crossing state lines. Uttarakhand will relax the lockdown from 7 am-8 pm on March 31 to allow those stranded to return home.
Bengal woman arrested for spreading misinformation; FIR against MP journalist
In Uttarakhand, 183 persons were detained for lockdown violations. In West Bengal, a 29-year-old woman was booked and arrested for spreading misinformation on social media about a doctor in Kolkata's Beleghata getting infected with the coronavirus. Tamil Nadu Police said a man violated home quarantine, ran naked, and bit an elderly woman to death. An FIR was registered against a coronavirus-infected journalist in MP.
356 Tihar prisoners released; 63 put on parole
Tihar Jail officials released 356 prisoners on 45-day interim bail and 63 on eight-week parole to decongest prisons. Kerala Police arrested 1,258 people for violating the lockdown, registered 8,311 cases for the same, and seized 792 vehicles.
Kerala CM approached Modi over Karnataka blocking key highway
Kerala CM Pinarayi Vijayan wrote to Modi about Karnataka blocking the Thalassery-Coorg National Highway, restricting transport of essential commodities. Centre approved the launch of an insurance scheme for healthcare workers fighting COVID-19, as announced on Thursday. The US announced $174 million financial aid to 64 countries, including $2.9 million to India. Delhi Police issued an advisory regarding increased cyber-crimes amid the coronavirus outbreak.
You can read the Delhi Police advisory here