Amid lockdown, UP government starts evacuation of stranded migrant workers
Amid lockdown, UP government starts evacuation of stranded migrant workers
Written by
Siddhant Pandey
Mar 28, 2020, 05:01 pm
3 min read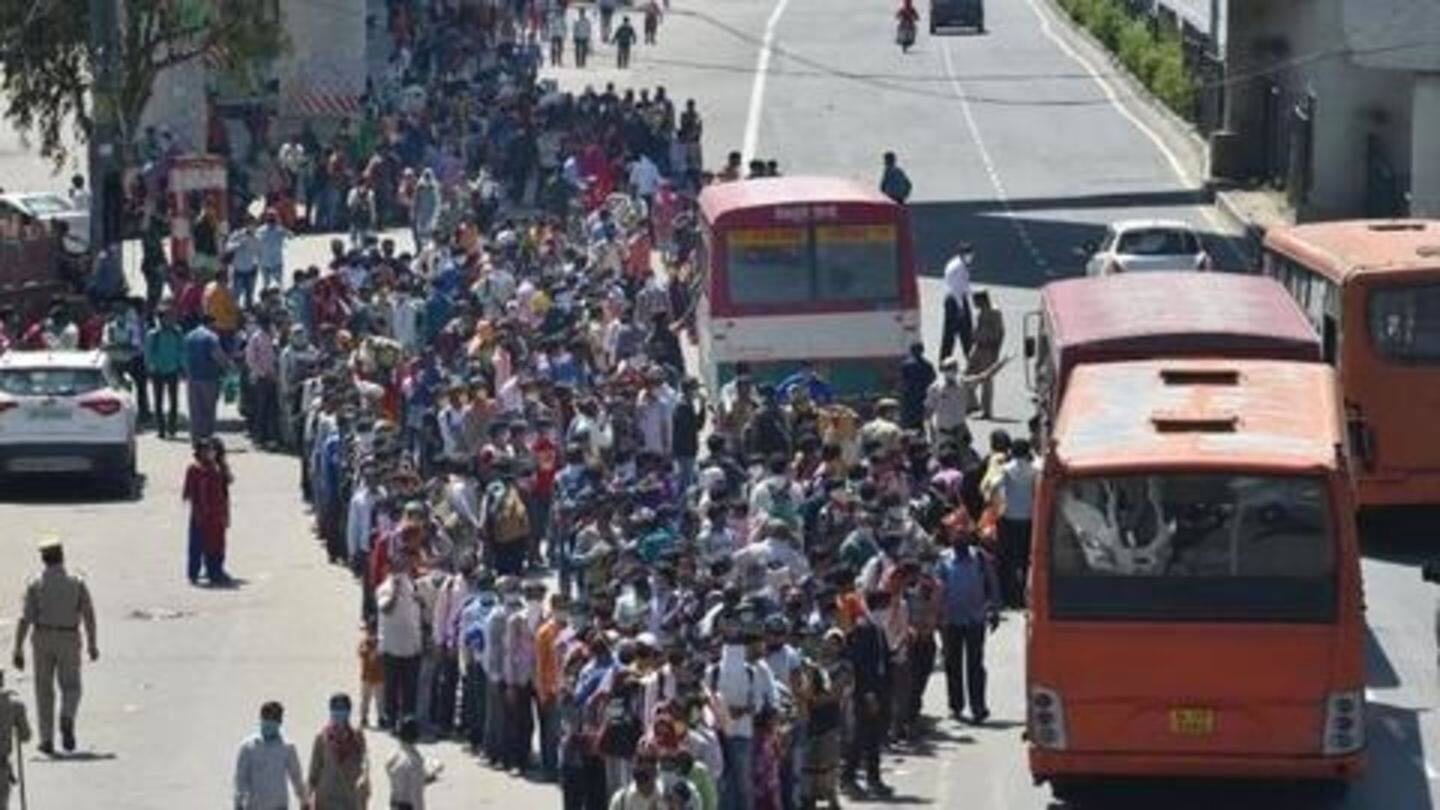 The Uttar Pradesh government has pressed 1,000 buses into service to evacuate migrant workers stranded due to the 21-day nationwide lockdown. The lockdown was announced to limit the spread of the coronavirus disease (COVID-19). However, as hordes of migrant workers gathered at pick-up points in Ghaziabad and Gautam Budh Nagar, social distancing protocols were set aside, risking infections.
Workers attempted to walk to native places after lockdown announcement
The plight of migrant workers came to the fore after Prime Minister Narendra Modi announced a 21-day nationwide lockdown on March 24. Even as the lockdown came into effect the next day, hundreds of migrant workers stepped out on the roads in Delhi. They then proceeded to walk towards their native places in Uttar Pradesh and Bihar since all transport was also shut.
Workers lost business due to lockdown; left penniless
The workers want to move back home as they cannot financially sustain a livelihood in Delhi during the lockdown, which has caused them to lose out on work. Days of confusion followed as the migrant workers attempted to cross the Delhi-UP border.
Chaos followed as evacuation started in Ghaziabad, Gautam Budh Nagar
On Saturday, UP State Road Transport Corporation (UPSRTC) ferried workers to their destinations from different areas in Ghaziabad and Gautam Budh Nagar, Hindustan Times reported. Reportedly, social distancing protocols, considered mandatory to prevent the spread of COVID-19, were blatantly violated and workers were crammed into buses. Initially, workers were not even being thermal screened at ISBT Kaushambi.
79 buses left from Ghaziabad for Lucknow, Etawah, Bareilly, etc.
UPSRTC Regional Manager (Ghaziabad) AK Singh told HT that till Friday night, 96 buses were dispatched from the Lal Kuan intersection and more were to follow. Till 11:30 am on Saturday, 79 buses were dispatched to Lucknow, Etawah, Bareilly, Etah, Aligarh, Gorakhpur, and nearby destinations, Singh told HT. Singh added, "We will continue sending buses until all stranded workers are sent to their destinations."
'Landlord asking for rent; I have no money to pay'
Mohammad Fakhruddin—a migrant worker—told HT, "I have to go to Badaun, my hometown...The landlord is asking for rent and I have no money to pay." Fakhruddin is joined by 10 others who together worked at a denim workshop, now shut due to the lockdown. The workers were waiting for a bus to Baduan at Lal Kuan, where they had reached from ISBT Kaushambi.
Around 200 buses to evacuate workers from Gautam Budh Nagar
In Gautam Budh Nagar, the UPSRTC arranged around 200 buses to transport the workers, HT reported. DCP Sankalp Sharma said, "These buses are departing every two hours," adding that the evacuation will continue for the next 48 hours. After reports that the buses were being stopped at various checkpoints, Sharma said all administrative and police officials have been directed to allow them on priority.
Officials asked to maintain records of buses, passengers: DCP Sharma
Sharma said, "We've also requested officials to provide proper food and medical facilities to the passengers boarding on these buses," adding that district magistrates have been requested to record details of incoming buses. He added, "[The DMs] have also been asked to make arrangements for the medical screening of all passengers at destination points, maintaining their full details, including names, addresses, and mobile numbers."
Congress leader P Chidambaram criticized government's efforts
Senior Congress leader P Chidambaram on Saturday took a swipe at the government's ill-preparedness in enforcing the lockdown. Chidambaram tweeted, "Back to villages' in crowded buses or on foot has significantly dented the lockdown. It is another distressing example of the governments' unpreparedness."