Defence Expo begins; major military firms showcase latest weapons
Defence Expo begins; major military firms showcase latest weapons
Written by
Rajashree Seal
(Sourced from PTI)
Apr 11, 2018, 11:27 am
2 min read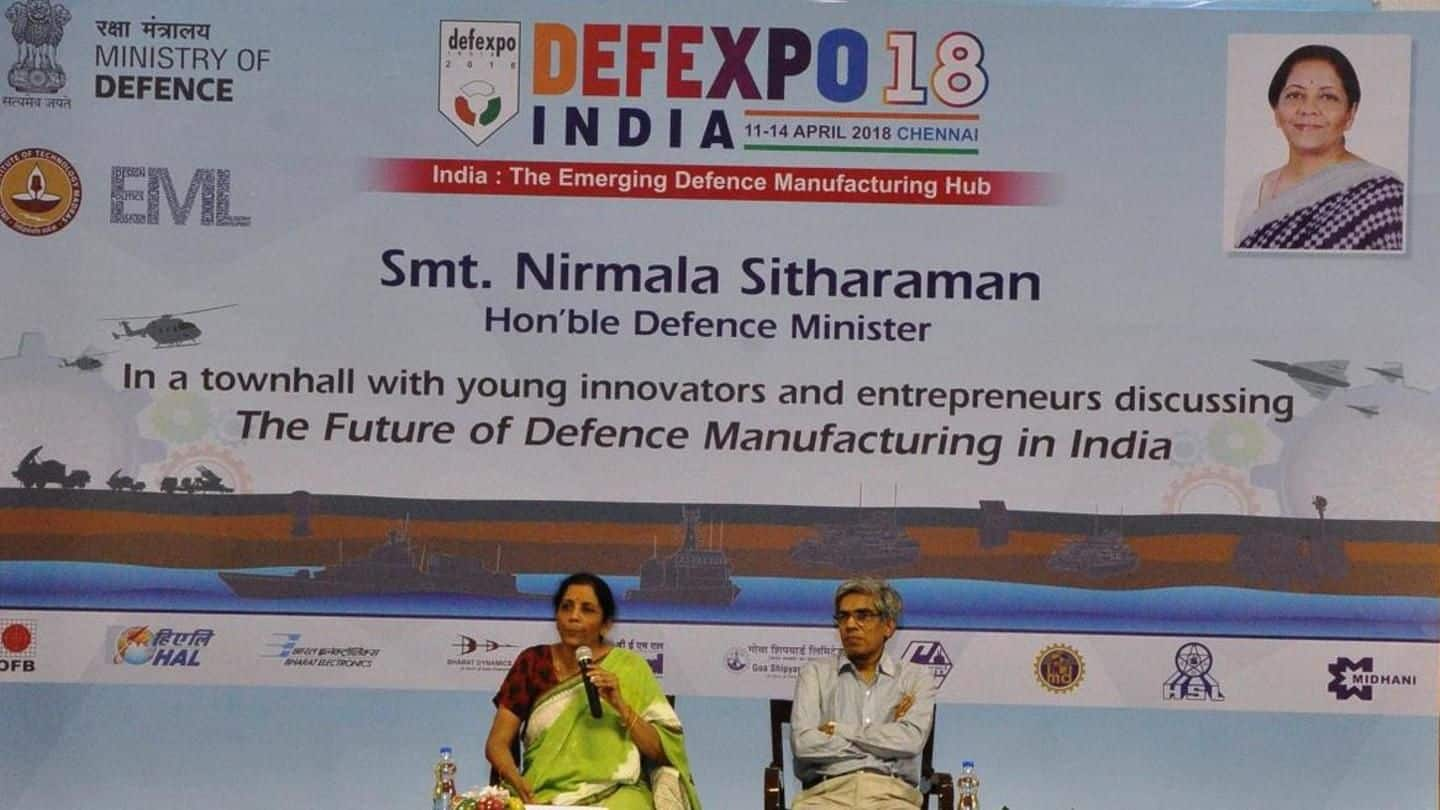 India's mega defense exhibition, Defense Expo-2018, began today with the participation of major global and domestic military firms, which are eyeing billions of dollars of contract as part of the country's military modernization program. The NDA government is trying to project DefExpo as the first serious attempt to transform India, the largest importer of military platforms and weapons into a hub of military manufacturing.
India expected to spend $300bn on procuring defense equipment
India is expected to spend close to $300 billion in the next five years in procuring defense equipment and almost all major global defense firms are eyeing a slice of it. Though the four-day-long DefExpo, on the outskirts of Chennai and close to the temple town of Mahabalipuram, began today, it will formally be inaugurated by Prime Minister Narendra Modi tomorrow.
Defence Minister Nirmala Sitharaman tweeted about India's defence export potential
Over 670 defence firms are participating in the exhibition
According to the Defense Ministry, over 670 defense firms, including 154 foreign manufacturers, are participating in the exhibition of weapons and military hardware. It is being attended by official delegations from over 47 countries, including the US, the UK, Russia, Afghanistan, Sweden, Finland, Italy, Madagascar, Myanmar, Nepal, Portugal, Seychelles, and Vietnam. The theme of the expo is India: The Emerging Defense Manufacturing Hub.
The major international participants of the DefExpo
Major international companies, which are participating at the expo include Lockheed Martin, Boeing (US), Saab (Sweden), Airbus, Rafael (France), Rosonboron Exports, United Shipbuilding (Russia), BAE Systems (UK), Sibat (Israel), Wartsila (Finland), and Rhode and Schwarz (Germany).
Exhibition spread over an area of 2.90 lakh square feet
The DRDO's exhibits include the Nirbhay missile system with launcher, the autonomous unmanned ground vehicle (AUGV), MBT Arjun Mk-I tank, Astra missile, the low-level transportable radar (LLTR) system, medium power radar (MPR) system and Varunastra, which is a heavyweight anti submarine electric torpedo. The mega defense exhibition this year is spread over an area of 2.90 lakh square feet.
India's indigenously developed land, air, and naval systems are also being showcased. The weapons and platforms being displayed include the Tejas fighter jets, advanced towed artillery gun systems (ATAGS) designed by the DRDO Arjun Mark 2 tank and Dhanush artillery guns.