#NewsBytesExclusive: Defense expert Abhijit Iyer-Mitra on the latest India-Pakistan episode
#NewsBytesExclusive: Defense expert Abhijit Iyer-Mitra on the latest India-Pakistan episode
Written by
Ramya Patelkhana
Mar 02, 2019, 04:27 pm
4 min read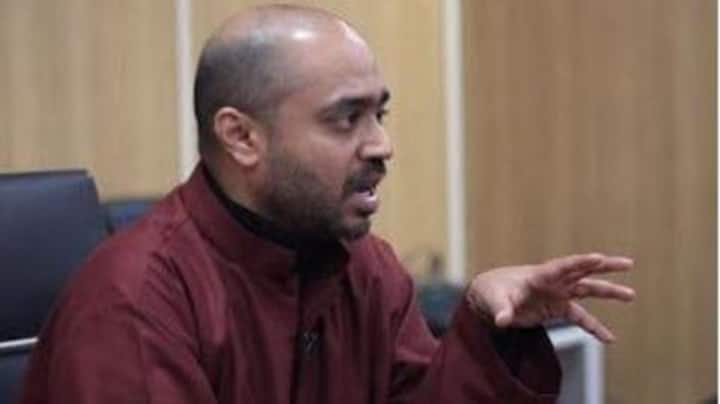 While the India-Pakistan relations have always been strained, a series of latest events triggered by the Pulwama attack escalated tensions between both the countries. We spoke to defense and international security expert and columnist, Abhijit Iyer-Mitra, on the latest India-Pakistan episode. From India's Balakot airstrikes to Wing Commander Abhinandan's return to Pakistan's dialogue offer, here's what Abhijit had to say in an exclusive interview.
Pakistanis released Abhinandan to save their own face: Abhijit
When asked whether Indian Air Force Wing Commander Abhinandan's release would de-escalate India-Pakistan tensions, Abhijit said, "I don't think it will. Pakistanis didn't have much of a choice. Everybody called them out for their Geneva Convention violation. They did it to save their own face." He said the condition for peace between India and Pakistan is not Abhinandan's return, but Pakistan acting against terrorism.
On MiG-21 Bison shooting down Pakistan's F-16 fighter jet
On Abhinandan shooting down Pakistan's F-16 jet with MiG-21, Abhijit said, "MiG-21 is a 1950s-designed aircraft. F-16 is 1970s-designed. MiG-21 never had any serious technological upgrades. This was a case of Maruti-800 taking on a Mercedes in a race and defeating it." "It's like a manual versus automatic gear-shift. Automatic is good when the driver isn't that great, but real race drivers prefer manual," he added.
Truly a technological marvel: Abhijit on MiG-21 taking down F-16
Abhijit said, "It (second-generation MiG-21 shooting down fourth-generation F-16) shows the level of training our pilots have...using an old thing (MiG-21) he (Abhinandan) was able to shoot such a modern thing (F-16). He added, "It's truly a technological marvel. It's the first time since the end of the Cold War that an eastern fighter (Russian MiG-21) has shot down a western fighter (American-made F-16)."
Pakistan can use F-16s in self-defense, not for aggression
The government said it will share evidence of Pakistan targeting Indian military establishments, misusing F-16s jets acquired in 2008 from the US under "fight against terrorism" banner. As per the sale agreement between the two countries, these fighter jets, meant for counter-terrorism activities cannot be used for attacking any country. On this, Abhijit said Pakistan can use F-16s in self-defense and not for aggression.
Pakistan Military Spokesperson claims they did not use F-16s
When asked what action the US can take against Pakistan for using F-16s to target Indian military establishments, Abhijit said, "(Pakistan Military Spokesperson) Major General Asif Ghafoor was clearly seen as saying they didn't use F-16s." He said the US can question why Major General Ghafoor lied, adding, "The point is, it doesn't really matter....because America isn't transferring any money or weapons to Pakistan."
On why India chose Mirage 2000s for Balakot airstrikes
On India choosing Mirage 2000 jets for Balakot airstrikes, Abhijit said, "In spite of Sukhoi...Mirage remains our best fighter." He said Mirage has always been technically superior to the F-16. "F-16 is the best fighter Pakistan has, Mirage is the best we have. If you look at the previous engagements between Mirage 2000 and F-16, Mirage 2000 has always shot down F-16," he added.
Amid Indo-Pak tensions, focus shifting away from Jaish-e-Mohammed
What began as India's retaliation to Pulwama attack (IAF's Balakot airstrikes) is on the verge of an India-Pakistan conflict. Amid tensions, the focus seems to be shifting away from Jaish-e-Mohammed. Abhijit said, "Jaish-e-Mohammed is a micro-detail...the macro-detail has always been Pakistan supporting terrorism... It is good the focus is shifting," suggesting Pakistan has learned the international community won't prevent India from taking anti-terror action.
Pakistan's attack openly acknowledges it has supported terrorists: Abhijit
While India carried out "non-military, preemptive action" on Jaish-e-Mohammed, Pakistan targeted Indian military establishments. On this, Abhijit said, "We have attacked non-military targets, India didn't attack its infrastructure and civilians." "It (Pakistan's attack) is one of the most open acts of acknowledging that they have supported terrorists and terrorists are auxiliaries of Pakistan. Second thing, it is basically an act of war," he added.
What India should do about Pakistan's offer for dialogue
On what India should do about Pakistan's offer for dialogue, Abhijit said, "Indian Government should do absolutely nothing. When Pakistan says 'dialogue', what do they want a dialogue about? Are they willing to act on terrorists? You can't have dialogue for the sake of dialogue." "Pakistan wants tangible in return for intangible...land in return for peace. How do you trade land for peace?" he questioned.