JNUSU President involved in violence on campus, declares Delhi Police
JNUSU President involved in violence on campus, declares Delhi Police
Jan 10, 2020, 06:33 pm
4 min read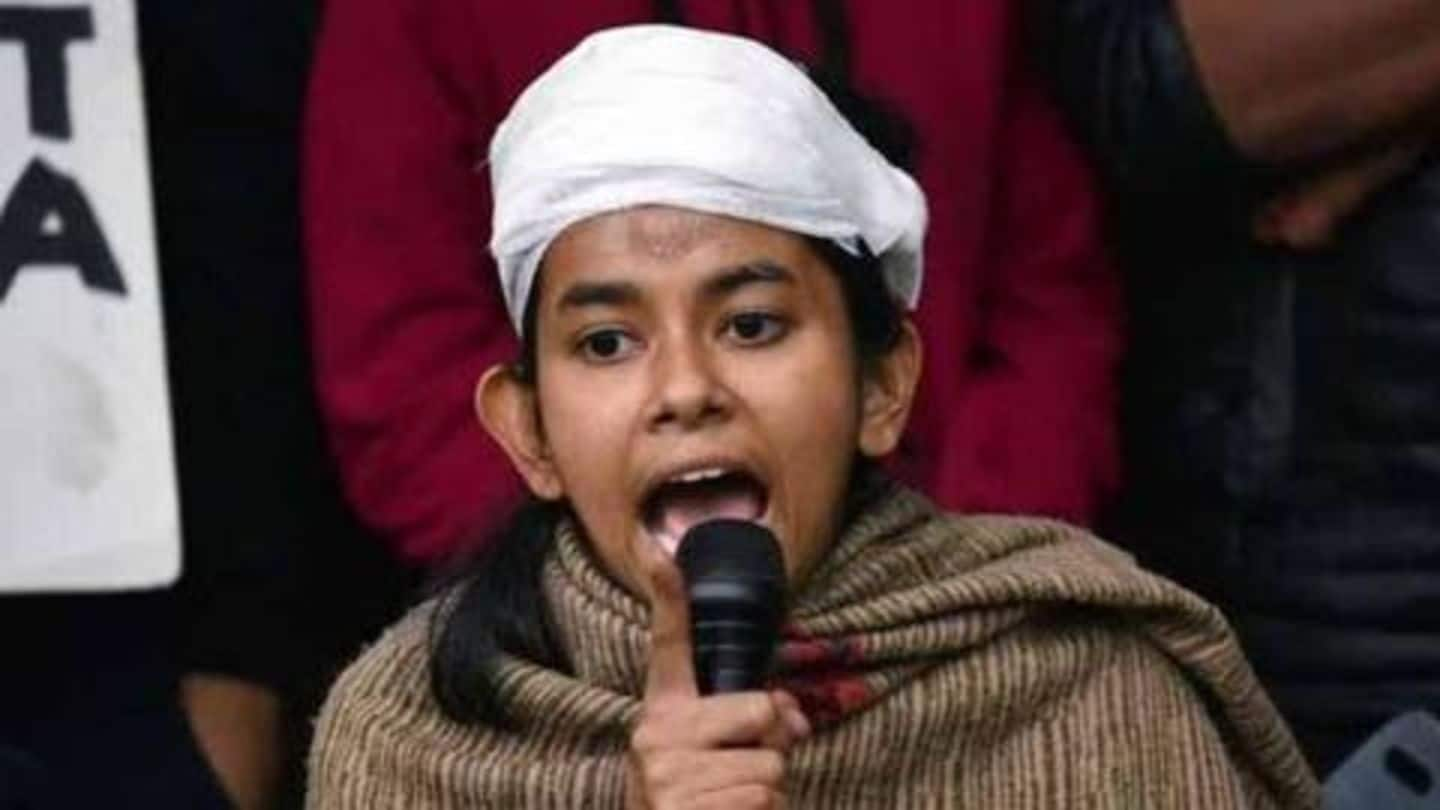 Five days ago, Jawaharlal Nehru University (JNU) came under attack, with over 20 suffering serious injuries. Among those who were injured was Aishe Ghosh, the president of the students' union. But today, giving a stunning twist to the matter, Delhi Police announced that Ghosh was involved in the rampage. In a press conference, cops named nine others for the despicable attack. Here's more.
Background: Masked mob stormed inside campus and thrashed students
On Sunday, unprecedented scenes took over the campus. Masked goons, carrying rods and hammers, attacked students, vandalized the campus, and managed to flee while cops remained stationed outside premises for the most part of it. The violence started when JNU Teachers' Association was concluding a march, called to advocate peace on the campus. JNU has been boiling, courtesy a fee hike, for months now.
After attack, Ghosh emerged a hero of sorts
The turn of events inside a university in national capital alarmed everyone. Soon, JNU students garnered support from across India with actress Deepika Padukone too expressing solidarity. On Tuesday, Deepika met protesting students and apparently told Ghosh, who had a bandage on her head, that she was proud of her. But Delhi Police's investigation paints a different picture of the students' leader.
Delhi Police identified perpetrators, showed pictures
The press meet was addressed by DCP Crime Branch, Dr. Joy Tirkey, and Delhi Police PRO, MS Randhawa. The latter claimed a lot of misinformation was being spread about JNU's incident. Thereafter, Tirkey flashed pictures of the perpetrators and identified them as, Chunchun Kumar, Pankaj Mishra, Waskar Vijay, Sucheta Talukraj, Priya Ranjan, Dolan Sawant, Yogendra Bhardwaj, and Vikas Patel. No one has been detained.
Hindu Raksha Dal, which 'took responsibility', wasn't even mentioned
Surprisingly, police's statement didn't mention far-right group, Hindu Raksha Dal, even once. The outfit, based out of Ghaziabad, had taken full responsibility for the attack and warned to carry out similar attacks at other campuses. "JNU is a hub of communists and we won't tolerate such hubs. They abuse our religion and our country," the body's chief Bhupendra Tomar alias Pinky Chaudhary, had said.
Three cases have been registered: Tirkey
Tirkey said three cases have been registered. "JNU administration decided to go for online registration of students from Jan 1-5. JNU Students' Union including Students Front of India, All India Students Federation, All India Students Association & Democratic Students Federation were against it," he added.
Named as suspect, Ghosh called Delhi Police partial
Shortly after Delhi Police addressed media, Ghosh did the same. Claiming innocence, she said she has evidence to show she was attacked. While she has full faith in the legal system, she accused Delhi Police of being biased. "My complaint has not been filed as an FIR. I have not carried out any assault," she said and added their movement will continue, peacefully.
Not scared of Delhi Police: Ghosh
JNUSU president elect Aishe Ghosh: We have not done anything wrong. We are not scared of Delhi Police. We will stand by the law and take our movement ahead peacefully and democratically. pic.twitter.com/N6MCMIYwnI

— ANI (@ANI) January 10, 2020
Alleged ABVP members have also been named by police
One of the suspects, Yogendra Bhardwaj, is a member of ABVP, the students' wing of RSS. He was a part of WhatsApp groups where the entire episode was planned. Another suspect Vikas Patel is also an ABVP member. On the "Unity Against Left" group, Patel allegedly suggested that DU people can enter JNU through Khajan Singh swimming pool. Both have switched off their phones.
Smriti Irani is happy Left's modus-operandi was exposed
The findings of the Delhi Police have validated BJP's theory that Left organized the attack. Promptly reacting to the press meet, Union Minister Smriti Irani, who was an HRD Minister once, tweeted, "Left design in JNU unmasked. They led mobs of mayhem, destroyed public property paid for by taxpayers, disallowed new students from being enrolled, used the campus as a political battleground."
JNU V-C informed students have to pay room rent only
Amid the turmoil, JNU V-C M Jagadesh Kumar received a lot of flak and JNUSU demanded his resignation over fee hike. But today, he said students will not be asked to pay utility or service charges, just the room rent which is Rs. 300. "The money taken from students will only be utilized to give back better facilities to students," he told ANI.
Students should come back: Kumar
JNU VC M Jagadesh Kumar: Now there are no Service Utility charges, students only have to pay room rent which is Rs 300. The money taken from students will only be utilised to give back better facilities to students. https://t.co/Xg8mjI4dHH

— ANI (@ANI) January 10, 2020