Delhi: AAP-leader, accused in IB officer's murder case, defends himself
Delhi: AAP-leader, accused in IB officer's murder case, defends himself
Feb 27, 2020, 12:16 pm
3 min read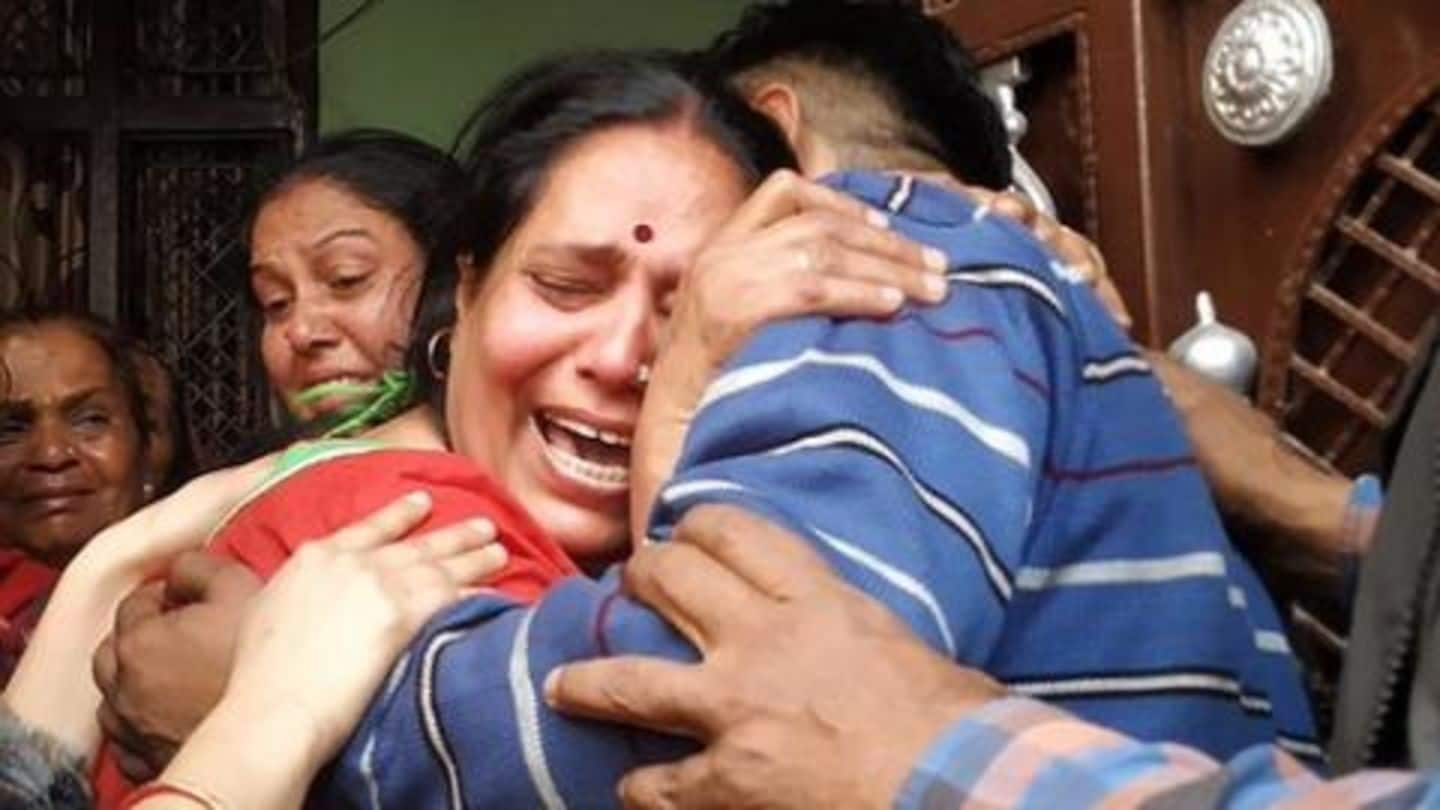 In the violence that rocked New Delhi this week, a young man, working with Intelligence Bureau (IB), died, and an AAP leader was blamed for the turn of events. The latter has denied the accusations in a video and put the blame on BJP's Kapil Mishra, instead. However, the deceased officer's family has also blamed Tahir Hussain for leading the violence.
Ankit Sharma's throat was slit, his body had bullet wounds
The 26-year-old, Ankit Sharma, lived in Northeast Delhi and his mutilated body was found in a drain near his home in Jaffrabad. His family claimed Ankit's throat was slit, and his body had stab and bullet wounds. Reportedly, Sharma was killed on Tuesday evening, when violence in the area peaked. His bereaved family demanded that his killers are punished.
He chose IB, was a caring son, said his mother
"He had got a job with Delhi Police too but he chose the Intelligence Bureau. He was extremely talented. My son was innocent.... unaware of worldly affairs. He often told us, 'Don't care about money'," his mother told NDTV.
Hussain is responsible for deaths: Sharma's family
Sharma's father Ravinder, who is also an employee of IB, accused Hussain and his supporters of killing his son. He claimed his son was first beaten, and then shot at. "Get hold of him (AAP leader Hussain). He is responsible for the deaths and he is on the run. Police should get hold of him," one of Sharma's family members said.
Clips from the site hint Hussain was involved
The allegations of Sharma's kin were corroborated by videos of the incident. Yesterday, journalist and author Rahul Pandita shared clips that showed a mob hurled stones and petrol bombs from the roof of Hussain's house. Some residents of Moonga Nagar alleged Hussain orchestrated the incident. To note, Hussain is a councilor of AAP, that got a thumping majority in the recently-concluded Delhi Assembly polls.
You can watch the video here
+ This is a video shared by a local resident. The house on the left belongs to Hussain. One can see mob on its rooftop throwing stones and petrol bombs all over pic.twitter.com/9uDBEZBXOn

— Rahul Pandita (@rahulpandita) February 26, 2020
Accused of aiding violence, Hussain said his house was attacked
As clamor to arrest the politician grew, he claimed innocence. In the video, he said, "The news about me is false. Since Kapil Mishra's hate speech, the situation in Delhi has deteriorated, with stone-throwing and violence taking place. The same happened here (at his residence) the day before yesterday." He claimed a mob "took over his house" and launched attacks.
He claimed he asked cops for protection
Hussain said after mob entered his home, he called the police and they arrived after "some hours". Cops asked him to leave his house, and he did while requesting them for protection. "I don't know why the police later moved its force away and then once again the mob returned to launch attacks from there," he went on.
Hussain said the situation was very distressing
"I am very distressed by what has happened and want you to know that I am a peaceful Indian Muslim and will always work for the country and Hindu Muslim relations. Please believe me," he added.
Like Hussain, Sanjay Singh also blamed Delhi Police
Meanwhile, AAP leader Sanjay Singh attempted to defend Hussain. Speaking to ANI, he said, "Tahir Hussain has already given his statement in which he said that he gave all details to police and media about mob entering his house during the violence. He had asked police for protection. The police came 8 hours late and rescued him and his family from his house."
Everyone who is guilty should be punished: Singh
Sanjay Singh, AAP: Tahir Hussain has already given his statement in which he said that he gave all details to policemedia about mob entering his house during the violence. He had asked police for protection. Police came 8 hours laterescued himhis family from his house. (2/2) https://t.co/AZns0p2AtW

— ANI (@ANI) February 27, 2020