Delhi riots: Guns, petrol-bombs, swords, and hammers used in violence
Delhi riots: Guns, petrol-bombs, swords, and hammers used in violence
Feb 27, 2020, 09:23 am
3 min read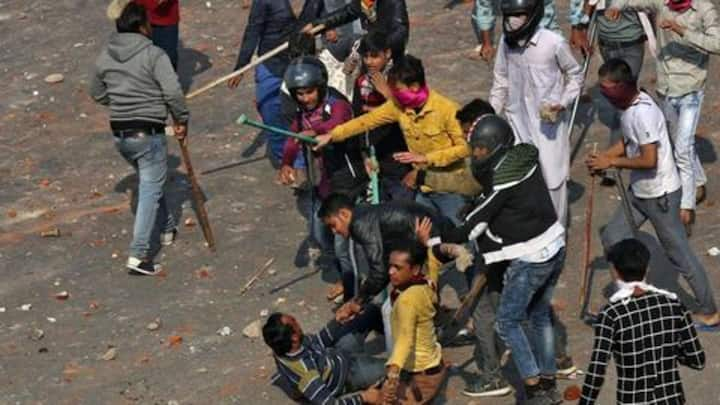 For over two days, Delhi burned this week taking the lives of as many as 28 people, including a head constable and an Intelligence Bureau official. With Delhi Police and the administration trying to contain the violence, a report in HT suggested all kinds of weapons, like guns, petrol bombs, hammers, swords, sickles, baseball bats, sticks and large stones were used to inflict pain.
A protest against CAA turned into Hindu-Muslim riot
At the center of the violence, the worst one to hit Delhi in decades is contrasting views on the Citizenship Amendment Act (CAA). A protest against the controversial citizenship act turned violent with both the protesters and supporters hurling stones at one another. The situation snowballed into nothing short of carnage, with houses/shops being set on fire and people being killed.
Rioters were well prepared, suggest injuries
Most of the injured were taken to Guru Tegh Bahadur Hospital, whose doctors said the injuries proved the rioters were heavily armed. Police believe the pistols that used were brought to the National Capital from Western Uttar Pradesh. Some of the masked rioters told the daily they came from places like Shamli and Muzaffarnagar. A cop said the border should have been sealed earlier.
No gun factories in Delhi, they were smuggled: Cop
"Parts of the Delhi-Uttar Pradesh border should have been sealed on Sunday. The border was finally closed on Tuesday evening, after more than 40 hours. Had the borders been sealed on Day 1, the violence would not have escalated. In Delhi, there are no gun factories," the officer said.
Rioters came from outside, brought truckload of stones along
Apart from guns, the rioters used the most common weapon — stones. Some of the locals whose houses were damaged when stones were hurled said they saw rioters coming in the area with a truckload of stones. "They were all outsiders. We recorded their videos. It was a planned attack on us," a local from Maujpur, one of the worst-affected areas, said.
They must have acquired bottles from scrap dealers
Meanwhile, in Chand Bagh, rioters used petrol bombs. Police believe the rioters got empty bottles from scrap dealers. About the large-scale violence, former Delhi police deputy commissioner of police (special cell) LN Rao, said a large chunk of these rioters are unemployed. Residents of Northeast Delhi allegedly store stones, bricks and empty glass bottles in their houses, throughout the year.
Using sharp objects for petty crimes is normal: Rao
"Trends and data have shown that some sections of young people in parts of northeast indulge in petty crimes and do not hesitate in using sharp weapons like blade and knife to rob people," Rao, who served in Delhi for more than thirty years, said.
Delhi HC said 1984 can't be repeated
Delhi Police, whose laxity in dealing with the situation got it criticism, has registered 18 FIRs so far and arrested 106 people. Yesterday, Justice S Muralidhar of the Delhi High Court gave cops an earful for not filing an FIR against those indulging in hate speech. Justice Muralidhar said the court will not allow another 1984 in Delhi, and called for immediate action.
Last night, Justice Muralidhar was transferred
Just as Justice Muralidhar's strong words earned him praises, the third-highest judge of HC was transferred to Punjab and Haryana High Court. On February 12, a Supreme Court collegium recommended transferring him, and two weeks later, the notification was issued. For this, President Ram Nath Kovind had talks with CJI SA Bobde. Earlier, his transfer was condemned by the Delhi High Court Bar Association.