Seven years later, Nirbhaya's rapists hanged till death in Tihar
Seven years later, Nirbhaya's rapists hanged till death in Tihar
Mar 20, 2020, 05:43 am
3 min read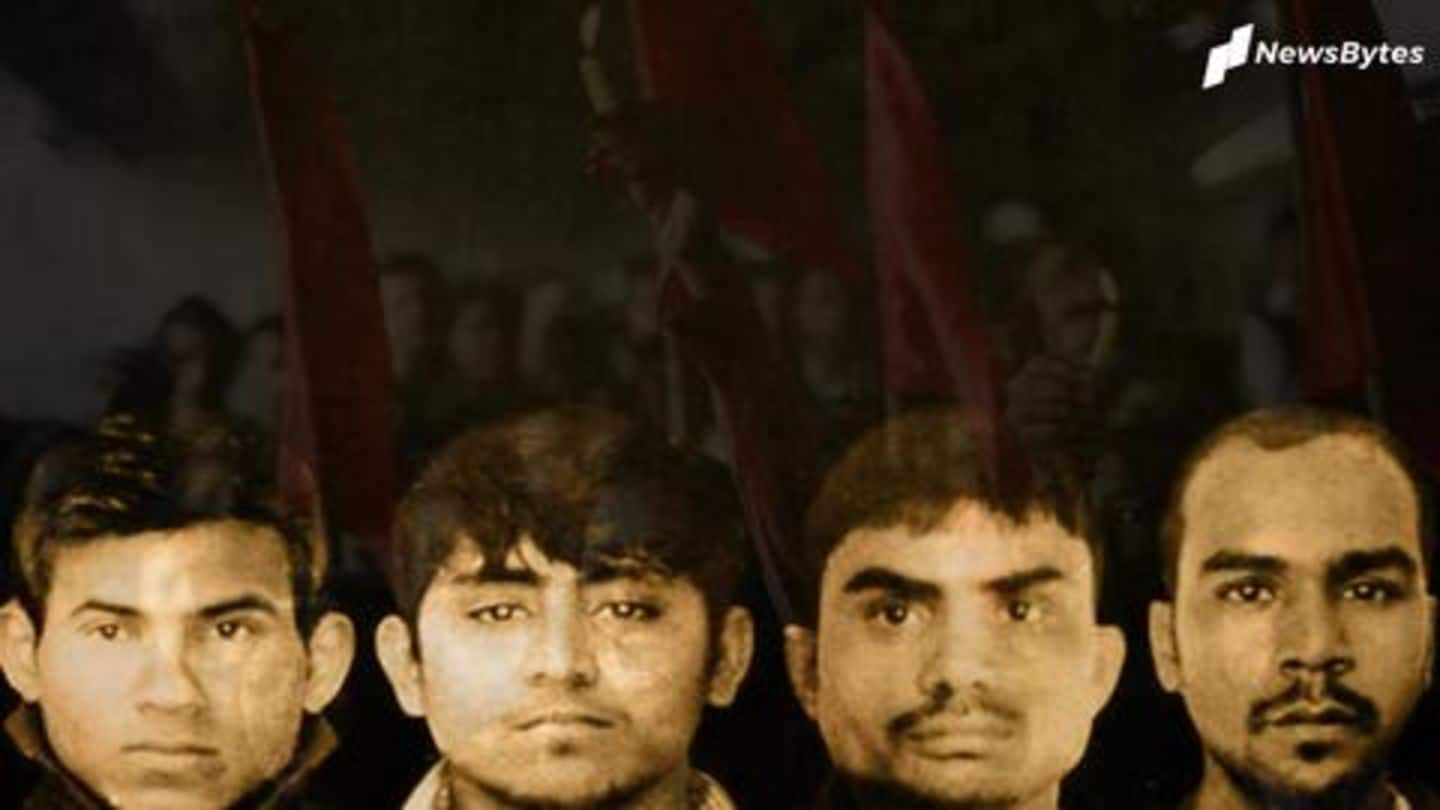 More than seven years after they committed a crime that brought shame for the entire nation, four men — Akshay, Pawan, Vinay, and Mukesh, were hanged till death inside Delhi's Tihar prison on Friday. The convicts were found guilty of raping a woman, assaulting her brutally, and then dumping her on a busy street in Delhi in December 2012. Here are more details.
Nirbhaya was raped by six, including a juvenile
On December 16, 2012, Nirbhaya, the name given to the paramedical student by media, boarded a private bus with her male friend. Inside the vehicle, that had heavily tinted windows, she was raped, rods inserted into her private parts, and beaten. After the crime, the six, including a juvenile, dumped the duo. Thirteen days later, she succumbed to the grievous injuries in Singapore.
The face of a tired but triumphant mother
Delhi: Asha Devi, mother of 2012 Delhi gang-rape victim show victory sign after Supreme Court's dismissal of death row convict Pawan Gupta's plea seeking stay on execution. pic.twitter.com/FPDy0hgisv

— ANI (@ANI) March 19, 2020
India came out on streets, bus' driver took his life
The horrendous rape enraged the nation with people taking to streets. In 2013, the convicts were given death sentence, a verdict which was upheld both by the Delhi High Court and Supreme Court. Before the sentencing, the bus driver Ram Singh committed suicide, and the juvenile, who was just days short of turning an adult, was sent to a correction home for three years.
The black warrants have been issued four times
The remaining four were supposed to be hanged on January 22, but it was postponed to February 1 after Mukesh filed a mercy petition before President Ram Nath Kovind. Another plea by Vinay moved the execution to March 3, and on March 5, a fresh date was issued. The convicts have employed all tricks of the trade to delay the execution.
They filed pleas and counter-pleas separately
All the convicts filed mercy pleas separately, Pawan claimed he was a juvenile at the time of the crime and he also fired his lawyer, which led to the matter getting delayed. In fact, Vinay, Akshay, and Pawan, also approached the International Court of Justice (ICJ), the judicial wing of the UN, seeking a stay on the order. But ICJ didn't intervene.
Nirbhaya's mother emerged as a force to reckon with
Throughout the long-drawn battle, Nirbhaya's mother, Asha Devi, remained strong. Though she broke down a couple of times, she was stern she wouldn't settle for anything less than a death sentence. After Pawan's final attempt to escape the noose failed yesterday with the rejection of his curative plea, Asha said her daughter would finally get justice.
Akshay's wife sat and wailed outside Delhi court
Yesterday, Akshay's wife attempted suicide outside Patiala House court and said she doesn't want to live. Her child sat beside her while the woman, identified as Punita Devi, wailed on the street. Tihar jail had called a hangman from outside Delhi to execute the four rapists and dummy executions had also taken place to ensure no untoward incident happens on the final day.