Hazare cancels proposed hunger strike, says government took certain steps
Published on
Oct 02, 2018, 07:53 pm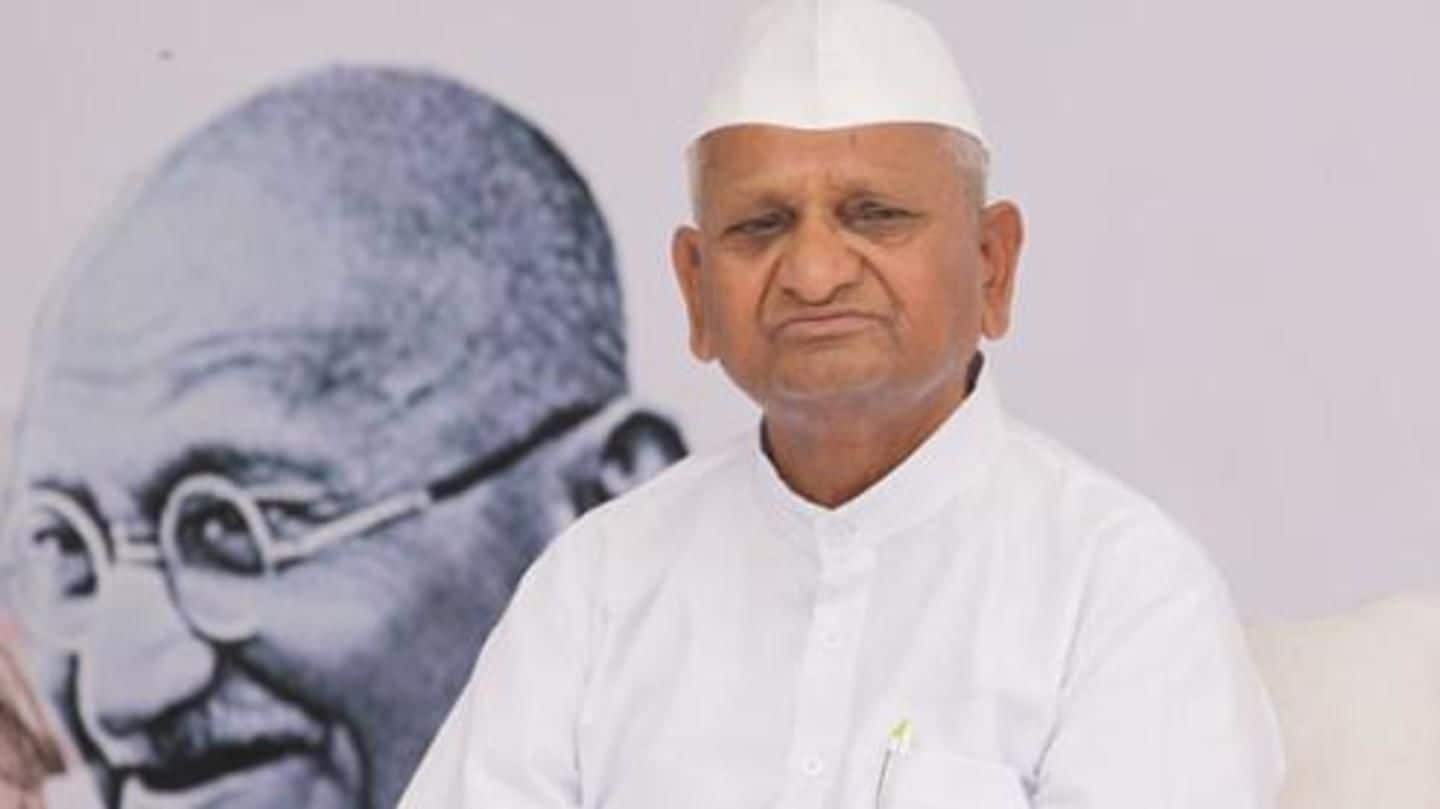 Social activist Anna Hazare today put off his proposed hunger strike over various demands including the appointment of Lokpal, saying the government had taken certain steps that had shown a "ray of hope". The 81-year-old anti-corruption crusader, however, warned that he would launch another protest on January 30, the death anniversary of Mahatma Gandhi, if the government failed to fulfill his demands. Here's more.
Hazare had said he would launch his agitation today
Hazare earlier said he would launch his agitation in Ralegan Siddhi, Maharashtra, from today, marking Mahatma Gandhi's 150th birth anniversary, alleging that the government had not kept its word of taking "positive steps" as regards to his demands after his Ramlila Maidan protest in March.
The government has fulfilled Hazare's key demands, says Girish Mahajan
Maharashtra Minister (Water Resources & Medical Education) Girish Mahajan, who reached out to Hazare on behalf of the Center and state government, said the government had discussed in detail the demands raised by the activist and fulfilled the key points, as he urged the latter to call off the protest. "Some things seem to be on the plus side," Hazare said.
Would launch protest if issues remain unresolved: Hazare
"The government has taken some steps towards (appointment of) Lokpal, Lokayukta, and (declared) one-and-a-half times rates for farmers' produce. There's a ray of hope. Hence, I've decided to put off the protest (for now)," Hazare said. "Today is Gandhiji's birth anniversary and January 30 is his death anniversary. In case the issues remain unresolved, I'd launch another protest on Gandhiji's death anniversary," he added.
What were Hazare's demands?
However certain issues he had flagged still remain unresolved, Hazare said. Besides the appointments of Lokpal and Lokayukta, Hazare, named among top 100 global thinkers in 2011, has been demanding constitutional status for Commission for Agricultural Costs and Prices and turning it autonomous.
Hazare also has been insisting to implement Swaminathan Commission
Hazare has also been demanding a fair price for dairy farmers and implementation of the Swaminathan Commission. The Commission was formed in 2004 to identify the farmers' problems and suggest solutions. It submitted five reports between December 2004 and October 2006, suggesting steps to improve the agrarian situation. Hazare, the face of the Lokpal movement, went on a 12-day hunger strike earlier in 2011.
Impact: Hazare's strike forced UPA government to pass Lokpal bill
Hazare had later launched a fast, which had garnered huge support across the country. The then UPA government had later passed the Lokpal bill. After his Ramlila Maidan protest, Maharashtra CM Devendra Fadnavis had acted as an emissary of the Center and had ensured action.