Google's top 2017 trend: Hurricane Irma beats them all
Google's top 2017 trend: Hurricane Irma beats them all
Dec 14, 2017, 11:25 am
2 min read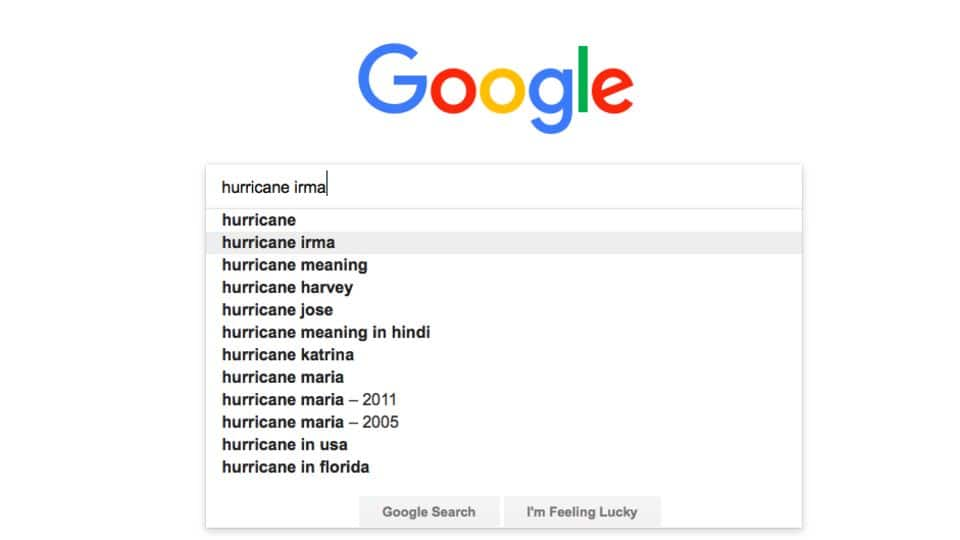 As 2017 draws to a close, and before your social-media timelines get flooded with year-end specials, we bring you what the world, and specifically India, googled the most this year. The devastating Hurricane Irma, that killed atleast 37 and wreaked havoc in Caribbean islands and several American states in August-September, was the most searched item in 2017. Read on for other top Google trends.
iPhone 8, iPhoneX, Meghan Markle among the most searched
Apple launching both iPhone 8 and iPhone X this year sent its consumers into a tizzy, who compared everything from their prices to features. Their place as the second and third global Google trends is therefore unsurprising. Actor Meghan Markle, the first American to join the royal British family, features at No. 5. Markle and Prince Harry announced their engagement on November 27.
2017 also belonged to 13 Reasons Why, Fidget Spinner
Other top 10 global trends also include at No. 4 Matt Lauer, the veteran former 'Today' host who was sacked over sexual misconduct, the superhit Netflix original series 13 Reasons Why (6), stress-busting toy for working professionals Fidget Spinner (8) and India's cricket team (10).
In India, Baahubali 2 and IPL ruled over all else
Bollywood films and cricket dominated the top 10 overall India trends, with Baahubali 2 topping the charts once more. At the end of its 100-day theatre run, the SS Rajamouli film had reportedly earned a little under Rs 1,700 crore worldwide. Indian Premier League's tenth season was the next most searched. 'Live Cricket Score' followed next, thanks to the round-the-clock tournaments keeping audiences hooked.
India's Bollywood obsession: 7 films in top 10 India trends
What's interesting to note is that Indians were more curious about films such as Dangal (4), Half Girlfriend (5), Badrinath Ki Dulhaniya (6) and Munna Michael (7) than they were about GST, the UP election or Manushi Chillar winning Miss World, events that made headlines.