DRDO successfully test-fires medium-range surface-to-air missile, destroys target
DRDO successfully test-fires medium-range surface-to-air missile, destroys target
Edited by
Abhishek Sharma
Mar 27, 2022, 06:58 pm
2 min read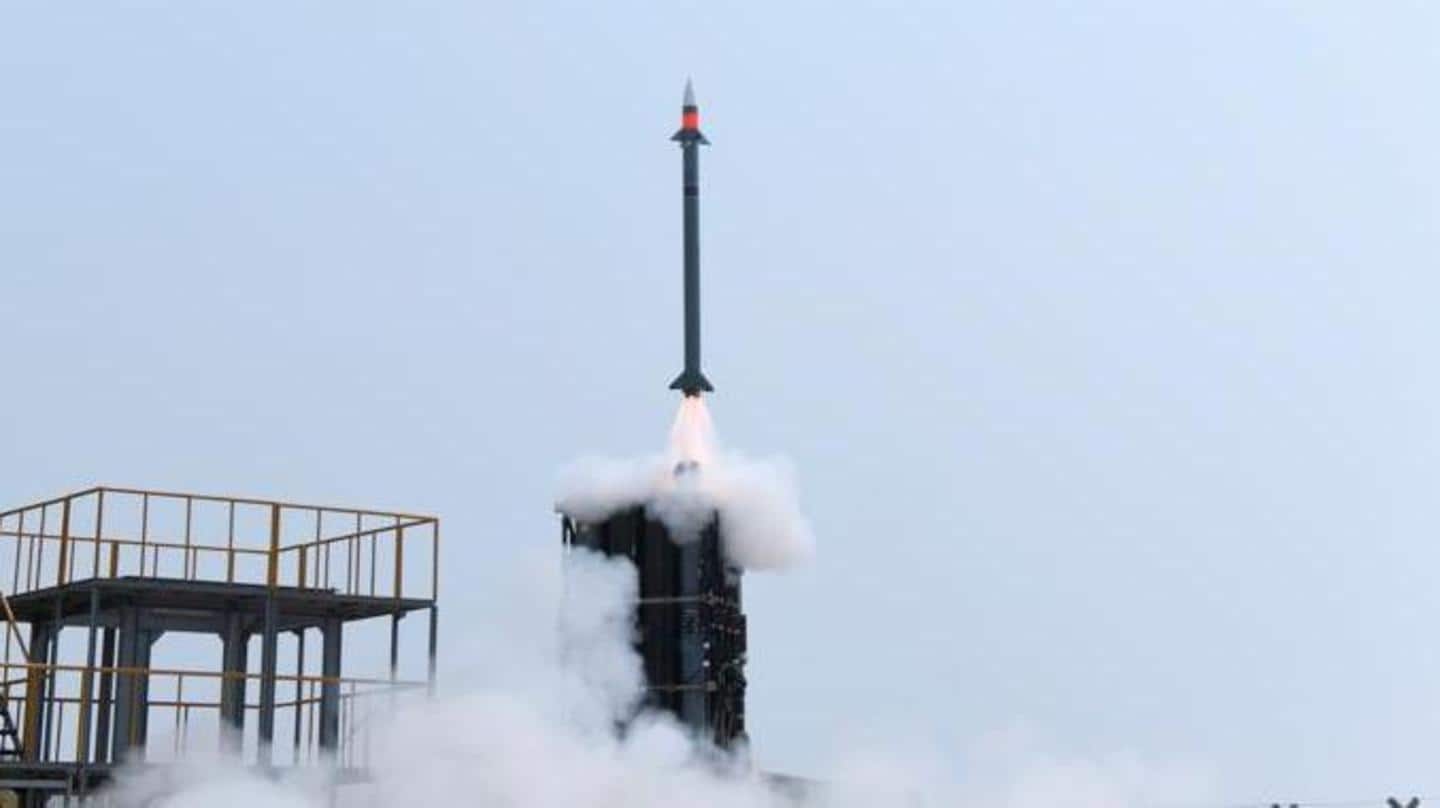 The Defence Research and Development Organisation (DRDO) successfully tested the Medium-Range Surface-to-Air Missile (MRSAM) air defense system off the coast of Balasore in Odisha on Sunday. The air and missile defense system has been developed by the DRDO in collaboration with the Israeli Aerospace Industry (IAI) for the Indian Army. The missile destroyed the target in a direct hit, DRDO said.
Why does this story matter?
India launched the army version of the MRSAM for the first time in December 2021.
The system has a 70-kilometer range and can shoot down ballistic missiles, fighter jets, aircraft, drones, surveillance aircraft, Airborne Warning and Control Systems (AWACS) aircraft, and attack helicopters as well, ABP News has reported.
The MRSAM is a land-based version of the Indian Navy's long-range surface-to-air missile (LRSAM).
MRSAM was successfully tested from the Integrated Test Range
The MRSAM-Army missile was tested at around 10:30 am from the Integrated Test Range (ITR) in Balasore, Odisha, and secured a direct hit on the target at a very far-off distance, the DRDO said. The ITR is an Indian defense laboratory run by the DRDO that provides safe and reliable launch facilities for the performance examination of rockets, missiles, and airborne weapon systems.
Missiles completely destroyed aerial targets
"The missiles intercepted the aerial targets and destroyed them completely, registering direct hits at both the ranges," the DRDO said. The first launch was to intercept a medium-altitude long-range target and the second was for proving the capability of a low-altitude short-range target, it added.
More details about MRSAM Army weapon system
The MRSAM Army weapon system comprises multi-function radar, mobile launcher system, and other vehicles, the DRDO said. The system's performance was validated through the flight data captured by range instruments like radars, electro-optical tracking systems, and telemetry deployed by ITR, Chandipur, it added. The flight tests were carried out in the presence of senior officials from DRDO and the Indian Army.
BrahMos supersonic cruise missile was tested on Wednesday
Monday's test follows the successful test of India's surface-to-surface BrahMos supersonic cruise missile on Wednesday. According to defense officials, that test took place at a missile range in Andaman and Nicobar, and the extended range missile hit its target with pinpoint accuracy. Officials added that Air Chief Marshal VR Chaudhari congratulated everyone involved in the successful test-firing of the surface-to-surface BrahMos supersonic cruise missile.