#InternationalYogaDay: PM Modi addresses Dehradun, ITBP performs Yoga at 18,000ft
#InternationalYogaDay: PM Modi addresses Dehradun, ITBP performs Yoga at 18,000ft
Jun 21, 2018, 01:16 pm
2 min read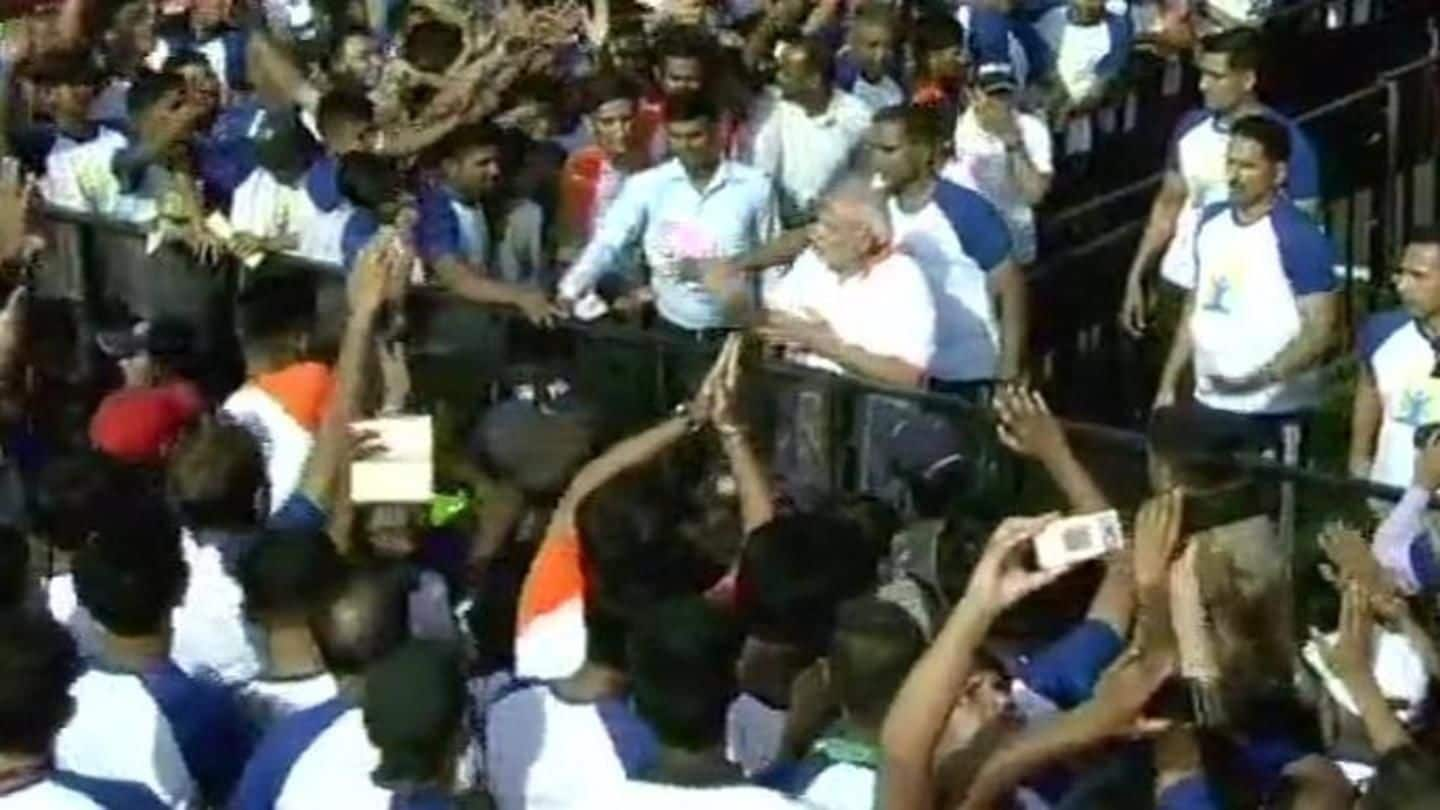 Prime Minister Narendra Modi led a gathering of around 50,000 people at Dehradun's Forest Research Institute to celebrate the fourth International Yoga Day. The UN declared June 21 as the International Yoga Day in 2014. Addressing the gathering, he said Yoga Day has become the biggest mass movement towards a healthy lifestyle. Thousands around the country practised yoga and meditation to mark the day.
In Dehradun, thousands volunteer to perform Yoga with PM Modi
Thousands of Dehradun locals volunteered to perform Yoga with the Prime Minister. Addressing them, he said, "Yoga is beautiful because it is ancient yet modern, it is constant yet evolving. It has the best of our past and presents." He stressed the world had embraced Yoga. "Yoga Day has become one of the biggest mass movements in the quest for good health," he added.
ITBP officers perform Yoga at 18,000 ft above sea level
Just like PM Modi spearheaded a campaign in the Uttarakhand capital, many influential personalities led crowds in different parts of the country. Rajasthan Chief Minister Vasundhara Raje teamed up with Baba Ramdev for a Yoga camp in Kota. Manipur Chief Minister Nongthombam Biren performed Yoga at Khuman Lampak Indoor Stadium, Imphal, and shared a video on Twitter.
Scores of BJP ministers participate in Yoga Day events
Union Minister Jagat Prakash Nadda performed Yoga at Shimla's Ridge Road along with hundreds of people. Minority Affairs Minister Mukhtar Abbas Naqvi joined Jharkhand Chief Minister Raghubar Das for a Yoga event in the state. Railways Minister Piyush Goyal performed Yoga in Noida. He was joined by BJP MLA Pankaj Singh. The official Twitter handle of Congress also sent greetings on International Yoga Day.
Officials perform Yoga at Delhi's US Embassy too
Meanwhile, Mizoram maintains distance from Yoga Day
State cabinet ministers of Mizoram decided to neither encourage nor put restrictions on Yoga Day celebrations. Many religious groups in the state dubbed it 'anti-Christian'. Last year, the Congress-led government held 'Healthy Mizoram Campaign' on June 21. A BJP leader in Mizoram said he tried explaining Yoga has no relation with religion, but in vain. However, Assam Rifles organized Yoga Day event in Aizawl.
Play this quiz to know more about Yoga