J&K: What is the ground situation, now?
J&K: What is the ground situation, now?
Sep 21, 2019, 07:36 pm
4 min read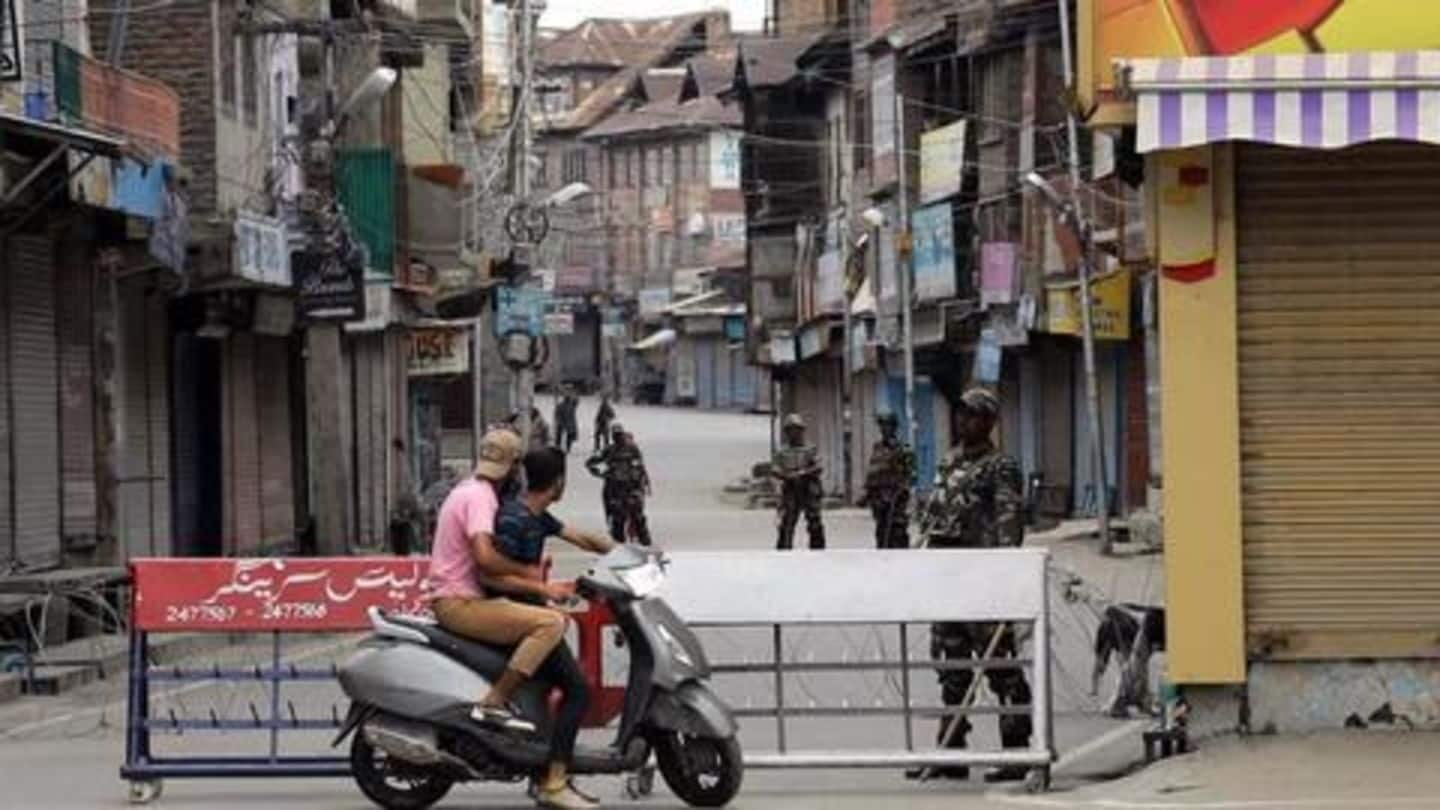 In the first week of August, the Narendra Modi-led Centre fulfilled one of the core ideologies of the Bharatiya Janata Party (BJP) by abrogating Article 370 and withdrawing the special status of Jammu and Kashmir. But the historic move wasn't without any repercussions as the government put the state under lockdown and detained thousands. And now, a report has claimed hundreds have been released.
Some were released within hours, others after days
As per TOI, 4,000 people were detained since August 5, and 3,100 have been released till now. While some were allowed to go within hours, many had to stay in prison for days. Most of the detainees were booked under Section 107 of CrPC. Those who have been charged under the stringent Public Safety Act (PSA), have been shifted to jails outside J&K.
Ensuring normalcy while taking care of security is top priority
Earlier, the Supreme Court had ordered the Centre, as well as state, to take steps to ensure normalcy returns in J&K. And the government said it is doing exactly that. While bringing normalcy is a top priority, authorities are also keeping a watch on elements who could disrupt peace. DGP Dilbagh Singh said at least 30 people were picked up recently for "threatening" locals.
Those terrorizing locals won't be spared: Singh
"J&K police is watching activities of those terrorizing locals from resuming normal lives, identifying the perpetrators and moving swiftly to arrest them. Around 30 arrests have been made from places like Srinagar, Ganderbal, Sopore, Shopian, and Pulwama," Singh told the daily.
According to Singh, everything is normal in the Valley
Further, Singh claimed that barring mobile/internet shutdown, things are "normal" in the Valley. Claiming no untoward incident was reported on Thursday, Singh said this was never the case even when Article 370 wasn't revoked. "In 2016, during the protests against the killing of (Hizbul terrorist) Burhan Wani, scores of violent incidents were recorded in a single day," Singh went on.
Separately, youngsters are being counseled regarding stone-pelting
Furthermore, the cops have deployed a unique way to keep a check on stone-pelting. Youngsters, booked under CrPC, are being counseled along with their family members before being released. "In most cases, no repeat offense has been reported," the officer said. He also spoke about renowned politician Farooq Abdullah's detention under PSA and revealed why he was treated like this in the first place.
Apparently, Abdullah was detained because of "potential danger"
"He was detained under PSA not for his acts but due to potential danger to public order from his statements and utterances. The period of his detention will be decided by the PSA advisory board," said Singh about the three-time former Chief Minister of J&K.
Meanwhile, Pakistan's notorious actions haven't stopped
To note, India's decision to integrate J&K completely upset Islamabad. Along with trying to internationalize the issue, Pakistan is also indulging in ceasefire violations. Officials said on Saturday that Pakistan violated ceasefire in Poonch and Rajouri districts, as a result of which 16 animals died. The intense shelling forced authorities of nearly half-a-dozen government schools to suspend classes. The violations got a befitting reply.
As is well-known, Pakistan has been isolated globally
Now, Pakistan's attempt to get India criticism on Kashmir move has been failing miserably. In fact, it couldn't even get UNHRC to discuss Kashmir. Meanwhile, India has been reiterating at the global stage that Kashmir is an internal matter and Pakistan should rein in its words. Following the same line of thought, External Affairs Minister S Jaishankar slammed the neighboring country in Finland.
Jaishankar highlighted that "epicenter of terrorism" is India's neighbor
Jaishankar said on Friday that India's Kashmir decision was influenced by national security, more so because of the country's geographic placement. Calling neighbor Pakistan the "epicenter of terrorism", Jaishankar said cross-border terrorism has cost over 40,000 lives in three decades. "We are opposed to terrorism in all its forms and manifestations and believe there is no justification for it, whatsoever," he added.