Ansari's homecoming to rescuing people: How Sushma Swaraj touched lives
Ansari's homecoming to rescuing people: How Sushma Swaraj touched lives
Aug 07, 2019, 12:45 pm
3 min read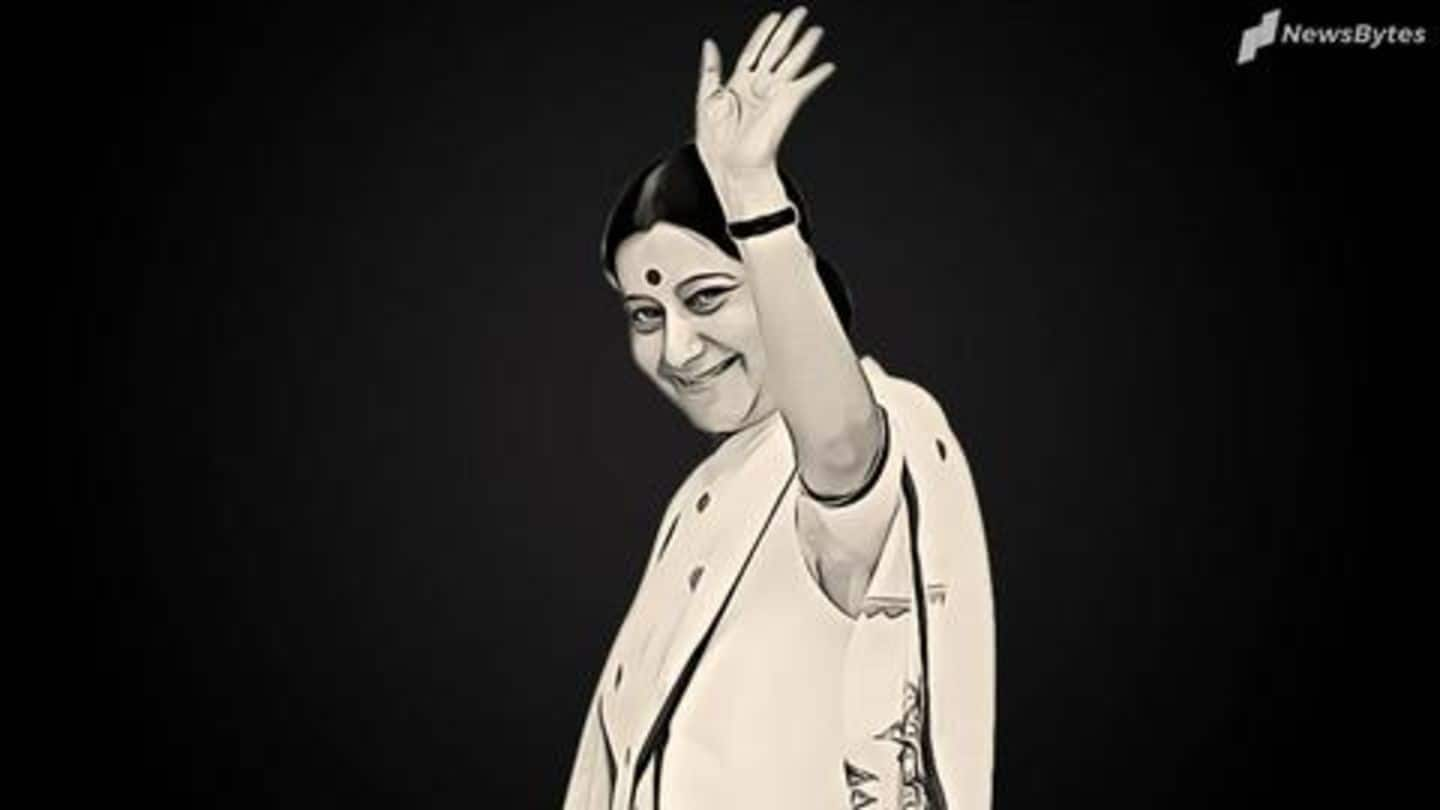 She opened the doors of external affairs ministry for the common man, she showed how to use social media for solving citizens' woes, and she set an example for all. BJP leader Sushma Swaraj will always be remembered for her compassion and humility. As she embarks on her final journey today, let's tell you how she touched the lives of millions.
Courtesy Swaraj, an engineer was reunited with his family
When Hamid Ansari was arrested in Pakistan in 2012, his family didn't know if they'll ever see their son again. The engineer from Mumbai went to Pakistan to meet a woman and was charged with espionage. After Swaraj took over Foreign Ministry, she made his homecoming one of her top agendas. In 2018, Ansari returned home, due to concerted diplomatic efforts of Swaraj.
How can she leave so early, asked Ansari
For Indians, Ansari's teary reunion with his family is a scene which can't be erased from memory easily. As his mother kept telling Swaraj "Meri madam Mahaan", the humble leader consoled her. On learning of her demise, a shocked Ansari said, "When the news of her demise broke last night, we thought it might be a rumor because how can such a person leave us so early."
If this doesn't tear you up, nothing will
#WATCH Indian National Hamid Ansari who came to India after being released from a Pakistan jail yesterday, meets External Affairs Minister Sushma Swaraj in Delhi. His mother tells EAM "Mera Bharat mahaan, meri madam mahaan, sab madam ne hi kiya hai." pic.twitter.com/FQEzz99Ohm

— ANI (@ANI) December 19, 2018
Swaraj showed Twitter is not a terrible place after all
While most politicians/personalities use social media to blow their trumpets, Swaraj used it for Indians, here and abroad. Have a passport problem? Tweet to her. Stuck in a foreign land? Ask her for help. She rarely disappointed. Swaraj belonged to BJP's batch which had stalwarts like Atal Bihari Vajpayee and LK Advani. But she resonated with the "millennials" too, courtesy her absolutely stunning tweets.
From witty replies to rescuing people, Swaraj did all
Swaraj once flaunted the Indian Embassy can rescue people from Mars too. On yet another occasion, when a user tried to troll her by asking her to fix his refrigerator, she replied, "Brother I cannot help you in matters of a Refrigerator. I am very busy with human beings in distress." Once, she ensured an elderly couple visits Kailash Mansoravar in the same batch.
Computer is guilty of separating you, we'll help: Swaraj
Swaraj broke glass ceilings in India and abroad
Swaraj's story is also a case study on how women can change the world. She created history more than once; became Delhi's first woman Chief Minister, was the first woman spokesperson for any national political party, and was also the youngest minister in Haryana cabinet. One of the most striking images of Swaraj's career was clicked last year when she stood next to male diplomats at SCO Summit.
Swaraj lived a life worth celebrating
At a time when the discourse of Indian politics is getting worse with each passing day, Swaraj showed political differences shouldn't change a person's behavior. The petite but tall leader always greeted her rivals with a smile, and the tributes which her rivals have given confirms she touched several lives. India will forever be indebted to you Ma'am. Rest in peace.