Maharashtra rains roundup: Situation worsens, 1.5L evacuated, 16 people dead
Maharashtra rains roundup: Situation worsens, 1.5L evacuated, 16 people dead
Written by
Siddhant Pandey
Edited by
Pallabi C Samal
Aug 08, 2019, 01:27 pm
3 min read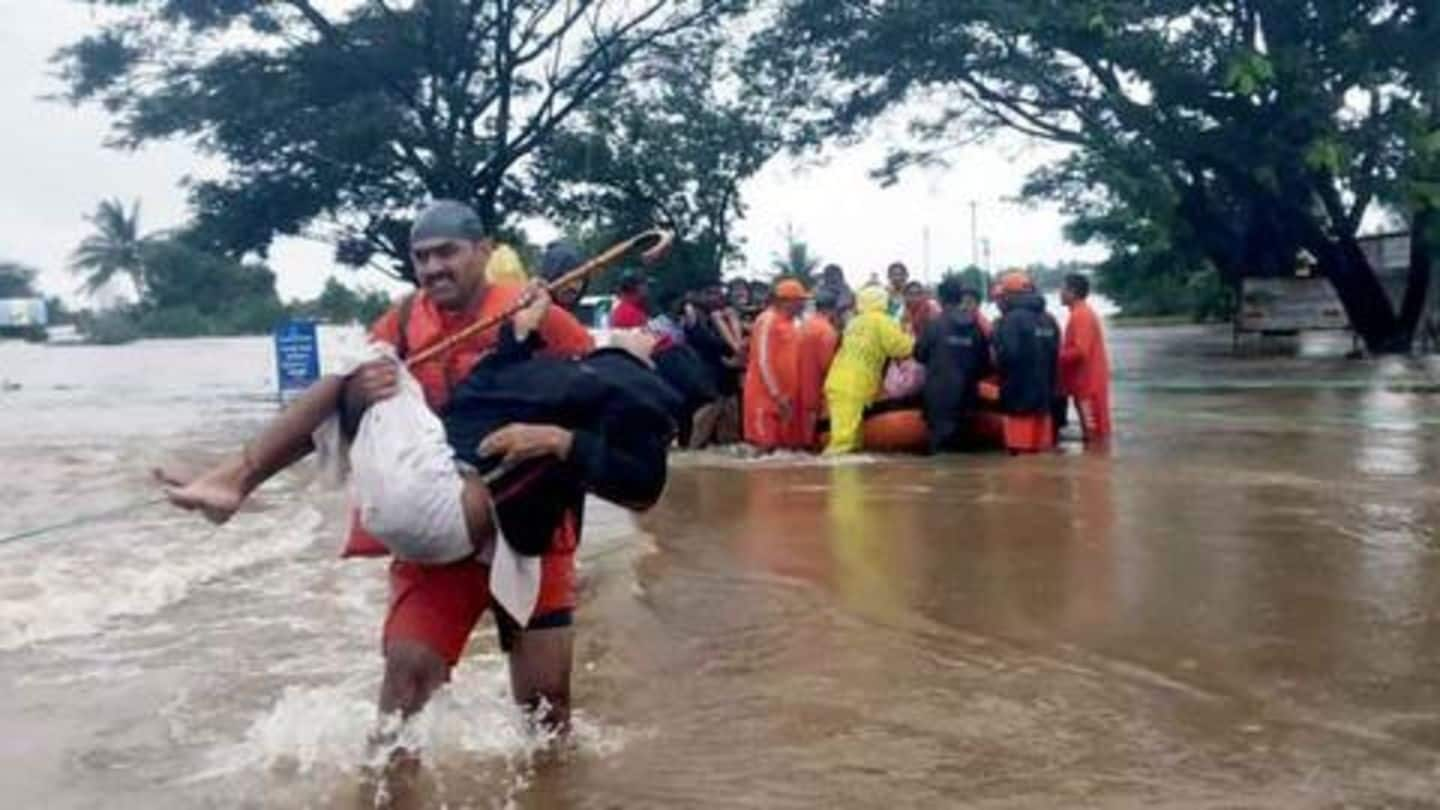 As heavy rains continue to hit several parts of the country, flooding in Maharashtra's Kolhapur, Sangli and Satara districts seems to have worsened. According to reports, 16 people have lost their lives in Satara, Pune, Sangli, Kolhapur, and Solapur in the past five days alone. Water levels in several rivers have risen, and over 1.5 lakh people have been evacuated from the affected regions.
Most dams filled to capacity: Pune Divisional Commissioner
Pune Divisional Commissioner Deepak Mhaisekar is quoted as saying by The Indian Express, "Most dams in the division are filled to capacity and if rain in the catchment areas continues, as predicted by the IMD, the unavoidable discharge of water from dams may again lead to a flood-like situation." Mhaisekar also warned people against traveling on the Mumbai-Bengaluru national highway.
Sangli-Kolhapur stretch of Mumbai-Bengaluru highway affected due to floods
Reportedly, commuters on the Mumbai-Bengaluru highway could face trouble as the Sangli-Kolhapur stretch of the route remained closed on Tuesday, as a result of flooding. All schools and colleges are to remain shut in Kolhapur, in three tehsils of Pune district and five tehsils of Sangli district. The India Meteorological Department (IMD) has also issued a red alert in Pune, Palghar and Raigad districts.
Water levels in Panchganga, Dudhganga, Krushna, Koyna rivers have risen
Due to torrential downpour, water levels in the Panchganga and Dudhganga rivers in Kolhapur, and the Krushna river in Sangli have risen. Additionally, Krushna and Koyna rivers in Satara are also in spate following heavy rainfall in the region. Additionally, the 12 talukas in Kolhapur were among the worst-hit regions by the heavy rainfall along with four talukas of Satara, and 10 in Sangli.
Electricity affected as 10,800 transformers submerged
Reports also stated that over 10,800 transformer units were submerged due to floods, affecting power connectivity to some 2.5 lakh people in five districts of Pune division. On Wednesday, efforts were on to restore power connections in the Pune district.
The Territorial Army, the Navy and the National Disaster Response Force (NDRF) are conducting rescue operations in Kolhapur and Sangli. Five rescue teams had been deployed in Kolhapur and Sangli, the Navy said. Maharashtra CM Devendra Fadnavis also held a meeting with senior ministers like Eknath Shinde, Ramdas Kadam, Girish Mahajan, and Chandrakant Patil, in Mumbai yesterday to discuss about the crisis.
Not just Maharashtra, even Karnataka, Kerala are battered by floods
Notably, Fadnavis also spoke to Karnataka Chief Minister BS Yediyurappa over the release of water from Koyna Dam in western Maharashtra. In Karnataka, over five people have died and 26,000 have been evacuated due to the floods. In neighboring Kerala, a red alert was sounded for Idukki, Malappuram, Kozhikode along with an orange alert for Thrissur, Palakkad, Wayanad, Kannur, Kasargod, for Thursday amid floods.