Maharashtra: Migrant workers run over by train, 16 die
Maharashtra: Migrant workers run over by train, 16 die
May 08, 2020, 04:58 pm
3 min read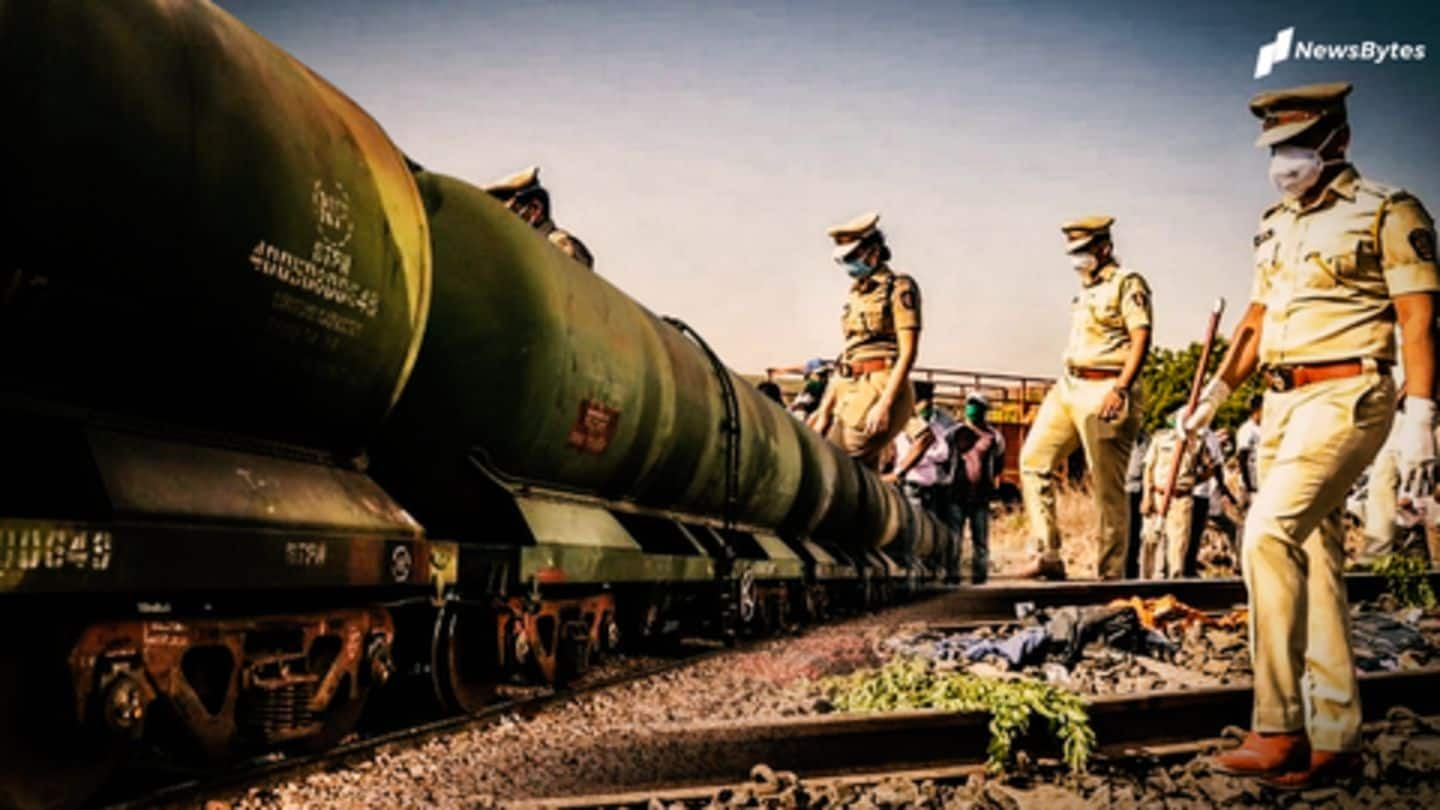 At least 16 migrant workers were crushed to death by a goods train in Maharashtra's Aurangabad district this morning, confirmed the Railways. The workers were sleeping on the track when the mishap happened, said officials, adding that the driver tried to stop. They were walking from Maharashtra's Jalna to their homes in Bhusaval in Madhya Pradesh, some 157 km away.
Workers started walking along railway lines to avoid cops
The laborers worked at an iron factory in Jalna. Exhausted, they slept on the tracks when a train on the Aurangabad-Jalna railway line ran over them. The accident happened in the limits of Karmad police station around 5:15 am. Cops and Railway Police Force (RPF) rushed to the site immediately. The workers took the risky journey to avoid cops on the highway, said reports.
PM Modi said he spoke to Piyush Goyal
On the terrible news, PM Modi said, "Extremely anguished by the loss of lives due to the rail accident in Aurangabad, Maharashtra. Have spoken to Railway Minister Shri Piyush Goyal and he is closely monitoring the situation. All possible assistance required is being provided. (sic)" Among others who offered condolences were BSP Chief Mayawati and Maharashtra Governor Bhagat Singh Koshyari.
We aren't treating our migrant workers well: Rahul Gandhi
On the incident, Congress' Rahul Gandhi said we should be ashamed of how we are treating our migrant workers. RJD's Tejashwi Yadav said the lockdown has impacted migrant workers the worst. Expressing the same sentiment, Jharkhand's Chief Minister Hemant Soren said the poor were suffering the most due to coronavirus and the lockdown that followed. "May the departed rest in peace," he tweeted.
Uddhav requested migrant workers to stay; announced compensation
Maharashtra Chief Minister Uddhav Thackeray announced an ex-gratia of Rs. 5 lakh for the kin of the deceased. Requesting migrant workers to not take risky routes, Uddhav added, "Shelter camps for the stranded workers are being operated by district administration. Arrangements for food and medicine have been made in these camps. Don't leave the camps till you are informed about the train schedule."
Chouhan announced a similar compensation too
MP CM Shivraj Singh Chouhan announced a compensation of Rs. 5 lakh for kin of deceased and Rs. 1 lakh for injured. He pleaded workers to stay put and keep patience till the time state governments get in touch with them. Meanwhile, lawyer Alakh Alok Srivastava filed a writ petition in the Supreme Court seeking an explanation from the Centre on the migrant crisis.
Nationwide lockdown hit migrant workers the hardest
Since the nationwide lockdown, necessitated due to coronavirus pandemic, started on March 25, migrant workers suffered the most. Out of jobs and without any accommodation, they started walking home. Last week, the government started 'Shramik' trains for them. Yesterday, the Karnataka government restarted the train services, after suspending them earlier this week. The earlier decision was taken after builders complained of a labor shortage.