Heavy rains, floods across parts of North and South India
Heavy rains, floods across parts of North and South India
Written by
Ramya Patelkhana
Aug 19, 2019, 12:37 pm
3 min read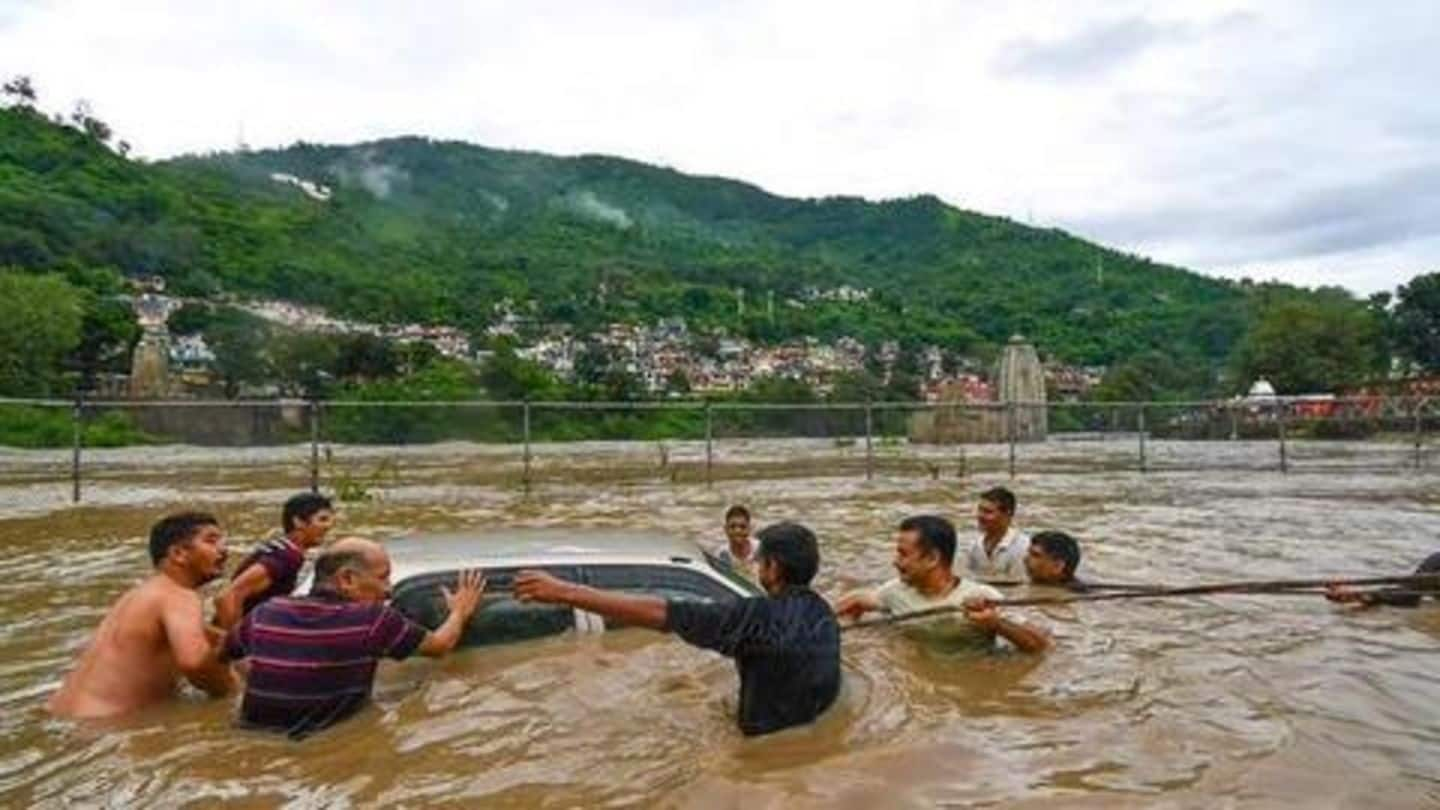 Heavy rains and floods hit several parts of North and South India on Sunday. While 28 were killed in Himachal Pradesh, Uttarakhand, and Punjab, flood-alert was issued in parts of Delhi, Haryana, Uttar Pradesh, and Punjab too as the Yamuna and other rivers reached the danger level. Meanwhile, in South India, the death-toll in flood-hit Kerala and Karnataka climbed to 121 and 76, respectively.
24 killed, 9 injured in Himachal Pradesh
Twenty-four people, including two Nepalis, were killed and nine injured in rain-related incidents in Himachal Pradesh alone. Several parts were cut off due to landslides, leaving hundreds stranded. Twenty-five tourists, including one foreigner, stranded for over two days in Kullu were rescued Sunday. Kalka-Shimla train services and Chandigarh-Manali highway traffic were disrupted. Schools/colleges in Shimla, Solan, Kullu, and Bilaspur will be closed on Monday.
3 killed in Uttarakhand; several rivers in UP in spate
In Uttarakhand, three were killed and 22 reported missing after a cloudburst. Flash floods in Uttarkashi's Mori block hit several villages, washing houses away. A woman in Dehradun was swept away when her call fell into a river. In Uttar Pradesh, many rivers, including Ganga, Yamuna, Ghaghra, and Sharda are in spate. Authorities said the Ganga, Sharda, and Ghaghra rivers are above the danger-level.
Flood alert in parts of Punjab, Haryana, Delhi
Heavy rains continued to batter Punjab, where three died in a roof-collapse incident, and Haryana, triggering floods in several parts following which authorities issued a high alert. As the water-level of the Yamuna River is likely to cross the danger-level in 24 hours, the Delhi government issued a flood-alert for several parts and people in low-lying areas were asked to move to safer places.
About the situation in West Bengal and Odisha
The situation in parts of southern West Bengal, including Kolkata, considerably improved after being lashed by torrential rains for two days. The downpour cut off road links and led to waterlogging in many places. Meanwhile, flood threat was averted in Odisha after Hirakud Dam opened 20 gates. However, the weather department said heavy rainfall is likely in Odisha in the next two days.
121 people lost their lives in Kerala since August 8
Meanwhile, in Kerala, authorities used ground-penetrating radars for finding dead bodies at Kavalappara in Malappuram, which was hit by massive landslides that wiped out two villages. According to a government report, as many as 121 people have lost their lives since August 8 while 47,000 people are taking shelter in 296 relief camps across the state.
In flood-hit Karnataka, the death toll in rain-related incidents rose to 76 as 10 more bodies were recovered; 10 others were reported missing. Over 500 relief-camps across the state are providing food, water, and shelter to over 2 lakh people. Coming to Tamil Nadu, heavy rains hit parts of Chennai and surrounding areas; the weather office forecast more showers in the next two days.