#SwachhataHiSeva: For cleanliness drive, PM Modi picks up broom, again!
#SwachhataHiSeva: For cleanliness drive, PM Modi picks up broom, again!
Sep 15, 2018, 01:04 pm
2 min read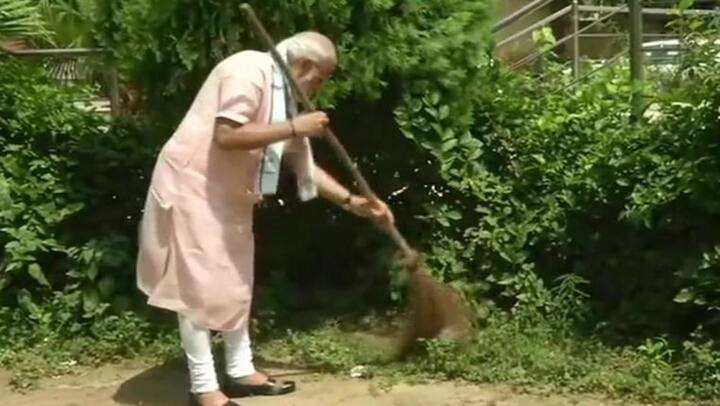 On Friday, Prime Minister Narendra Modi kick-started the massive 'Swachhata Hi Seva' campaign, which will go on till October 2, the birth anniversary of Mahatma Gandhi. After speaking to various personalities and groups from across India, PM Modi headed to Baba Sahib Ambedkar Higher Secondary School in Delhi's Paharganj, and swept the premises. Many across India followed suit. Here's more about this.
Watch: PM Modi sweeps premises of school
Modi speaks about the achievements in the past four years
Speaking before picking up the broom, PM Modi said, "Had anybody imagined that more than 450 districts would be open defecation free (ODF) in four years or that 20 states and Union Territories would be open defecation free in four years."
Adityanath, Amitabh Bachchan laud Modi's cleanliness mission
PM Modi also spoke to Uttar Pradesh Chief Minister Yogi Adityanath about the drive. The latter congratulated him over the initiative and said UP, the most populous Indian state will be ODF by October 10. He also spoke to Bollywood superstar Amitabh Bachchan. The star said he joined the mission as a common man and was impressed with the wonders which happened.
PM Modi speaks to people across the country
The spiritual personalities, PM Modi spoke to, were Sadhguru Jaggi Vasudev, Sri Sri Ravi Shankar, and Mata Amritanandamayi. He also had a word with people in states of Assam, Kerala, Tamil Nadu, Bihar, Karnataka, Rajasthan and Haryana, and spoke to personnel of ITBP. They were involved in the cleaning of Pangong Lake. People at Patna Sahib Gurudwara also revealed how the mission changed lives.
PM Modi appreciated those participating in cleanliness drive
Speaking about Mahatma Gandhi, PM Modi said those working with the cleanliness drive will be remembered like freedom fighters and are the true heirs of the father of the nation. He also asked citizens to help the government in its initiative of turning 'waste to wealth'. Scenes of people, including ministers and eminent personalities, cleaning their neighborhoods dotted the social media.