India's first Lokpal: President Kovind appoints chief, eight other members
India's first Lokpal: President Kovind appoints chief, eight other members
Mar 20, 2019, 09:59 am
3 min read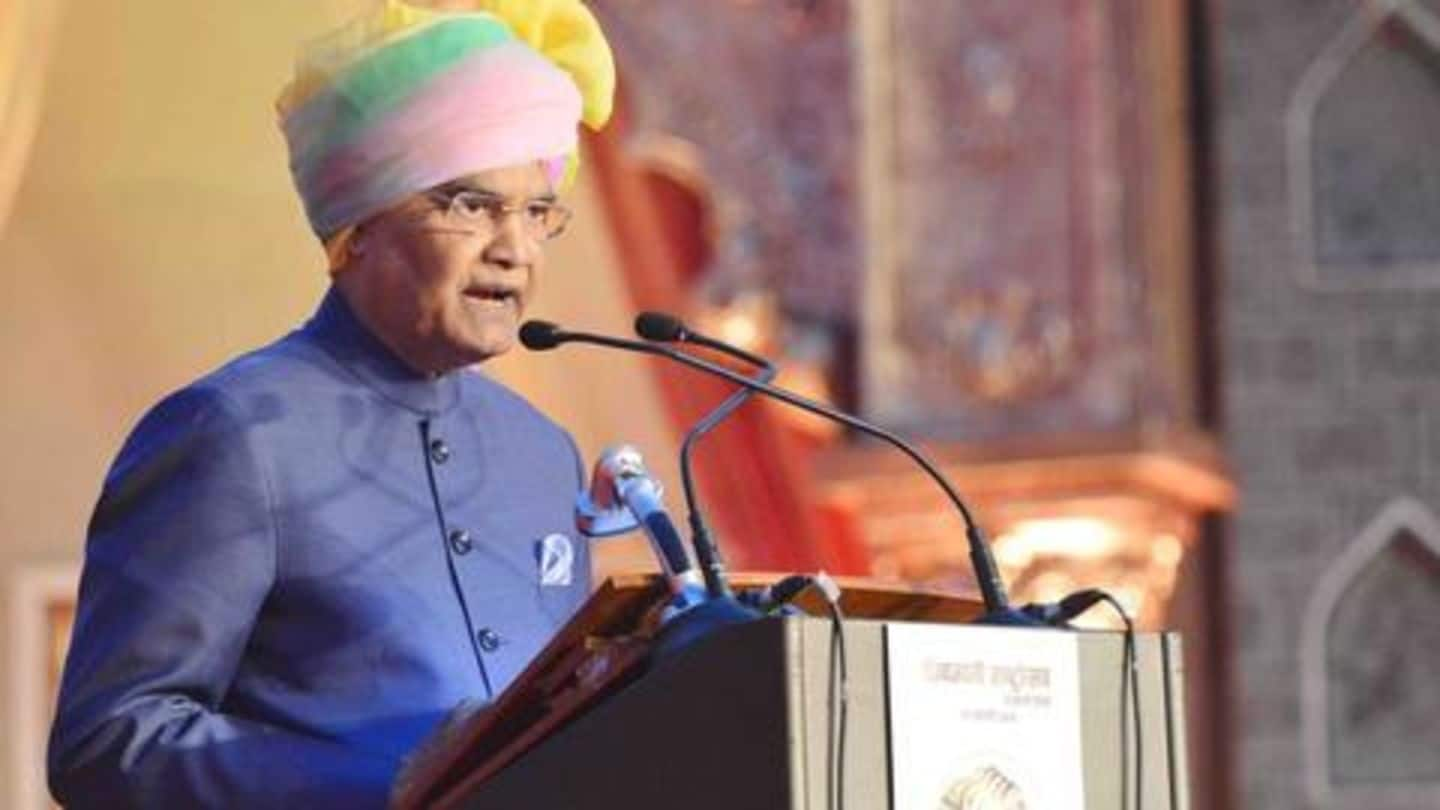 After years of delay, India got its first Lokpal on Tuesday as President Ram Nath Kovind appointed its chief and eight other members. As reported earlier, the anti-corruption ombudsman will be headed by retired Supreme Court judge PC Ghose. Four judicial and non-judicial members are also part of first Lokpal. The names were cleared by a selection committee headed by Prime Minister Narendra Modi.
Lokpal Act was enacted in 2013 but process got delayed
The Lokpal and Lokayuktas Act was enacted in 2013 and received the President's signature on January 1, 2014. As per the law, a Lokpal for Centre and Lokayuktas for states have to be set up to probe corruption complaints against MPs, MLAs, former PMs, and government employees. However, international relations, external and internal security, public order, atomic energy, and space, don't fall under the body's jurisdiction.
SC wasn't happy with delays, pulled up Centre
Owing to the delay, NGO Common Cause filed a PIL in the SC. Famous lawyer Prashant Bhushan was also one of the petitioners. On January 17, the apex court berated the Centre for postponing the appointment of Lokpal. On March 7, CJI Ranjan Gogoi headed bench asked Centre to inform it within a fortnight when names will be finalized.
Committee headed by PM Modi suggested the names
Following that, Centre swung to action and meetings of the committee were called. Apart from PM Modi, the committee included Lok Sabha speaker Sumitra Mahajan, CJI Gogoi, eminent jurist Mukul Rohtagi and leader of opposition Mallikarjun Kharge. Kharge, however, chose to skip the meetings as he was a "special invitee", and said he wouldn't have a say in the actual selection process.
Understanding the qualities Lokpal's chairperson should have
According to the Act, the body is to be headed by a CJI or former SC judge or an eminent person "of impeccable integrity and outstanding ability having special knowledge and expertise of not less than twenty-five years in matters relating to anti-corruption policy, public administration, vigilance, finance including insurance and banking, law and management". It can't have more than eight members, it states.
Justice Ghose had convicted Sasikala in assets case
As it turns out, Justice PC Ghose fits the bill. Justice Ghose stayed in the top court from 2013 to 2017. He has also served as Chief Justice of Calcutta High Court and Andhra Pradesh High Court. Justice Ghose was the one who convicted Sasikala, former Tamil Nadu Chief Minister J Jayalalithaa's aide, in the disproportionate assets case, sending her to prison.
Meet the other judicial members of India's first Lokpal
Other judicial members are- Justice Dilip Babasaheb Bhosale (former Chief Justice of Allahabad HC), Justice Pradip Kumar Mohanty (former Chief Justice of Jharkhand High Court), Justice Abhilasha Kumari (former Chief Justice of Manipur High Court), and Ajay Kumar Tripathi (current Chief Justice of Chhattisgarh High Court).
Notably, non-judicial members include trailblazer Archana Ramasundaram
The Lokpal has to have an equal number of judicial and non-judicial members. Keeping this in mind, President Kovind appointed four non-judicial members to the body. Maharashtra Chief Secretary Dinesh Kumar Jain, former first woman chief of Sashastra Seema Bal (SSB) Archana Ramasundaram, retired IRS official Mahender Singh, and retired IAS officer IP Gautam, were given the important responsibility.