'Rising Kashmir' hits the stand despite assassination of Editor Bukhari
Last updated on
Jun 15, 2018, 01:07 pm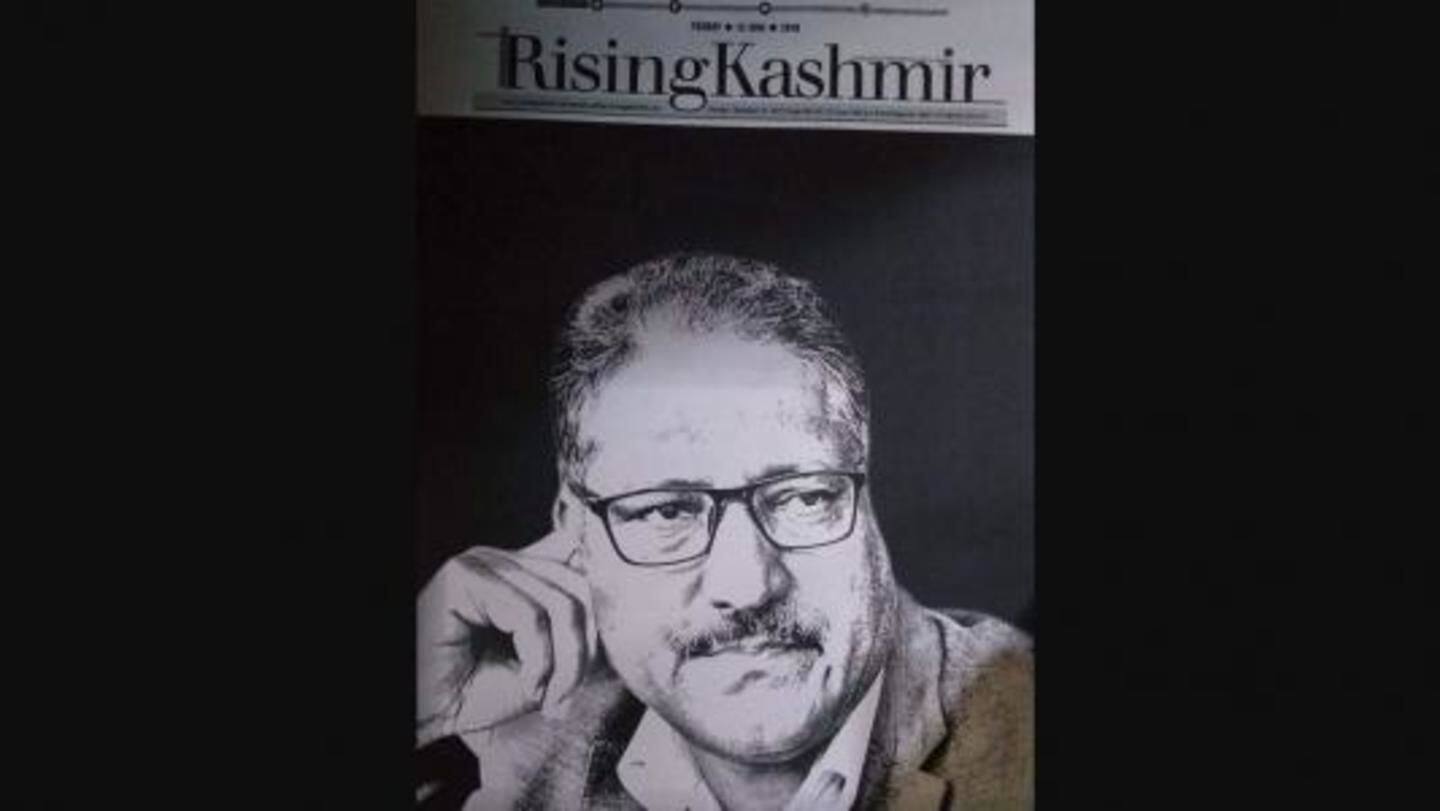 English newspaper 'Rising Kashmir' published its daily edition today even after losing its Editor-in-Chief Shujaat Bukhari yesterday in an assassination, which also left two of his personal security officers (PSOs) dead. They were shot dead by unidentified gunmen outside Rising Kashmir office in Press Enclave in Srinagar shortly before Iftar. Bukhari is survived by his wife, a son and a daughter.
Paper's front page carries Bukhari's photo with a message
Rising Kashmir's front page has carried a full-page photograph of its late Editor-in-Chief in black background. The page also carried a message saying, "You left all too sudden but you will always be our leading light... We won't be cowed down by cowards who snatched you from us. We will uphold your principle of telling the truth howsoever unpleasant it may be...Rest in peace!"
'Paper publishing despite editor's death is fitting tribute to Bukhari'
Former Jammu and Kashmir CM Omar Abdullah, who shared the front page of the issue on Twitter with a tribute, said publishing the daily despite Bukhari's killing is the most fitting tribute to him as it was what the late journalist would have wanted.
Abdullah says 'The show must go on'
The show must go on. As Shujaat would have wanted it to. This is today's @RisingKashmir issue. That Shujaat's colleagues were able to bring out the paper in the face of insurmountable grief is a testament to their professionalism the most fitting tribute to their late boss. pic.twitter.com/ADP70D4F1q

— Omar Abdullah (@OmarAbdullah) June 14, 2018
Mufti, Vohra condemned the killing, termed it as barbaric, deplorable
Bukhari's killing has evoked widespread condemnations from across the country. Jammu and Kashmir Governor NN Vohra described his murder as a big loss to the media fraternity. Chief Minister Mehbooba Mufti has also strongly condemned the killing and described it as highly barbaric, deplorable and condemnable. His killing has only established that violence cannot stand the scrutiny of logic and rationality, she added.
Bukhari was the fourth journalist killed by terrorists
Bukhari was the fourth journalist to be killed by terrorists in the nearly three-decade-long violence in Kashmir. In 1991, the editor of 'Alsafa', Mohammed Shaban Vakil, was killed by Hizbul Mujahideen operatives. ANI cameraman Mushtaq Ali lost his life when a bomb exploded in his office in 1995. On January 31, 2003, Parvaz Mohammed Sultan, editor of NAFA, was shot dead by Hizbul Mujahideen.