No law supports UP's name and shame posters: Supreme Court
No law supports UP's name and shame posters: Supreme Court
Mar 12, 2020, 08:37 pm
3 min read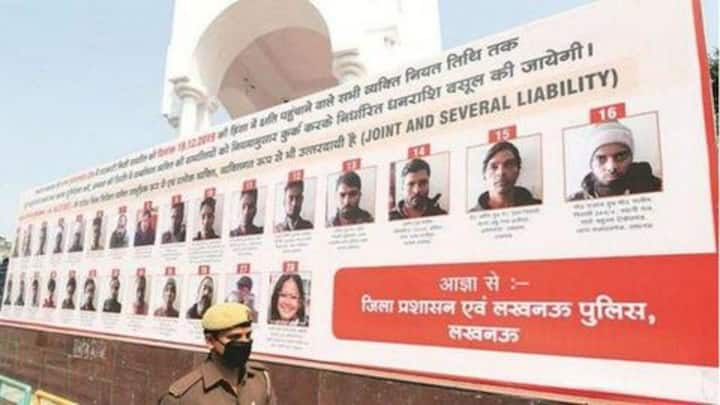 The Supreme Court on Thursday asked the Uttar Pradesh government under which law did it put up banners, carrying names, photos, and addresses of anti-Citizenship Amendment Act protesters who are accused of inciting violence. Yogi Adityanath government went to the top court challenging the verdict of Allahabad High Court, which directed it to remove all the posters. Today, SC didn't stay the HC order.
Anti-CAA protest led to bloodshed in UP
In UP, the protests against the new law on citizenship were the most violent with at least two dozens dying and property worth crores being vandalized in December last year. Taking an unprecedented step, Adityanath's government asked rioters and protesters, who allegedly fanned violence, to pay for losses. Thereafter, huge banners carrying private details were installed at various significant spots of Lucknow.
Allahabad High Court ordered to take down the posters
On March 9, a bench of Allahabad High Court, headed by Chief Justice Govind Mathur and including Justice Ramesh Sinha, ordered the government to bring down the banners, saying it can't shut its eyes when something unjust is happening. The court reminded that United Nations and SC accepted right to privacy as a fundamental right and said this action attacked the same.
Where is the state's power to do this, asked SC
While HC asked the government to file a compliance report by March 16, the authorities didn't adhere to it and went to SC. A vacation bench of Justices UU Lalit and Aniruddha Bose heard the matter, with the latter commenting, "State can do things permitted by law. Where is the state's power to do this?" And Justice Lalit said no law supports this step.
Those who point guns can't talk about privacy: Mehta
The state was represented by Solicitor General Tushar Mehta, who said the 1994 judgment in R Rajagopal v/s The state of Tamil Nadu dealt with the issue of privacy. He claimed people who provoke violence and point guns can't talk about privacy. "Suppose the media shows two persons who are wielding guns in the public, they can't claim their right is infringed," Mehta said.
Posters increase chance of lynching: Abhishek Manu Singhvi
Meanwhile, Abhishek Manu Singhvi, who appeared for a former IPS officer shamed in the poster, explained how the state's actions were uncalled for. "It increases chances of lynching," he argued. Justice Lalit inquired if the time for paying for losses had lapsed, on which Mehta said it hadn't, but it was challenged in HC.
Why not name and shame defaulters, asked Singhvi
"If naming and shaming are allowed, put up banners of defaulters then (like UP Police did with riot accused persons). This is a conviction on the streets of Lucknow. This creates the most incendiary atmosphere and incites the public," Singhvi added.
Matter requires further elaboration, said SC while referring the case
After hearing the arguments, Justice Bose remarked, "We have suggested a solution for it (to refer the matter to a three-Judge bench nominated by the CJI)." Since the matter is urgent, the bench said it should be listed before CJI SA Bobde next week. Meanwhile, the UP government said the banners will stay put as the matter has been referred to a larger bench.