IndiGo plane makes emergency landing after smoke detected in cabin
IndiGo plane makes emergency landing after smoke detected in cabin
Dec 11, 2018, 06:05 pm
2 min read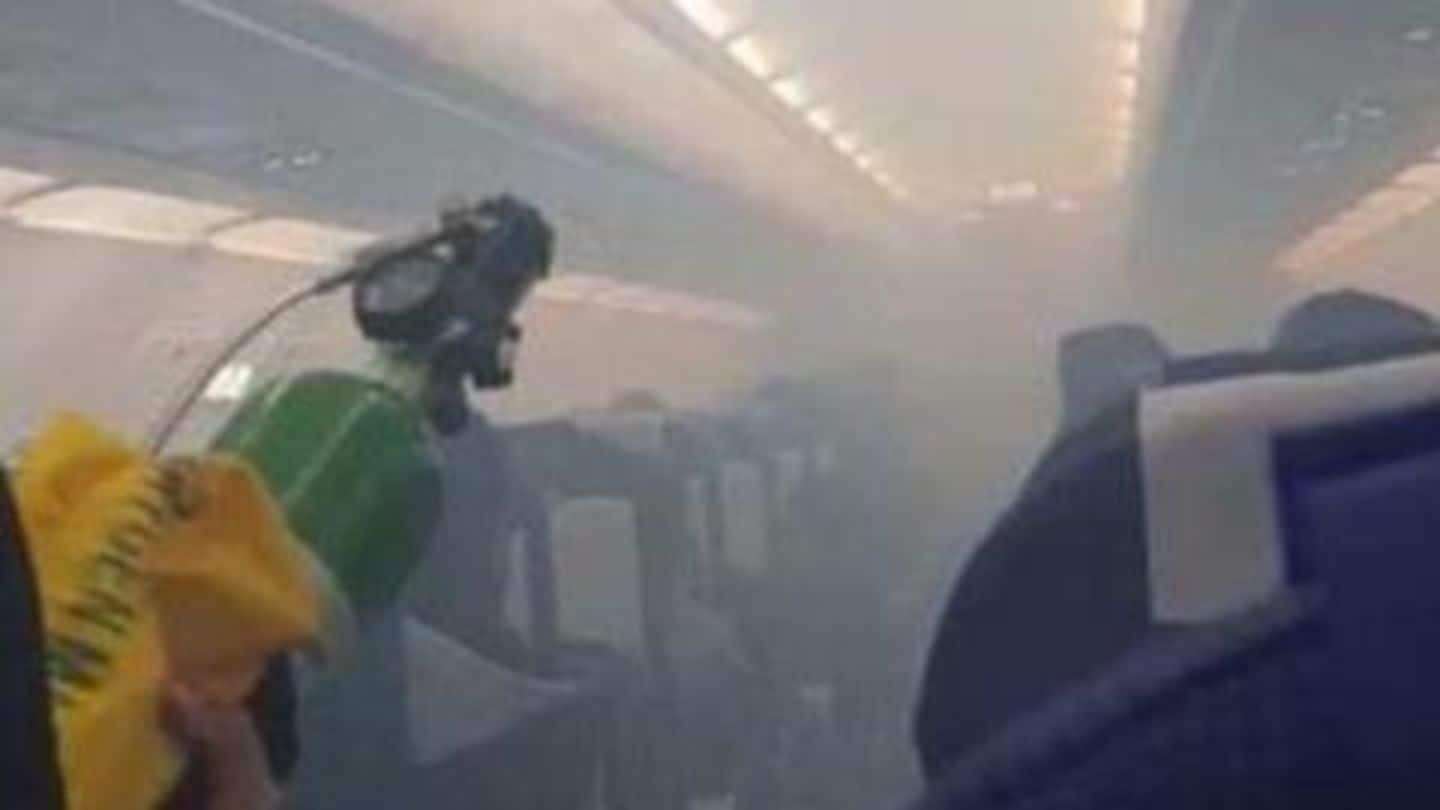 In a terrifying incident, thick smoke spread inside the cabin of a Kolkata-bound IndiGo flight causing it to make an emergency landing. A video of the catastrophic incident has emerged on microblogging site Twitter showing smoke spreading inside the cabin of flight 6E-327, which was flying from Jaipur to Kolkata last night. The plane was carrying 136 passengers. Here's what went down.
Pilots transmitted 'Mayday' call, alerted Air Traffic Control of danger
According to sources, IndiGo's new Airbus A320neo was around 45 miles (approximately 72 km) from Kolkata when the pilots transmitted a "Mayday" call on radio. This indicated to the Air Traffic Control that the aircraft and passengers were in grave danger. Sources said smoke was detected in the cockpit, cabin, and the lavatory. The flight then made an emergency landing in Kolkata.
Here is the heart-stopping footage of the incident
Babies wailing, air hostesses on the standby with oxygen cylinders ... thick smoke in the cabin of a new IndiGo A-320neo which made an emergency landing in Kolkata last night. 136 passengers onboard. Smoke on a plane is a known killer. pic.twitter.com/VJGMIQoauk

— Vishnu Som (@VishnuNDTV) December 11, 2018
Some passengers were evacuated from a chute at the rear
After the IndiGo emergency landing in Kolkata ... some passengers were evacuated from a chute at the rear. The A-320neo is still grounded. Engineers still apparently unclear about what happened. pic.twitter.com/ssapifmsVo

— Vishnu Som (@VishnuNDTV) December 11, 2018
Smoke inside an aircraft is a life-threatening situation
A senior industry pilot said that smoke in an aircraft is one of the most life-threatening situations "because of the threat of asphyxiation". Oxygen masks, which drop in the cabin when the pressure in the aircraft decreases, are not designed to completely filter the smoke. He said only pilots in the cockpits of airliners are equipped with full-face masks to completely filter the smoke.
All passengers, crew killed in 1998 in a similar incident
In a similar case in September 1998, all 229 passengers and crew onboard a Swissair MD-11 were killed near the coast of Canada after pilots came across smoke in the aircraft. After an investigation, it was found that a flammable material triggered fire above the ceiling on the right side of the cockpit. The fire had spread rapidly and degraded aircraft systems.
IndiGo facing troubles due to new Airbus A320neo aircraft
Meanwhile, IndiGo, India's largest airline, continues to face technical glitches with its brand-new fleet of Airbus A320neo aircraft. In March, the Directorate General of Civil Aviation had grounded 11 Airbus A320neo airliners, eight of which belonged to IndiGo. The IndiGo flight involved in yesterday's incident currently remains grounded in Kolkata and the maintenance staff is trying to determine the cause of the smoke.